FV Player is always about making your life easier. By default FV Player editor shows only a few options along the fields essential to publish a video on your website. If you are using other features regularly you can easily add their settings to the shortcode editor. 

Those options line up with the default settings of Post Interface Options found at Settings > FV Player > Setup tab in the admin section of your WordPress installation.
For the sake of clarity and simplicity of FV Player editor, we recommend to turn on only the options you really need to work with, thus avoiding a cluttered user interface of the editor.

As you see in the screenshot above, there are a lot more options to work with in FV Player editor. Feel free to enable any of these options by ticking the checkbox next to them and hitting Save All Changes.
For example - let's say, you would like to have available the Subtitles and Mobile video option in the editor along with the default options. First, tick the checkbox next to mentioned options. Next, click Save All Changes.

Once you customized the Post Interface Options, click the FV Player button 

 next to Add Media while editing your WordPress page, and you will see all the activated options in the FV Player editor. Notice that Subtitles are in a new tab. 

As you can see, the options are categorized by their content and grouped in tabs for easier navigation. 
Post-Interface options descriptions:
Ads: Enter ad code and adjust size

Align: Align player on screen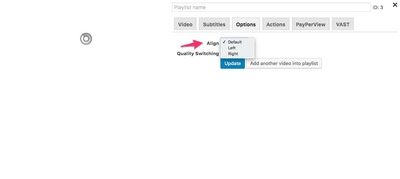 Allow Video Uploads: Allow video uploads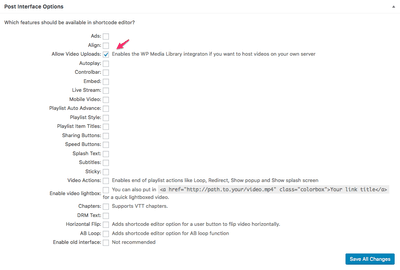 Autoplay: Starts video playback automatically

Controlbar: Display Controlbar

Embed: Embed video code

Live Stream: Stream live video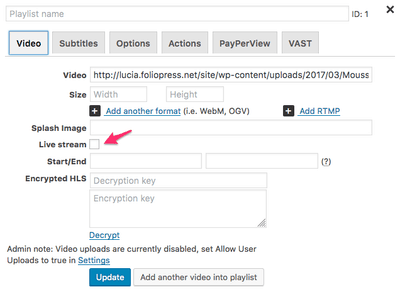 Mobile Video: Configure video for mobile devices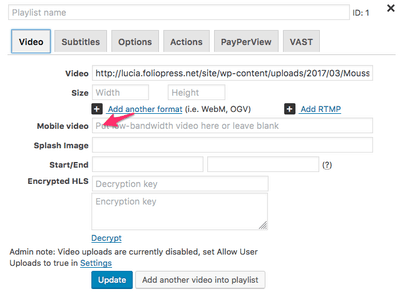 Playlist Auto Advance:

Playlist Style:  No item listed under any headings
Playlist Item Titles: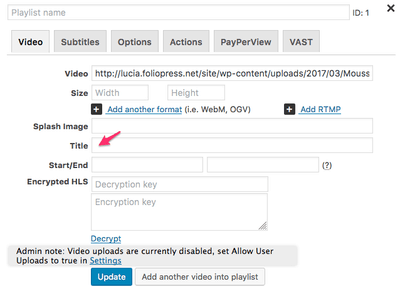 Sharing Buttons: Display Share buttons

Speed Buttons: Control playback speed

Splash Text: Display Splash text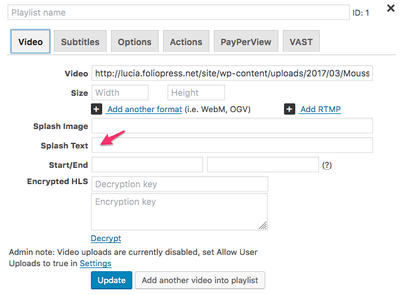 Subtitles: Display subtitles

Sticky: Video follows scrolling

Video Actions:
Enable Video Lightbox: Displays video in lightbox

Chapters: Enables using chapters

DRM Text: Display DRM text

Horizontal Flip:

AB Loop: Auto-replays video

Enable Old Interface:
Save
Save