List of contents:
Grappling with GDPR is awfully stressful for small publishers. We try to make it easier for you. FV Player has always been focused on only using a small number of necessary and unharmful user data in order to ensure standard viewing comfort. Furthermore, all of the cookies get set in Local Storage, meaning that they are set in user's browser and do not need to come into contact with our servers, nor do we save or use them in any way to create a user's profile.
FV Player only saves the bare minimum of preference and comfort related data in your viewers' browsers, and none of it gets recorded or re-used by Foliovision in any way. But you can opt out of these too and provide videos without any cookies!
Remember that FV Player does not stop and is not liable for cookies set by other services you use with video, such as analytics, hosting or payment solutions. As for YouTube, we use the youtube-nocookie.com domain by default (however, this domain does not stop all of YouTube's cookies).
What cookies does FV Player generate
FV Player generates these preference cookies:
Remembering preferred sound level – a cookie is set for the manually chosen volume level
Remembering the preferred video quality – if a user manually chooses SD quality instead of HD, a cookie is set to ensure videos viewed in future will also start playing in SD quality by default
Remembering the video position – if this feature is enabled, the position in which playback has been stopped will be remembered (this one will still work for logged-in users)
Remembering video playback speed – if the speed buttons feature is enabled, preferred speed will be remembered
FV Player also uses one technical cookie called flowplayerTestStorge which is used to test, if localStorage in browser is available. This cookie disappears immediately after the test.
How To Disable Local Storage
Go to Settings -> FV Player -> Privacy Settings and enable Disable local storage.
See How It Works
You can see for yourself by opening the developer tools in your browser and taking a look at the Local Storage. For Chromium, you will find it in the Application tab. In Firefox and Safari, it is located in the Storage tab.
First, let's look at the contents of Local Storage when the privacy setting is disabled: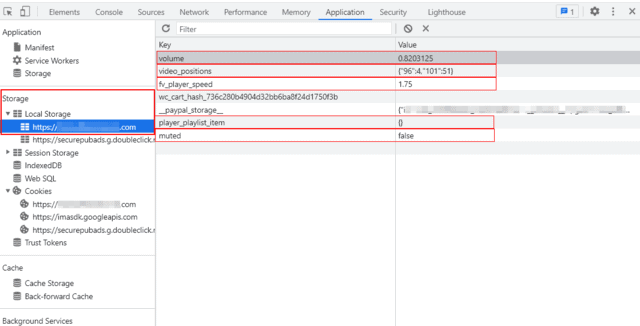 You can see the data connected to volume control, position, and playback speed.
Now, with the setting enabled, Local Storage is free from any FV Player-related entries. The only two cookies that got set in our example are from PayPal and WooCommerce: