When the video ends, you might want it to start playing again, revert back to the splash screen, or redirect the viewers to a specific URL. FV Player allows for all that and more with the End of Video Actions.
You are not confined to just that. Custom HTML pop-ups can be inserted too. Find out more in our Video Actions: HTML Pop-ups guide.
If you are looking for end of video e-mailing lists, consult the Email Subscription Form Pop-ups guide.
How to enable video actions
To enable Video Actions, go to Settings -> FV Player > Setup tab > Post Interface Options and enable Video Actions.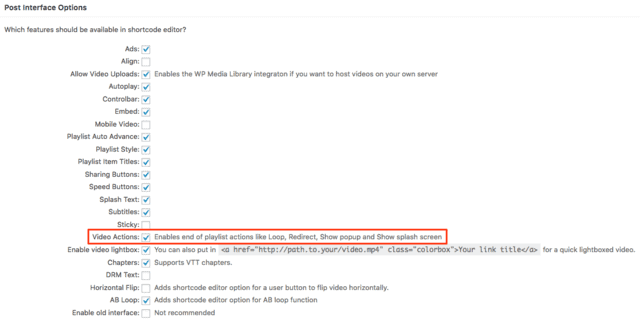 Once active, it can be found in the Actions tab of the shortcode editor, as a drop down list called End of video.
You get to choose from these options:
Default
Nothing
Redirect
Loop
Show pop-up
Show splash screen
Collect emails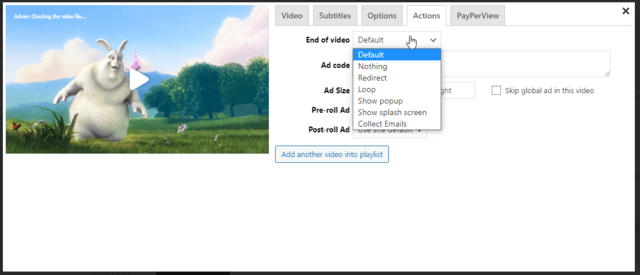 Default and nothing
Default points to the default end of video popup, which can be picked in Settings -> FV Player -> Actions -> End of Video:

The default pop-up can also be set to none or random.
The option titled nothing is self-explanatory.
Redirect
Once redirect is picked, a field for the redirect URL pops up: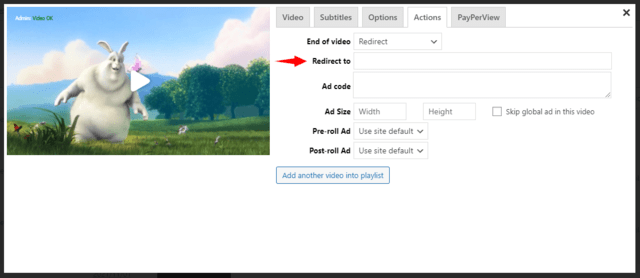 The viewers will be automatically redirected at the end of the video, with no need to click anything.
Loop
The loop option allows for videos to continue looping once Many of our customers use the loop function for creating short homepage animations. Other users use the loop function to make ads play in an endless loop.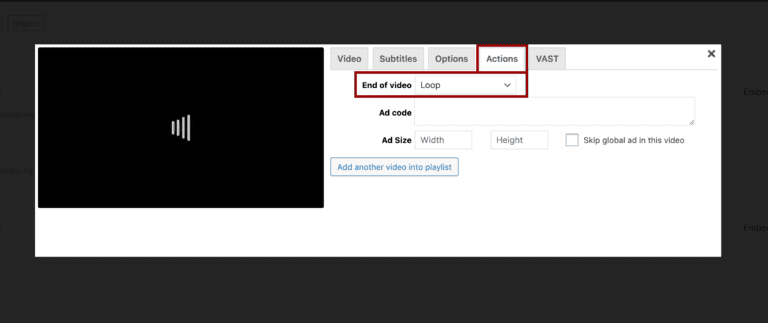 Video loop is added to each video from within the FV Player videos/playlist library: https://yoursite.com/site/wp-admin/admin.php?page=fv_player
Show splashcreen
After playback ends, the video reverts back to the splash screen that was present before playback.
Show popup and Collect emails
You can find out more about these options in the aforementioned Video Actions: HTML Pop-ups and Email Subscription Form Pop-ups guides.