Hosting videos on Google Drive is possible, but we do not recommend it. First you must acquire the shareable link to your video. The process is described below.
1. Login to your Google Drive account at https://drive.google.com.
2. Now, you need to click on the New button, in the upper left corner.

Adding new file
3. Select File upload from the menu.

Uploading a new file
4. Select the video you want to upload and click Open. Your video will upload, and the progress will be shown in the lower right corner of the screen.
5. Right-click your video, and select Get shareable link.

Getting the shareable link
6. You'll see a link appear at the bottom of the video image. Right-click the video and select Share.
A small window will open, which gives you the option to copy the link, add user names, and control access to your video.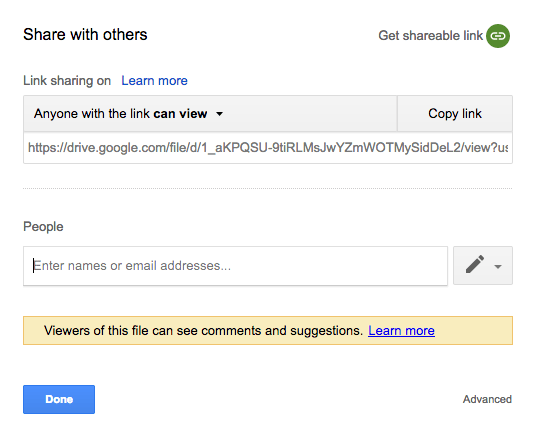 7. To control access to your video, you must click Advanced, in the lower right corner of this window.
8. Then click Change …, to the right of Anyone who has the link can view.

Changing viewing access
9. Now select On – Public on the web and click Save.

After copying the shareable link, you must change the URL before using it in FV Player.
10. Just replace the "file/d/" string with "/u/0/uc?id=" and "view?usp=sharing" with "&export=download".
For example, if your shareable link looks like this: 

https://drive.google.com/file/d/1vNBDoxC5-piuaCKjqQ_CKEEdfxLJZq-w/view?usp=sharing

you will need to change it to this:

https://drive.google.com/u/0/uc?id=1vNBDoxC5-piuaCKjqQ_CKEEdfxLJZq-w&export=download

11. Then append #.mp4 at the end of the URL, to ensure that the file is detected as MP4 format.
Example video:
FV Player supports Google Drive links in its free version, so you can test it and see for yourself if it works for you.
Why don't we recommend hosting videos with Google Drive?
Getting the shareable link for each video
Limits on playback resolution of Full HD (1920 x 1080)
Limits on total storage space
Infrastructure has limited processing capabilities for each account
Error messages
When you upload or watch video in Google Drive, you may see some of the following error messages.
"Unable to process this video." – The video may be corrupted or uploaded in a format that won't work. Try to upload the video again or in a different format.
"We're processing this video. Please check back later." – The video is not ready to be played. If the file is large, it may take a while before your video is ready. Try again in a while.
"This video is currently unavailable." – The video is not ready to be played. Try again in a few minutes.