This review is very positive about Freshdesk. But if you are planning to use Freshdesk in conjunction with a forum (bbPress in our case, fully integrated with WordPress), you should be very aware of a huge limitation in Freshdesk: it doesn't respect the Reply-To address. Helpscout is no better.
Update 1 December 2013: Freshdesk has fixed the Reply-To Address and we've been able to fix our incoming forms to use reply-to, making our work a lot easier.
Update 25 April 2014: I've recently reviewed Freshdesk's new Freshfone feature, including extensively testing Freshfone call quality.
As many of you know, we've moved from selling just services to also selling product (FV Flowplayer, the most feature rich and intuitive HTML 5 video player for WordPress). For services, every clients gets his or her own TeamworkPM project with messages, task lists, milestones. But that kind of overkill doesn't make sense for purchased product where many people won't need support and many people will just need one or two requests answered.
Part of preparing support was improving our very active forums. But in addition to the forums for free support, with a paid product we needed an efficient help desk solution. We didn't want our customers to feel that they were in a help desk: the personal feel is very important to us. Support should be as easy as email.
When WPMU mailed us their glowing review of Help Scout we thought this is just what we needed.
When we first got our hands on Help Scout we thought it was great. Multiple shared mailboxes with internal notes.
The WPMU trial was long enough to really give Help Scout a good try: 3 months. And you don't know if something really works until you use it in anger. So we loaded up all of the following from Foliovision together with the full attached teams:
support
sales/inquiries
HR
There were about ten people with access to Help Scout of which four were near daily users and another six had questions to answer two to three times/month.
The interface in Help Scout is gorgeous and very logically laid out. First impressions were great.

helpscout dashboard single company
Set up for individual users is also easy.

helpscout interface profile notifications
Writing responses looks good too.

helpscout adding note and reassigning
The first problem we ran into was that Help Scout will not let you edit the incoming text. I.e. if someone writes to Foliovision and/or fills in a form with some internal tracking information, we can't edit that out. We wrote Jared and heard back that not being able to edit the replied to thread is a feature, not a bug. We disagree.
If we wanted to edit the incoming information we should set up all our contact forms to use the Help Scout API. We've got lots of different contact forms so that's lots of makework projects for us.
Having lived with 37signals style support for eight years, I'm happy to say that its time is over. The latest round of 37signals support from 37signals themselves resulted in their loss of a $250/month almost eternal contract (related to the absolute feature freeze on Basecamp Classic which is still 37signal's best product). But I digress.
Even worse than these two limitations (which are difficult as the first one meant that we had to give up a pile of painstakingly engineered in-house tracking information and the second meant that we had to reprogram all our forms) were the bugs.
Very regularly the inline WYSIWYG editor would freeze and stop allowing any pasting.
Often (about one of out of five or eight tickets) our replies would just get lost on save. Sometimes in an invisible way, sometimes you'd see it fail. Nothing worse than lost replies (usually when we tried to make an internal note and change status at the same time). Fortunately I have a keyboard logger which meant that rescuing these notes was only a matter of about five minutes, albeit each time. Our coordinator Anna does not and so she was not at all happy with the lost info.
So about halfway through our trial, I wanted to make a long term commitment to Help Scout and help Jared clean up the bugs/limitations. We did have an issue which was pricing. As I mentioned above we had four real users and six occasional users. If we took anyone out, our workflow would become byzantine which was exactly why we were considering investing in Help Scout. Our annual budget for a help desk whether self-implemented (osTicket or RequestTracker) or rented is about $1000. We would have been happy to pay this up front. I explained our situation in detail (four active users and six present users who are there just for occasional workflow issues).
Once again Nick Francis at Help Scout came up with the 37signals attitude. "At $15/month/user our application is more attractively priced than the competition. There is no flexibility on pricing."
I don't know about you, but if I were selling a buggy SAAS application with an extremely limited feature set, I'd be interested in picking up $1000/year from a team who can actually help me improve the software.
We continued to think about either reducing the number of users or moving a department or two out of Help Scout to bring us down to three or four users. Together with the bugs and the poor customer support, we decided to trial some other applications.
I'm not going to include UserVoice.com, UserEcho.com or UseResponse.com or any of these other excuses to annoy users with complex and unwieldy feature suggestion systems instead of real hands on email help. Kayako is similarly excluded as it's not possible to make Kayako seem just like ordinary email.
Finally we came across Freshdesk. What attracted us to Freshdesk were the glowing user reviews on GetApp.com. Users really love Freshdesk.
Great service and social world integration. Had a great experiance using Freshdesk. Got frustrated with other service. McRam Williams (21st of January)
Fantastic Tool, Incredible Support, Unbeatable Price. Their name says it all – a breath of fresh air when it comes to support systems. A bright, energetic company that is providing a tool at a price which is perfect for SME's. Their innovative approach and rapid development means that new features seem to be appearing every day and the best thing of all is that they actually listen and respond to featured requests. It's like having our own personal development team providing an enterprise level ticketing system at a fraction of the price of other systems currently on the market. Review by Scott (2nd of April, 2012)
Next generation helpdesk. I evaluated several helpdesk SaaS tools. Freshdesk has all the features I need: high performance Ticket handling, a clean Dashboard, Ticket escalation, flexible notification system and social integrations. And, most important: Agents are ready to go thanks to a very small learning curve. Review by David (16th of October, 2012)
We almost didn't try Freshdesk on account of the premium prices (as high as $50/month/user) but it turns out that the lower level plans which do have reasonable pricing are enough for smaller companies. On either Sprout or Blossom, we have everything we really need at around $15/month/user. On top of that on Sprout you get the first three users for free forever and only pay for the additional users – that's a fantastic way for new companies to get up and running and even expand as you keep the three free users (unlike competitors where you must pay for all four users when you move from free to paid).

freshdesk incoming tickets dashboard
Here's a sample incoming support email with even the image attachments inline so you can get straight to work:

freshdesk html email parsing inline attachments
The preferences and customisation potential is elaborate but extremely tightly organised and visually attractive. Most defaults are good so you don't need to change very much here to get started.

freshdesk complex but well organised preferences
The Freshdesk Dispatchr is the hidden gem which allows you to apply easy emails (like filters) across all of your incoming mail and agents. Get just the notifications you need, make sure the tickets are going straight to the right person. S/he can then decide to reassign or make an internal query before responding. Best of all, dispatchr is very flexible so you don't have to reprogram your existing forms to get first class automated sorting.

freshdesk dispatchr
The HTML editor works, the dispatcher system is extremely flexible, the pages load quickly. Freshdesk works and does what you want. A quick tip: the HTML editor is much better behaved (pasting and text expansion work properly) in Chromium than Safari 5.1). Apparently Freshdesk even has data export.
To come back to Help Scout, there is no data export. When I contacted Nick and Jared about data export, they told me to write a custom exporter on their API. Of course that is duplicate effort, as I'm sure many people have written this code before. When I suggested they might have some code I could use as a basis for that export, they told me to fly a kite. That kind of support is not what Help Scout advertises. I would stay very far away from Help Scout.
The best part of Help Scout are the great marketing emails and customer support handbooks they send you about high quality customer support. Help Scout do not practice the support principles they preach. If they did it would make their pretty but currently also ran product competitive. Still I remain grateful to have been exposed to their thoughts on customer support and help desks. I highly recommend you check out Help Scout's rich resources section on customer service.
In general it's time for an open source or commercial Help Desk which works on top of IMAP and doesn't try to replace it. Google managed to make mail sing with Gmail. Surely someone else could make IMAP sing as a rock solid and fast help desk system.
In the meantime, your best bet for a transparent email support system is Freshdesk.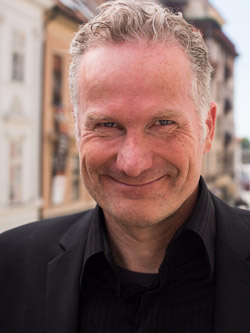 Alec has been helping businesses succeed online since 2000. Alec is an SEM expert with a background in advertising, as a former Head of Television for Grey Moscow and Senior Television Producer for Bates, Saatchi and Saatchi Russia.