FV Player contains a very simple feature to help you stay on top of your video engagement statistics. We like keeping the stats simple and publishers who need a more in depth view usually prefer integrating with Google Analytics or Matomo. Yet, we felt there was something missing from the feature.
Besides video-centric statistics, FV Player now has a user stats feature!
GLOBAL USER STATS
Up until now, you were able to see only video-specific statistics with view options of Top 10 videos by view count, top 10 by post and top 10 by watch time.
Now you can see statistics for individual users!
You can find these statistics in the new tab of wp-admin -> FV Player called User Stats:

For now you get two view modes. Top 10 Users by Plays and Top 10 Users by Watch Time: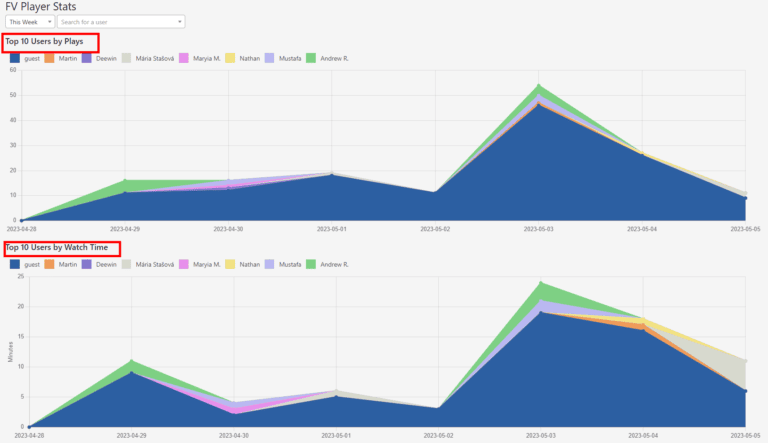 Note: Navigating and filtering the statistics works just the same as with the video-centric stats. To find out more, see this guide.
INDIVIDUAL USER STATS
On top of seeing the behavior of your users as a whole, you also get to go more in depth on individual users.
All you have to do is search for a specific user and select them from the drop-down menu:


Then you get three views: By video views


Posts by video play


watch time


---
Stay tuned for more
We are trying to make our plugins better ever single day, by bringing more and more upgrades and updates. You can help us a lot by giving us feedback, or letting us know your thoughts by giving us a review. If you have any tips or questions, do not hesitate and contact us via our Forum!