FV Player works effortlessly with most leading LMS and Membership plugins. LearnDash is a long running leader in this department, but if you're looking for a less pricy (or even free) alternative, Tutor LMS is a great choice.
FV Player fully supports Tutor LMS!
Tutor LMS is an feature-packed eLearning and online course solution that helps you easily create and sell courses.
A free Tutor LMS licence with all the basic features and integrations with some common e-commerce and page builder plugins, should be enough to get you started. If you're looking for collaborative features, drip course content, certificate creation or more advanced analytics and quizzes, you'll want to look into the paid licence options.
There are two ways to put FV Player videos into Tutor LMS courses.
You can use a shortcode to Insert FV Player as a title video of any course or lesson: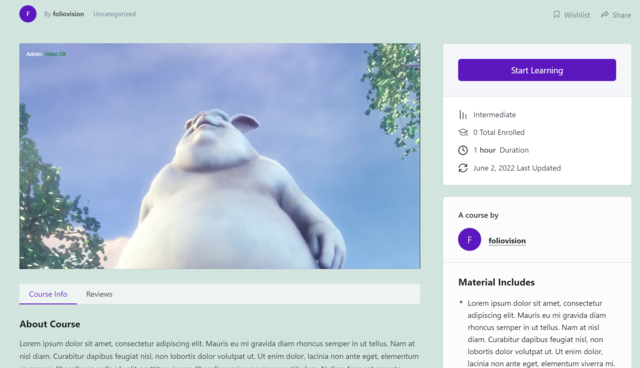 This comes in handy, when there's a single video serving as a centerpiece of the whole lesson. Giving a short welcome or a course overview video to students who are yet to enroll in a course is also a great idea.
Learn more about using video shortcodes in Tutor LMS in our guide.
Secondly, you may want to insert videos into the body of the text. For example, to illustrate separate steps, or give examples. It's easy to do so.
Whether you're using Classic editor, Gutenberg, Divi, or Elementor, all of these are integrated or fully supported in all versions of FV Player and Tutor LMS.
For further support of other page builders, you'll need a paid version of Tutor LMS. This easy fix is usually enough to make FV Player work with any page builder.
Simply post videos as you always would in your preferred editing solution: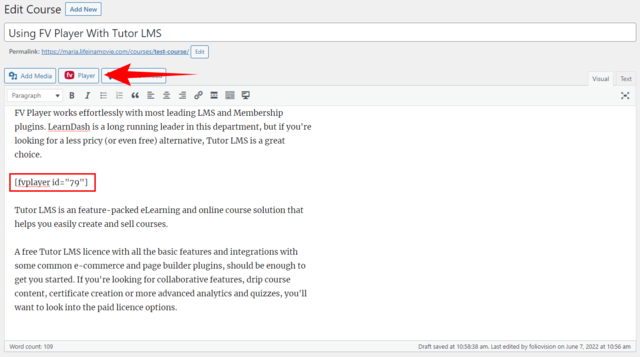 ---
Stay tuned for more
We are trying to make our plugins better ever single day, by bringing more and more upgrades and updates. You can help us a lot by giving us feedback, or letting us know your thoughts by giving us a review. If you have any tips or questions, do not hesitate and contact us via our Forum!