The last time we took an in-depth look at image resizing utilities was in 2016. Then as now, we are looking for flawless resizing and jpeg compression first, intuitive interface second, high quality watermarking third. We are relatively indifferent to advanced features (image manipulation, recropping, manipulation of metadata, image renaming).
The reason for this indifference to advanced features is that my versions are created from finished masters. I don't expect to be making image changes while creating resized versions.
High quality image resizing is important for social media versions, for versions for galleries and for video thumbnails. Here's the image I used as the primary test image. It a shot of SC Kittsee's talented forward Pavol Bellas about to score a goal against Monchof at home.

Feel free to download the master by clicking right click and "save link as" on this link to run your own versions of this test.
There were other images but the results were similar so I stuck to the single image for this analysis to make it more manageable for both myself and for you dear reader. Here's the results of a comparison of that image resized by nine different image resizers in a single image. The image was resized to 90 quality or between 750kb and 900kb if 90 quality turned out too large an image (Lightroom/Photoshop). This is the centre part of that image in one to one ratio. The image is 4696 pixels wide. I suggest you download the image (right-click and save as) and zoom in on it in your own image viewer of choice at 300 or 400% to determine the exact differences between the images. Keep in mind that Apple's Preview does not work correctly with Retina screens (it shows high DPI images at lower DPI). Lyn for instance works correctly, as do most image editors (Affinity Photo, Acorn, Adobe Photoshop, FastRawViewer).

Here's a folder with all of the resized images at 2048 wide (Facebook maximum width) from each of the resizing programs:  (as ever right click to save as) if you'd like to compare the full images for yourself.
Candidates | Analysis
Dare to be Creative's ResizeMe v2.2 has been my standby for creating versions since the last round of tests.1 ResizeMe is discontinued (already was back then) and has started to create trouble for me by launching some kind of strange virtual disk which then won't reliably unmount under Mojave.

After a few hours of interruptions while trying to unmount notices to stop, I decided to poke around to see if there's anything as good as ResizeMe out there but without virtual disk unmount errors.

ResizeMe won last time based on the very intuitive interface, very complete controls and quality of its resizing. It's the gold standard. If you are on High Sierra or earlier, here's a zip of version 2.2.0.
EasyBatchPhoto ($20) failed our previous tests for quality. I updated my copy of EasyBatchPhoto from v2 to v3.3 and assumed that YellowMug creator would be using the built-in (and very good) Apple resizing and jpeg compression tools. Nope.
EasyBatchPhoto's jpeg was by far the worst of any of the candidates. Never to use unless you liked the jpeg artifacts of year 2000 and are going for that retro pixellated look. At $20, EasyBatchPhoto is very expensive for very poor performance. How the once marvellous have fallen: YellowMug was a great utility innovator on the Mac OS X platform in the early 2000. Until very recently I used SnapNDrag every day (the built-in screen capture utility in Mojave is even more powerful at this point).
Too bad, as EasyBatchPhoto interface is simple and clear.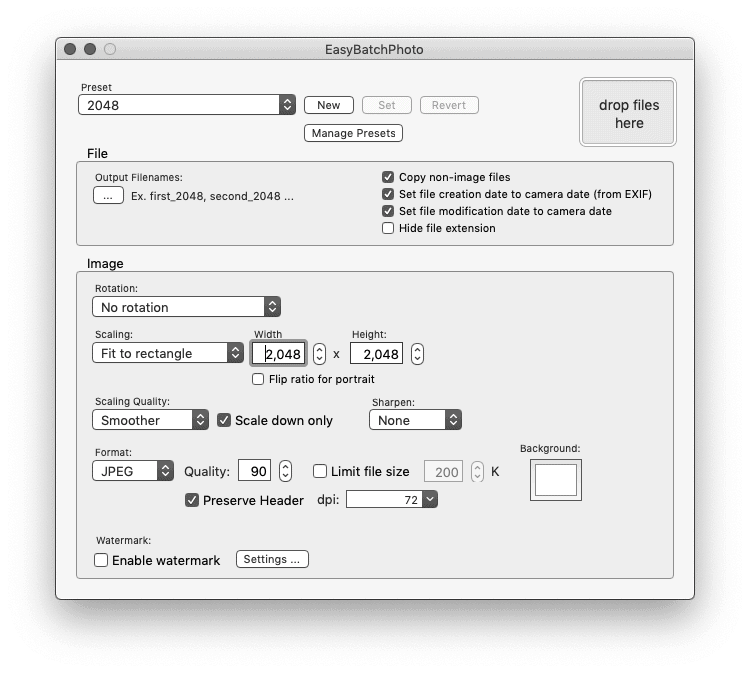 PhotoBatcher (retired/abandoned by OSXBytes) includes excellent output. There's some sophisticated presets possible (watermarks, no watermarks, image processing). Unfortunately PhotoBatcher does not resize based on both height and width but only on one of those variables. It appears I'm wrong about resize limitations Scale to Fit will downsize on both width and height simultaneously, longest side first). Ironically Photo Batcher is now discontinued (you can download the final version on CNET Downloads, seems clean or directly at this link). That's two for two for the most intuitive and easiest to use image resizers discontinued by their creators!

There's a more important issue though. Colour doesn't match the original or the output of the other best candidates. The colour issue only seems to happen on resizing so I'm slightly bewildered. On a full size conversion, the colours did match. I'm starting from a sRGB master so there's no reason for colours to change. The colour change is not unpleasant, slightly less saturated, slightly brighter but does compromise red, turning it to orange. Sadly, disqualified. If the colour rendering were accurate, I would choose PhotoBatcher to replace ResizeMe.
PhotoBulk ($10 – Apple App Store). It's Eltima software which means it's not going to win any design awards. Unlike some of the image resizers though, one can open PhotoBulk up and within a few minutes build a couple of working templates. Renaming functionality is extremely weak. Still a bit of a toy and Eltima has the gall to charge an update for v2.

PhotoBulk also benefited from a larger file (snuck in with 1.7MB) with no improvement in image quality over the others. PhotoBulk does work but it's uninspiring.
PhotoMill v1.6.4 ($10 – Apple App Store) has a nice interface (takes a few minutes to understand it but it's very powerful) and retains good colour. Unfortunately the resizing belongs to the overly blocky, high contrast group. I couldn't see a control to soften it. It includes a nifty simple EXIF editor built-in.

The conversion interface is the closest to ResizeMe. After becoming accustomed to the additional functionality, PhotoMill would be my preference out of the applications which are still supported.

PhotoMill is the work of Overmacs whose other application is PhotoSweeper. OverMacs is consistent in their focus on photography and unlikely to abandon PhotoMill (nod to IncredibleBee/OSXBytes).
Retrobatch v1.4.2 ($30 to $50) is an entirely different model, using a node or flowchart system to build very elaborate image processing pipelines. There's a lot there to master when starting out, including a very tricky drag and drop system to build (nodes break apart even when you don't want them to).

Once you do master Retrobatch though, you can build image pipelines which do almost anything. There are weaknesses though: the renaming functionality can't compete with Better Finder Rename. Setting output folder has to be done on a per run basis, rather than automatically channeling to a subfolder with a preset name, like PhotoBatcher, ThumbsUp or DxO PhotoLab. The image quality belongs to the more realistic, subtle rendering group: it's flawless.
Retrobatch is from Flying Meat software, whose Acorn 6 I use every day (I like Acorn enough to buy in bulk and give licenses to friends and colleagues). Retrobatch is pretty pricey for this kind of tool. What I don't like is that Acorn has no bulk image processing and instead I'm being double-billed for an application to add bulk image processing. On the plus side, Retrobatch is a very serious bulk processor with a uniquely powerful visual pipeline builder. I already own PhotoMill, ResizeMe, PhotoBatcher and PhotoBulk. ThumbsUp is free. It's hard to imagine dropping another $50 into resizing functionality. I could probably make do with the non-pro version at $30 which takes away Finder tags, colour profiles, rules and open in app (the list is longer but I'm just naming what I might miss).
If you don't already own a good image resizer, are somewhat technical and don't think you'd need the pro functionality, even Retrobatch non-pro is very powerful magic for $30. Retrobranch is the only powerful image resizer with my preferred more realistic rendering. Retrobranch on image quality and capability and quality of interface is the leader of all Mac image resizers.
ThumbsUp 4.5.3 on the other hand is simple freeware from Devon Technologies yet still offers the same great realistic rendering which Retrobatch does. Even jaggies even around right shoe lace look very similar to Retrobatch which is one of the better renditions. No templates but very fast to setup, every easy to create custom named folders. Very limited functionality: no watermarks, no templates, no metadata (ThumbsUp just rips all metadata out).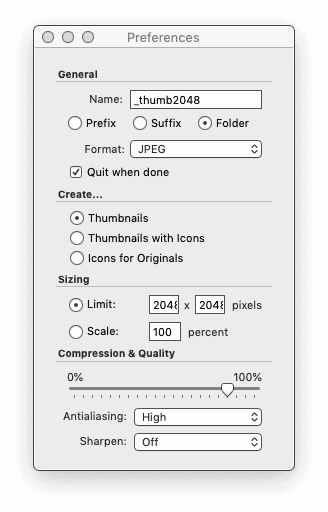 I usually like to leave at least EXIF and copyright in there, so ThumbsUp is not for me unless I deliberately want to create versions with no metadata at all (I will probably use it as an instant and surefire metadata stripper – no need to doublecheck output). For freeware, ThumbsUp is very nice though, with a simple linear interface.
Adobe Lightroom 4/Photoshop CC 2020 (subscription, $10 to $30 month) has jpeg jaggies even at a full 900kb (90 quality was 1.2MB). Edges seem too blocky. Lightroom does hold saturated colours well. The red seems redder than some of the others. There's no difference in the images between Lightroom 4 and Photoshop CC 2020, using the legacy web export function.

If Adobe applications are your main tool, there's no reason not to use their web export which for along time was the gold standard. On the other hand, web export quality is no longer a reason to use Adobe applications. Several of the low cost one time payment applications here do better, including some sophisticated ones like Retrobatch which can build much more powerful export pipelines.
Image Rendering Groups
It's worth first reviewing the results of the 2016 image resizer test if you haven't read it as this point. Out of the good applications without too much jpeg noise (EasyBatchPhoto) and whose colours match (disqualifies PhotoBatcher), there's basically two groups of image rendering:
Sharper, blockier: PhotoBulk, PhotoMill, Lightroom 4.
Softer, more accurate: ResizeMe, Retrobatch, ThumbsUp

Here you can see a fragment of the PhotoBulk export on top of the Retrobatch image at 800% (you'll have to open the image in a new tab to see the detail, the image above is resized again). There's some kind of line following along the top of the player Bellas's arm. His hair is a bit blocky and digital, his nose and neck suffer from jaggies. On the other hand, the Kittsee lettering on his jersey is much clearer as are his eyebrows.
There's some kind of sharpening built-in (I've turned off all sharpening options0 in all programs to make sure it's a level playing field as I'm starting from a very sharp image).
My own vote was initially for the more subtle and accurate render. Now that I've studied the results more closely, the sharper and blockier render might yield more compelling results at 100% which is how 98% of people will view these images.
Finally I've decided, both are acceptable for versions and its more a question of which program offers better workflow options.
Programs Not Included
piQtility is simply too complicated, ugly, confusing and closely tied in to Photos.app to bother with.
SizeRox was excluded for astro-turfing review at MacUpdate, as was PhotoBulk last time. I use and like some Eltima Software applications (Syncmate, recommended for managing an Android phone via OS X) so I gave PhotoBulk a chance this time.
Workflow from Masters
How does an external image resizer fit into a RAW development workflow? Here's how I prepare my masters and my versions. 
One: Master Export.
Export your jpeg (8 bit, 100%) or TIFF (16 bit, lossless compressed) masters directly from your image program. In my case, that's DxO PhotoLab 3 most of the time, but could be Iridient Developer, Affinity Photo, CaptureOne 12 or even Photoshop on special occasions.
Make sure this master is sRGB or if not, make yourself a sRGB master from which to work. You do not want to trust colour conversion to your resizing and versions tool.
Two: Captions and Keywords
When I have the masters, this is when I do my file renaming (Event-date-time-camera.jpg) via Better Finder Rename. If I am going to create any captions or keywords, this is where I'd do it as well. There's no way I want to spend my days and nights keywording, renaming and captioning images which will not be processed. I am a photographer not a data entry enthusiast or clerk.
Of course, if you are a stock photographer or work for a news agency, you may find yourself doing a lot of keywording and captioning of images pre-emptively. In this case the photographer is paid to do the data entry. Normally I find my older images by date (EXIF data) and folder name.
Three: Platform Specific Versions
From that master create your platform specific versions at about 85 quality. That's a good compromise on upload time and still providing a good enough master for Facebook or Instagram to In most cases, I'd create the masters at the size those publishers require so that only compression is altered without any resizing. Alternatively I'd send them full masters and expect them to do the whole resizing. The results are usually worse and upload times are much longer.
Four: Subversions for own Gallery/Website.
For self-publishing where you provide the intermediates, now is the time to apply ImageOptim to create a smaller file. It's best to give ImageOptim a 100% quality jpeg on which to do its magic, as it will compress equally well (in fact better) depending on the quality of the master.
In my case, I have WordPress between my master files and the versions which show up on my website. It's best to give WordPress masters at at least 85 level so that the versions look good. Versions are a problem as WordPress does not have ImageOptim or anything similar built-in. We've used some of the external services and they are a pain-in-the-neck and somewhat unreliable.
This would be a perfect pain point for WordPress to have included the ImageOptim code directly into WordPress itself. WordPress is GPLv2 which means there are no license barriers to incorporating another open source project like ImageOptim. If ImageOptim were built into WordPress, WordPress publishers would enjoy ideally optimised/compressed images with no additional hassle.
---
Dare to be Creative are now IncredibleBee and the publishers of some other excellent utilities Archiver3 (which I rarely use, preferring Keka) and Renamer (which I regularly use as my most straightforward name changing program, often after there's a small issue to fix post Better Finder Rename). ↩︎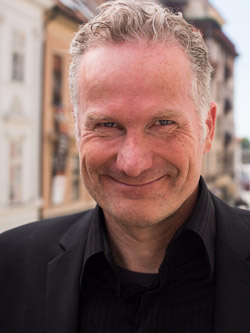 Alec has been helping businesses succeed online since 2000. Alec is an SEM expert with a background in advertising, as a former Head of Television for Grey Moscow and Senior Television Producer for Bates, Saatchi and Saatchi Russia.