Some of the FV Flowplayer users play guitar and teach these skills in online classes. They picked our plugin as an effective solution for their membership websites and quickly came up with an idea:
User AB loop
With this unique feature your users will be able to pick the part of the video which they like and loop it over and over again – perfect for practicing guitar "riffs" or "licks" or basically any tutorial website.
Here's some random video where you can see the feature. Once you start the video playback a button in the bottom left part of the video will allow you to enable the AB loop feature:
06:43
This feature is available for all owners of FV Flowplayer license. It's even more effective with the speed buttons (available in our free plugin) which allow you to slow down the video while retaining the sound pitch, see the above demo.

Here's how you enable the AB loop for any of the [fvplayer] shortcodes
Custom Video Ads
We improved this feature. Now you can pick an exact video ad for each video on your site.
This one plays a YouTube video in front of a self hosted video:
This one plays the video from our homepage in front of a self hosted video:
Check the documentation to see how the video ads are added, then it's easy to assign any ad to any video (we are currently updating the documentation to reflect this change):

Pick your ad
More information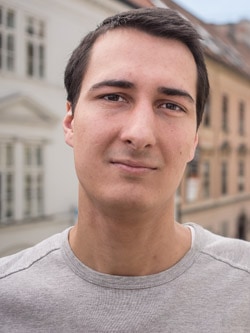 Martin graduated as an engineer in Computer Science from Slovak Technical University in Bratislava. He grew up in Liptovský Mikuláš in northern Slovakia next to the beautiful Tatra mountains. He is the developer behind our FV Player.