Foliopress WYSIWYG is the best advanced WYSIWYG editor for WordPress, supporting javascript, iFrames and a customisable toolbar. We've been building and maintaining it for years, it's perfect for commercial clients as it behaves and looks much like their favorite word processor.
Foliopresss WYIWYG also includes SEO Images, an image manager with built-in advanced SEO features. SEO Images functions as a gallery-lite plugin, easily replacing NextGenGallery for instance.
We have some amazing new features for you in the latest version, including compatibility with WordPress's built in featured image too and WYSIWYG support for Impact Templates.
WordPress Link to post dialog is integrated into the editor toolbar

Foliopress WYSIWYG WordPress Link to post feature
Support for Impact Page Template Builder plugin templates
Better custom field support and image HTML template
Featured Image support (beta)
How to use Featured Image feature?
It's easy to use, but due to some structural differences in how WordPress and SEO Images (the image manager used in Foliopress WYSIWYG) handle the images, there are some extra conditions to be fulfilled:
WordPress Upload directory has to be the same as Foliopress WYSIWYG/SEO Images upload directory.
If this is not done, then the feature won't appear in this version. In next version, we will try to automate the process.

Foliopress WYSIWYG Featured Image
If your Foliopress WYSIWYG upload directory is /images, this is what you have to use in wp-admin -> Settings -> Media:
WARNING: If you change these settings and you already have some images uploaded with WordPress Media/Image Manager, the images might stop appearing, as WordPress is not storing full URL for the images.

Due to the incomplete paths and its incompatibility with other CMS systems in case you ever move your site, we recommend getting your images out of the WordPress built-in image manager ASAP and keeping them out. SEO Images stores your images and paths in such a way that you could move to any other CMS tomorrow and have all your images show up.

You have to also move the images directory and update all references in posts, widgets and template if you change these paths.

If you'd like our help with moving your images and setting yourself up properly with SEO Images, just fill in a professional support request and we'll take care of you right away.
If you are running your WordPress from the web root directory:

Store uploads in this folder: images
Full URL path to files: (leave empty)

If your WordPress is located in a subdirectory
Store uploads in this folder: ../images

Full URL path to files: /images

Foliopress WYSIWYG Featured Image
More information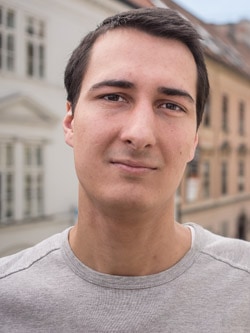 Martin graduated as an engineer in Computer Science from Slovak Technical University in Bratislava. He grew up in Liptovský Mikuláš in northern Slovakia next to the beautiful Tatra mountains. He is the developer behind our FV Player.