One lucky attempt to shoot new music video abroad just in time before the spring lockdown – that's one way of characterising the freshly released clip for Czech artist Never Sol and her song Leon by Czech director Jaroslav Moravec and his filming crew.

Shot in various locations in Spain, the story aims to reflect identically the topic from Never Sol's song – luck, victories and failures and freedom of will, as Jaroslav explained for Director's Notes:
The initial brief for Leon was very broad. When Sara (Never Sol) told me about her new track, she mentioned big, universal themes; freedom of will, victories and failures followed by our determination to get up again. I wanted to ground those concepts into a more linear narrative. I also wanted to offset the quite heavy sound of the track with something lighter, poetic, hopefully even humorous.

Inspired by the El Gordo lottery in Spain, Jaroslav Moravec's music video follows a mysterious woman who arrives at a remote town and begins to share her wealth with the local community:
Lottery seemed like an interesting vehicle that could show the highs and lows of human nature in a playful way. I started researching this theme and found an article about a small Spanish town winning the El Gordo lottery in 2016. El Gordo is the biggest lottery in Spain announced around Christmas. Interestingly, the tickets for that lottery became very expensive because the Spanish government wanted to regulate gambling. That had an interesting consequence, whole communities and towns started putting money together to buy one ticket. It became a social phenomenon. The prize is eventually divided evenly to all who chipped in. It's a fascinating story on its own.

The atmosphere of mystery around good fortune is concentrated around a woman character, who comes to the little forgotten-like town and barely unnoticed, with an ethereal aura floats around the local streets and people, getting rid of money at various places. Looking for the right location to underline the mood lead Moravec and his crew to small South European towns and villages:
We spent a fair amount of time researching southern parts of Europe, especially Italy and Spain and quickly agreed that rural Spain fit our story. We flew to Spain four months before the shoot and drove through pretty vacant villages in Andalucia looking for a place that had this charm. We eventually shot in three or four towns not too far away from each other.

A seemingly simple visual outcome of the filming was a result of Moravec's work with the director of photography Filip Marek who likewise wanted to experiment with a simpler setup than usual. Theyshot the whole piece with a 16mm camera on a tripod and with a skeleton crew (a film crew that is stripped down to the bare essential crew members, usually in order to save money in production.). The result is a vintage photo-like effect, which was in fact inspired by the theme of lottery and Spanish slot machines:
This ties back into the theme of a lottery but also to all those slot machines that we saw in Spain. The big inspiration was old Mexican lottery cards that were meant to be a part of that section but never made it into the film.

The simple 16mm shots alternate between pace-changing cubic images compiled into one big image. Prior to this technique, Moravec and Marek were about to try out an interesting technique called Zoetrope – the pre-movie era animation devices that created the illusion of movement by displaying a sequence of static drawings or photographs:
Ever since Filip and me started working on Leon, we wanted to bring analogue animation technique called Zoetrope for choruses. The circle worked conceptually, too – it supported the notion of timelesness and also the theme of lottery.
But re-creating the ancient technique digitally wasn't as easy as shooting on a analogue:
Initially the idea was to shoot everything practically so we set to print round discs with frames layered in circles. This has proven to be pretty difficult – time consuming for sure but so impractical too. Modern software does not really work well with images that don't have straight edges. We needed to figure out the number of frames, the speed of rotation and camera movement. When we finally achieved that, things started looking pretty digital. We decided to revert back to getting this done in computer.

Getting spinning round images in After Effects was just as difficult but rendering was the main issue. We had to give up on having things spinning in circle. All material was scanned to 4K so files were enormous and we needed to render out 30000px wide canvases that just kept crashing over and over. We started thinking about using gaming engines that might be more suitable but also meant we would have to start from the scratch. We ended up going back to early 2000's with previews rendered at 250x120px or so. We slowly crawled forward, tweaking trajectory of the camera, speed of individual strips and couple more variables.

Watch and listen to the mystical Leon here:
Never Sol - LEON (Official Video)
If you'd like to read more about the interesting details about the video, follow Jaroslav Moravec on his Instagram where he shares his notes from the process of shooting the video. Visit his website to see more of the director's work.
Do you have a video you think we should feature, or is one of your friends a talented filmmaker? Submit your work at marketing@foliovision.com for a chance to be featured in our Video of the Week series!
CR00CR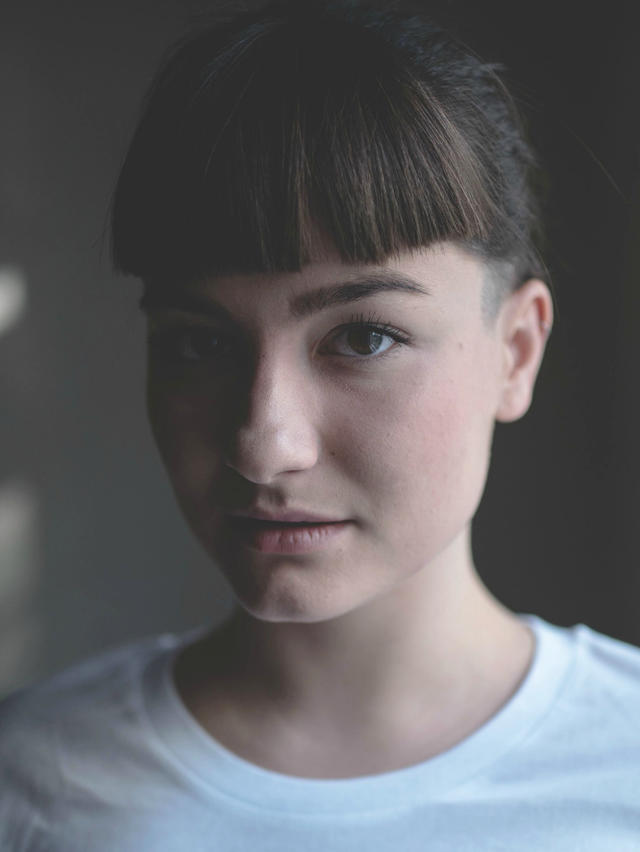 Chiara was born and raised in the neighbourhood of Petržalka in Bratislava. Besides studying Marketing Communication at Comenius University, she happens to be an observer, mostly through the lens of a camera.