Davis Silis is a director and writer based in London. Having worked with artists like The Kooks or Milky Chances, he creates music videos with alluring imaginary.
In his second video for British singer Cherie Jones (first being for song Hoops), Davis presents a fragmented version of her, that develops with intricacy through the track and is a great visual metaphor:
There's a line in the lyrics – We started with nothing, grew into something – that got me thinking about the way relationships, and who we are when we get into them, start like an empty canvas that is filled over time. So much, that even who you were, in the beginning changes too. How it's often hard to distinguish where one person ends and the other begins because you both have a mutual impact on each other.
We begin with Cherie in one state, who is then broken apart and even after she melts back together again, we can see that it is a new version of her. But the idea of employing a distinctive split-image technique presented itself with some technical challenges:
We wanted to shoot single long takes of Cherie's performance multiple times with just two lenses, so we could add fragments from different takes and the camera would always be in the same position. Our choreographer, Alexandra Green, also created movement that would progressively change over takes, so when we spliced one shot with another, we'd get beautiful layers of movement.
Davis and his team used the 360º track and translated each snare hit in the song to marks on the floor. This mark was then hit by a laser attached to a dolly.
To separate Cherie from the background, we used a second dolly with a moving green screen, the same laser-guided technique and a second grip, which let us keep both dollies perfectly 180º apart and moving at the same speed. The effect was to create a completely natural image, as though it were all in-camera.
The end result of this video is mesmerising and, with all of its deformation, kaleidoscopic images, broken glass and multiplicities, was nominated for Best Pop Video at 2016 UK Music Video Awards.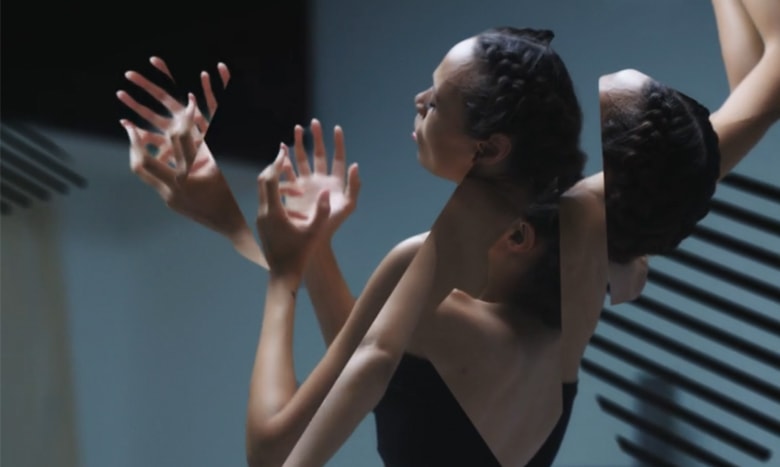 03:38
Davis Silis - Jones - Melt
Listen to Jones' debut album New Skin featuring the song Melt and find Davis on his Website / Facebook / Twitter / Instagram