Like most of you, coronavirus, or more accurately COVID-19 has hit Foliovision like a cement mixer barrelling down a country road. In Slovakia, masks are now de rigor everywhere. This includes at work, walking in the streets in town or dining out.
The parliament had to quickly rewrite that last law when they figured out the day after passing the law that it's impossible to eat or drink with a mask on.

I'm just wearing a dull generic white mask. It doesn't look good I'm not ready for pandemic at all. Our lovely colleague Natalia Klenovska, has shown us all the way forward. Colour co-ordinated full outfits to match one's mask. Or probably the other way round, sewing masks to match one's outfits.

Thanks Natalia for showing us all how to brave the new (Coronavirus) world in style!
---
Photographs taken on on our balcony on Panská this week with an iPhone 11.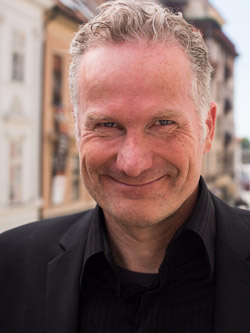 Alec has been helping businesses succeed online since 2000. Alec is an SEM expert with a background in advertising, as a former Head of Television for Grey Moscow and Senior Television Producer for Bates, Saatchi and Saatchi Russia.