I don't know if you've noticed, but fluffing has been an ongoing issue in the Google Places for Business. Lots of businesses have lots of fake reviews.

on set at the fluffer roxanne day deborah harry
On the other hand, some of our clients have tried to have clients post reviews for them. This has sometimes not worked out too well. If those reviewers don't have active Google Plus or Google Places for Business accounts, the reviews would disappear after a week or two.
Google is tightening the screws still further now. For once, I'm glad they are doing so. There is no place for fake reviews in Google Places for Business.
Here's the new drill.
Don't write reviews for your current employer. We don't allow reviews from current owners or employees.

We won't show reviews with links, so, don't put URLs in the text of your reviews.
You won't be able to get negative reviews taken down, so be careful out there.
We don't take down negative reviews for simply being negative for anyone, regardless of any other relationships with Google. Instead, we encourage you to utilize the owner response functionality to respond to the review and address the user's concerns.
If a third party claims that they know how to remove reviews from Google, don't believe them. Google does not work with any third party reputation management companies and we certainly don't remove reviews unless they violate our guidelines.
Google is crowd-sourcing the police.
If you see a review that violates our policy guidelines, you can report the review to us by clicking on the gray flag icon next to the review in question. You'll be taken to a form where you can tell us why you're flagging that review. Please note that we won't follow up with you individually, but we do review every piece of content that is flagged.
One could probably do a lot of damage to competitors by trolling through their reviews and removing as many of the positive ones as possible. If you are successful, you might be able to red flag their account almost altogether.
Another gotcha: you can't set up a computer at your place of business for people to use to review your business. Very tough.
Don't set up a computer or tablet device in your place of business for customers to leave reviews on site. Consider sending a reminder e-mail so customers can review on their own time.
Of course if people are reviewing are their own time, you can still reward/incentivize those reviews. But Google says no.
Remember, we don't allow you to give customers free gifts or discounts for leaving reviews.
Not quite sure how Google is going to stop this practice, short of throwing out all your reviews based on a credible report to their police. There's no difference between an incentivized review and a normal one. What Google could look out for: lots of positive reviews in a short period of time. But a large mailing to your customers could get you positive reviews in a hurry too.
What's an incentive and what's not? Diplomats have strict rules about what gifts they can accept from other diplomats, businessmen and their host state. Governments and courts have trouble enforcing these rules. What hope in hell does Google have of doing a good job with this.
I'd say incentivizing reviews from genuine people/customers is still a primary mining area and broadly recommend it. I would be very careful about doing so publicly though on either Facebook or your website. Do it in private emails or newsletters to your client. Prune your list before sending to make sure you don't have competitors or likely tattletales in the group to whom you are mailing. This is about risk minimisation.
There's no point mailing to past clients who don't have active Google accounts, so minimise your risk by not mailing to them.
I would also recommend dividing that list into segments and mailing the segments a week apart over a two to three month period. That will mean less chance of a sudden surge of reviews which attracts unwanted automated spam triggers.
Happy mining Google Places for Business!
PS. If you've just lost a bunch of legitimate reviews, don't panic yepeople are reporting some of them coming back.
For bonus points, merge your Google Places listing
with your Google+ Page
Advantage you get to have more photos and you get to have videos, as well as the social features of Google+.
How: make sure your Google+ Business Page and your Google Places for Business listing are under the same Google account. Source.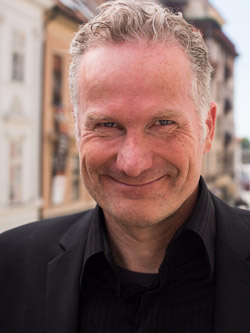 Alec has been helping businesses succeed online since 2000. Alec is an SEM expert with a background in advertising, as a former Head of Television for Grey Moscow and Senior Television Producer for Bates, Saatchi and Saatchi Russia.