In November 2004, after having seen some of Foliovision's successful real estate websites, Lorne S. Marr contacted Creative Director Alec Kinnear and offered him a unique problem to solve: how to start and build an insurance business online.

Lorne Marr  with some of his insurance awards and press clippings
Kinnear initially turned down the offer. "I knew real estate inside out. I'd grown up with it. My grandfather was VP of commercial real estate at Royal LePage, my mother, her husband, his mother, my aunt Mo, my own sister Julie were all successful real estate agents. But I didn't know anything about insurance."
What slowed down Kinnear was his own experience with insurance. "When working in Russia, I'd had a private health insurance contract with a big operator. When I had a scooter accident in Turkey, they didn't want to pay as I hadn't been treated in an official hospital. I was in the depth of Anatolia: there WERE no official hospitals."
"But after talking with Lorne Marr, I realized he was one of the good guys. Using his ties with local Toronto lawyers, Lorne was willing to put together a free service to help people collect on their insurance policies. At that point I was sold on working together: I could help Lorne develop his business and help people get a better shake from the insurance companies."
That initial idea is still running at LSM insurance claims page where lawyer Andrew Suboch has answered hundreds of people's insurance legal questions confidentially for free.
Before opening up LSM, Marr had worked in the insurance business as a captive agent with MetLife since 1993. During his time at Metlife, Marr won many sales awards. In the early 2000's, he decided he wanted to own his own office and be able to offer his clients a wider range of policies.
The big moment came in 2004, when Marr decided to start up his own agency, starting from scratch. From day one, Marr worked together with Foliovision, from choosing a domain name together and creating a corresponding logo.

Foliovision's first logo for Lorne Marr's LSM: sober, serious and a bit 2004
<!–

Foliovision's first logo for Lorne Marr's LSM: sober, serious and a bit 2004
–>
Lorne Marr's website, LSMinsurance was launched in 2005. "In those days "the online environment was completely different than it is today", says Marr. "Insurance companies had sites but most were not pursuing internet business actively." That made the starting situation easier for Foliovision and LSM, with only other brokers with whom to compete. For the first few months, pay per click advertisements were the core of the marketing strategy for LSMinsurance.
Kinnear warned Marr not to rely solely on paid ads as it made LSM completely dependent on ad prices:
"With online ads there was and is no barrier to entry. You walk up to the window, fork over your money and you're in business. You could even copy your competitors ads if you liked. We mainly created original copy as our ads were more creative, but competitors often leaped on our successful strategies. Right away I told Lorne, we should move into the SEO side as soon as possible."
Kinnear's pithy paid advertisements proved to be a early and big win for both Foliovision and Lorne Marr. The immediate results helped Marr kickstart his business, hiring more brokers and also provided funding to steadily improve the website.
In late 2007, other insurance companies ramped up their online activity, more than doubling prices. With the increased cost of ads and greater competition, Lorne realised the time had come to shift to SEO.
For the first few years Foliovision wrote most of the content but eventually both sides decided it made more sense to train Marr up as the principal writer and editor-in-chief for in-depth insurance material. Today, Marr has a team of writers working on his ideas.
Today's LSMinsurance.ca offers many guides, thorough articles written by professionals, as well as interviews with renowned insurance experts. Readers come back to the website to read new articles. "People today are much more engaged than they were at the time when the website was launched", points out Marr. Interaction with them on the social media thus became an important part of LSM's marketing strategy as well:
Apart from fresh high quality content, LSMinsurance.ca contains features and tools that make its visitors keep coming back year after year. The Income Tax Calculator, was introduced in February 2008. According to programmer Peter Baran, the calculator brings many repeat visitors to the site. The feature is always kept up-to-date, but its older versions are available as well. "It takes a lot of time and money to keep the calculator updated", says Kinnear. The income tax calculator is very popular, however, so the time and the money are well spent. There's even a Canadian Income Tax Calculator iPhone app on the way.
Additional popular features include the Canadian Insurance Companies Directory. "We are dedicated to providing the best directory of Canada's insurance companies in the world", says Kinnear. "But of course my personal favourite feature on the website remains the Help with Claims section."
Over the years, there have been several visual iterations of the LSM Insurance website. Version one was a quite sober white and blue affair, designed to look its best on 800 pixel wide monitors. In spring 2008, it was time to update to something a bit flashier and web 2.0. Italian designer Matteo Rattoti flew in to Bratislava work with Foliovision for a few weeks on a sleek silver and grey and blue look which lasted until summer 2012.
The current logo with the tagline "Just the insurance you need" was created in 2008.

Lorne Marr's new LSM insurance logo 2008: quite an improvement
this logo is still in use on the most recent 2012 design
"We always try to be forward looking with our designs. Four years is pretty good run for a website," says Kinnear. With the large amount of content and many tools and features, LSMinsurance.ca had started to look like a sales website. According to Kinnear, "In the insurance business, and generally in the financial business, you do not want to look like you are selling something."
The current design is far from looking overcrowded. "The new site is focused on readability and information. It could easily pass as a website of a hospital or of a government," notes Foliovision art director and co-creator of the new look Michala Lipkova.

Current clean LSM Insurance design for Lorne Marr
LSMinsurance.ca has earned a great reputation, with Marr and LSMinsurance regularly cited in mainstream media like CityTV, The Globe and Mail and Toronto Star. A simple way to measure the success of the Foliovision-LSMinsurance.ca collaboration is via traffic numbers.
In the first full year of the website 2006, 94,477 unique visits were recorded. For a new website, that is not bad at all. Pay per click ads clearly did their job very well. However, due to growing online competition and increase in the price of paid advertising, the numbers went down in 2007. *Since the strategy has shifted towards SEO and high-quality content, unique visits have only risen over time. In January 2008, the number of visits was 7,978. Six months later (and five months after the income tax calculator was introduced), monthly visits had tripled to 22,868.

LSMinsurance.ca Page Loads and Visits Graph
Huge gains were made between the years 2007 and 2008 with a nearly fourfold jump of visits from 84,896 to 269,776. Every year is more successful than the previous one. 2012 has been the best so far, with over 1.5 million unique visits to the website recorded. After the first month of 2013, it looks like in 2013 visits might double again in 2013.
Over the years, Foliovision's role in Lorne Marr's business has steadily changed. Initially, Kinnear and the Foliovision team mainly worked on the marketing side. Now Foliovision primarily provides web development and programming, as Marr is now able to manage the content and marketing part of his site himself. Marr has understood that quality content is the key to his site's success and goes to great lengths to provide the very best: "I subscribe to numerous industry journals, finance magazines, and follow websites in the US or the UK to get inspiration."
In the case of LSM Insurance, Foliovision has helped Marr to build, run and continue to improve a multimillion-dollar business. One of Foliovision's goals is not just to provide services but to coach its clients to be able to be able to do more for themselves. Kinnear insists business owners should be actively involved in their own website strategy: "Nobody knows your business better than you do. Working with Lorne has helped me too. Lorne is persistent and patient when pushing through projects. Over time, I've acquired some of his own patience and persistence which has stood Foliovision in good stead as we too grow."
What does the future hold? With Foliovision by his side, Lorne Marr's main goals are focused on the visitor: "I will keep looking for the innovative ideas which improve consumers' experience."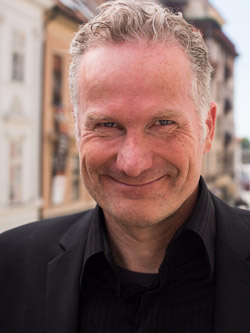 Alec has been helping businesses succeed online since 2000. Alec is an SEM expert with a background in advertising, as a former Head of Television for Grey Moscow and Senior Television Producer for Bates, Saatchi and Saatchi Russia.