Foliovision specialises in migration from various platforms, such as Typepad, Drupal, Joomla or Blogger, to WordPress. Cooperation with Top Windows Tutorials was unique because the move from SBI (Site Build It) to WordPress was a completely new experience for Foliovision's team. Top Windows Tutorials allows PC users to watch hundreds of free videos and learn new features or troubleshoot when they encounter problems with Windows.
Matthew Buxton, the author and webmaster of the Top-Windows-Tutorials.com website, said:
I basically did a little search and Foliovision was actually the only place that offered a service to set SBI to WordPress, which is exactly what I was looking for.
He has added that Foliovision's reputation was one of the factors why he contacted it.

Alec Kinnear, creative director of Folivision, explains that Matt Buxton was in a difficult situation:
Matt had built a great technology site on top of what is now fossilised code (SBI), started when Windows XP was a new operating system. How could Matt convince people that he is up to date on technology when his articles looked like they were published when dinosaurs roamed the internet?
The project started in early March 2013. The challenge to modernise the site was taken up by Foliovision programmers, mainly Ivana Uhlikova, Milan Marchfeld, Martin Vicenik and Karol Kosar. "Some pages were missed during export or import and we had to notice which of them and add them manually," remarked Ivana. Vladimir Varga was responsible for functionality of videos and forms while Karol Kosar was coding the widgets for Windows tutorials on the homepage.
Alec Kinnear stressed that the migration included various tasks that the Foliovision team had to handle carefully:
Matt had built a lot of incoming links and a sophisticated navigation scheme which on both SEO and site use grounds had to be preserved. Foliovision carefully gathered all of the content from SBI and built a WordPress site matching the original structure, as well as an original design based on the Windows 8 look.
Matt Buxton praises cooperation with the Foliovision team:
The communication was quite good and the project management beside was good. I liked that when I said the security of sending passwords could be more secure, they did something about that within a few days.
Ivana Uhlikova pointed out that Matt was a good client and provided valuable input and feedback:
He knew what he wanted, always responded quickly and understood that it is not an easy job to transform a website.
The main change on the Top Windows Tutorials website was from a static to the dynamic form. According to Ivana Uhlikova, templates in SBI look like from the 1990s compared to WordPress Themes. She has added that although design is not the only factor of success, it is very important because first impressions mean a lot to people.

 
Foliovision also added three widgets to the top of homepage, each for displaying the newest tutorials from a different Windows version category, as well as 12 widgets in the sidebar of homepage which are additional navigation in the site for easy access to different content. These new widgets allow users to choose something more specific. "In the old site,everything was displayed at the same time and it was hard to navigate," remarks Uhlikova. However, Foliovision tried to keep navigation from the old site with some improvements.
The website's design is now very clean and the site is easy to navigate. With hindsight, Matt admits that the SBI site was very static. He is generally positive about the migration from SBI to WordPress and sees it as an improvement. Top Windows Tutorials now looks like the leading Windows site it is.
After comparing the initial version of Top Windows Tutorials in SBI with the new one built on the WordPress platform, Uhlikova concluded that she completely understood why Matt had decided to move from SBI to WordPress. While the SBI platform may be a convenient choice for people with little experience with web publishing or those who only need simple sites, it is insufficient for more complex websites. In SBI there is only organisation by theme while WordPress sites can be organized by post date, category and tags or any combination of the above.
Here are Matt's pointers he'd suggest people pay attention to:
Remember your newsletter – SBI has the facility to export your
newsletter mailing list and WordPress has several plugins for building
newsletters. Remember however that most hosting companies do not include
a suitable mail server for sending bulk e-mail. If you have under 12,000
subscribers, you can use Mandrill for free, otherwise you will need to
budget for the cost of using a third party newsletter service.

Consider hosting carefully – If you're getting over 1000 hits a day,
seriously consider a semi-dedicated or dedicated hosting package.
Foliovision recommended MDD hosting and I can strongly recommend them
too. Their technical support is great and their semi-dedicated hosting
packages are fast and affordable. SBI recommend Bluehost for use with
their Infin-IT modules, but Bluehost actively block the sending of
Newsletters from WordPress sites, so they aren't my number one choice.

Content 2.0 – WordPress doesn't have a module that's identical to SBI's
Content 2.0 module, that encourages visitors to write their own pages.
If you have a lot of Content 2.0 pages, talk to the Foliovision team and
explain exactly what you need and expect from your WordPress site.

Consider your site navigation carefully – It's tempting to just switch
to one of the WordPress automatically generated navigation systems, but
consider your visitors carefully. In early trials, or target audience
didn't like seeing our articles arranged in date order and much
preferred the more static, SBI style navigation we already had in place.
In the end we configured the site to give the visitors both options.

You will lose some functionality, but gain MUCH more – SBI's master
keyword list, keyword finding tools and extensive library of small
business building articles are what I miss most, but you gain much more
going to WordPress. New features are added to WordPress all the time,
forget waiting years for new modules. You can even commission
Foliovision or many other companies to write you entirely custom plugins
or themes if you want to, pretty much anything you can imagine is
possible. There are other keyword finding tools you can use such as
Wordtracker.com, and don't forget to export your master keyword list
before the move.
WordPress is not only free but it is also very flexible with unlimited custom functionality, unlike SBI in which the publisher cannot add his or her own custom functionality. WordPress is continually improved by a huge and strong community of great developers. Although it is easy to learn how to use WordPress, Foliovision always includes a basic client training on WordPress in its services, so that they can grow along with their site. After the site is launched, clients can return for more training, for custom programming or even for routine maintenance. Regardless of their starting technical level, Foliovision clients have all the support they need to run a successful site.

Matt Buxton
When the project was completed in late June 2013, Matt was satisfied with the outcome and did not keep it to himself. He left a recommendation on the SBI forum. In addition to enjoying a happy migration, Matt particularly likes Foliovision's Flowplayer plug-in:
I have been really impressed with how the plugins tells you if you did something wrong when encoding and if so, how it had happened and how to fix it. I am really, really happy with that. I like the idea that if anything goes really badly wrong that I cannot solve, I could recall on Foliovision to sort it out.
Foliovision, which continues to provide assistance to Top Windows Tutorials, hopes to make use of experience from this project in future SBI to WordPress migrations.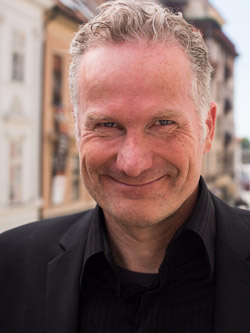 Alec has been helping businesses succeed online since 2000. Alec is an SEM expert with a background in advertising, as a former Head of Television for Grey Moscow and Senior Television Producer for Bates, Saatchi and Saatchi Russia.