In January we helped Mark Levison's Agile Pain Relife consulting make a very successful Typepad to WordPress transition. Behind the scenes there is a very interesting design case study, we'd like to share.
The main aim was to move the content from Typepad webblog to his new business domain. Mark's company focuses on the business of "relieving software development pain". He came to us with a great domain and a catchy name for this business: Agile Pain Relief Consulting comes from.
Mark chose the WooTuits theme, which we thought was a great fit. He didn't ask any significant modifications. The challenge was to adapt it to Mark's consulting firm's business goals. At Foliovision, when we talk about customising a template it goes far beyond simple changes like background colour or the size of the font. We start with a template but seek to end with a unique site which look like a custom design.
We firmly believe that getting one's logo and branding right is the starting point for a successful design. Mark didn't have a budget for the logo work so we agreed to do a new logo ourselves which Mark would purchase if he liked it.

The original logo
The original logo was saying the company name in simple black bold Times font without any other adjustments. Our concept was to focus on the "pain relief" element of company's business name.
We wanted to create strong, iconic branding capitalising on the billions of dollars already spent by pharmaceutical companies on pain relief imagery.
Here is our first good attempt.


Redesigning the original pill
This logo show the creative way of redesigning existing brand identity. Why to have the pills lying around your logo, when they can help tell the message straight by forming well known sign of the medical cross? Why to use serif font when simple, sans serif, modern looking typeface can communicate your brand values more clearly?


Creative redesign
But we still wanted to get to something stronger. After a trying many things we suddenly realised that AGILE is exactly five letters just like the word BAYER and their famous original pain relief pill: the simple aspirin.
Here's what we came up with:

Bayer aspirin pill idea
 Since the logos were done rapidly, to as concepts, we used the existing Bayer aspirin pill. After acceptance we planned to do the 3D imaging necessary to get a convincing scalable version of the pill for both print and web with AGILE instead of BAYER.
Our client Mark liked the Bayer aspirin pill idea.
Unfortunately he was unable to find the resources for redoing the pill and the logo remains a concept only for now. Mark went with a homemade logo:

Self-made solution
Alas, homemade logos are often not as effective at presenting one's brand as a designer version. We are really sad that we were not able to complete this project for Mark.
Mark told us he doesn't think logos or design are a substantial reason that a client would choose a supplier or not. We disagree on that question. A logo is not a substitute for good service or product, but a complement. In our experience, A convincing logo will help with:
media relations
getting a better price
closing the deal
Hopefully a good project will come Mark's way this year and we can finish the job for Agile Pain Relief Consulting.
What are your thoughts on the important of a good logo?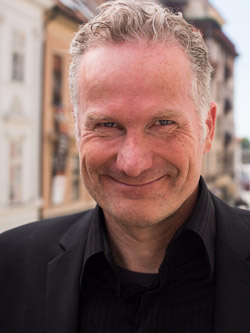 Alec has been helping businesses succeed online since 2000. Alec is an SEM expert with a background in advertising, as a former Head of Television for Grey Moscow and Senior Television Producer for Bates, Saatchi and Saatchi Russia.