WordPress 3.0 is out, finally. No doubt, many good things under the hood. I particularly like that multiuser is now available. For once, the default theme is not visually embarrassing, although no doubt that will change once we've seen Twenty Ten a hundred times on splogs.
One bad thing, people's expectations that WordPress 3.0 is:
bug free
compatible with current plugins
No way guys. There's no way that most popular plugins are ready for 3.0. So unless you are willing to go on a severe plugin and functionality diet, just forget about WordPress 3.0 for a couple of months.
It's the same deal when Apple releases a new version of their OS (back in classic days or with OS X). You don't want 10.6.0 or 10.6.1 or even 10.6.2. Applications don't work and are incompatible. The sweet spot to move is the .4 or the .5 iteration.
Frankly, I'm still running 10.5.8 on my main computer and have had less headaches as a consequence. I'm about ready to move, as all my software now has Snow Leopard updates and all of the other workarounds have been published by those who love to live on the bleeding edge. Still I might skip 10.6 altogether though and move to 10.7 when it's ready. My girlfriend's Macbook is running 10.6 and the only thing I'm missing out on are the built-in scanner drivers (works great with our HP C3180, unlike HP's own software). Oh and Acorn 2, which is the best photo edit tool I've seen outside of Photoshop.
The crazy thing are greedy clients who want the latest and greatest before the paint is even dry. We just finished a huge Typepad to WordPress move using our current plugin set (there's a fair amount of moving parts to make a T2WP conversion seamless) and one gentleman is clamouring for his free upgrade to WordPress 3.0.
First we are not part of WordPress incorporated (that's called Automattic). Second, he is running a media site and he needs all those plugins which haven't been even tested yet on WordPress 3.0.
One step at a time.
Fortunately this time, Matt has promised to take some time off from developing core code and WordPress will distribute their efforts to improving the WordPress.org site and resources. A much better idea.
Normally this is where I'd say we're about to start work on 3.1, but we're actually not. We're going to take a release cycle off to focus on all of the things around WordPress….so much of our effort has been focused on the core software it hasn't left much time for anything else. Over the next three months we're going to split into ninja/pirate teams focused on different areas of the around-WordPress experience, including the showcase, Codex, forums, profiles, update and compatibility APIs, theme directory, plugin directory, mailing lists, core plugins, wordcamp.org
We have more than enough functionality. Just keep the API's running clean and keep improving the invisible code.
Only one big disappointment: Foliovision is not yet on the list of contributors for core code. We'll have to settle for the best alternative WYSIWYG editor and best image publishing system on the WordPress platform. We also have the best WordPress comment moderation system and the best free Flash video player plugin for WordPress. Well maybe that last is a dubious honour as Flash is on its last legs but lots of people love FV Flowplayer.
Thanks and congratulations to those who did make it and created the core of the latest WordPress.
We'll be busy over the next couple of months getting all of our plugins up-to-date and compatible with 3.0. For our users, no worries, all of our current active plugins will be making the transition.
I thought it would be time to congratulate our former CTO John Godley but strangely John's not on the list yet either, despite having written the best set of plugins out there and now working for Automattic.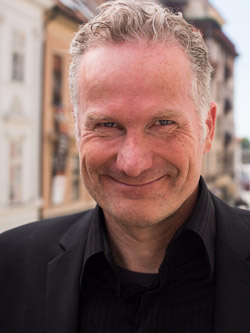 Alec has been helping businesses succeed online since 2000. Alec is an SEM expert with a background in advertising, as a former Head of Television for Grey Moscow and Senior Television Producer for Bates, Saatchi and Saatchi Russia.