Foliovision has clients from all over the world. Foliovision is well known for their work on sports, entertainment, financial, political and cooking websites. Last year Foliovision was privileged to help build a premium website for fans of classic fast cars, specifically Chevrolet Corvette, The Corvette Blog.
Ryan Esler, Director of Marketing and Technology at Matick Chevy, a Michigan-based car dealership which runs the website, contacted Foliovision in late 2011. As he described it,
We had an outdated Typepad installation and were paying a large monthly fee for maintenance of an obsolete platform with another vendor.  They weren't interested in upgrading or taking advantage of the many advantages of the WordPress platform. In an effort to eliminate expenses and improve the quality and SEO capabilities of our blog, we wanted transition to hosting our own site and getting on WordPress.
One of the services Foliovision offers to its clients is precisely that – a complete move of their blog/website to WordPress. The company is well-recognized for taking care of migration of any website to a different content management system. That is how Elser discovered it.
After doing some exhausting research as to what company or vendor could provide the most seamless transition from Typepad to WordPress, I contacted Alec. He made me feel at ease that Foliovision had a system, process and the experience to make the transition without losing valuable content, comments or linkages.
Although Foliovision is based in Europe and the client is in the US, the cooperation was as smooth as if they were in the same time zone. Foliovision team members are used to communicating with clients, either via e-mail or over the phone, at any time of the day. Distance and different time zones are not an issue at all. "The ability to do business around the world is amazing, and we are very thankful for our relationship with Foliovision", Esler said.
After the initial contact, the cooperation soon got under way. The migration of the website itself was, as always, taken care of by Foliovision's programming team. The client's input was, as is usual with moving a site, very limited. However, Esler and his co-workers had to present Foliovision with a few ideas regarding the website design as well as specific features that required the involvement of the programming team.
As anyone who is passionate about their blog, the client wanted the new site to be better than any other automotive website. Premium feel, high-end, and powerful are the three words that the client used to describe the perfect site. Its goal was to stand out, which was to be achieved thanks to a clean and progressive design, and perhaps the most appreciated tool, a custom inventory. Interestingly, the inventory was not a part of the original plan. As Esler said,
They (Foliovision) custom-built a module to display all of our Corvette inventory so customers can see options, pictures and pricing.  It was not initially part of the scope of our project but Foliovision worked diligently to make it a reality, working with other vendors to make it easy for me to know it was being handled and executed.
The inventory, now updated automatically, allows visitors of the site to search for a specific car according to the following features: Year / Trim Level / Color / Transmission / Condition. It is very helpful indeed, and it is hardly possible to think of a better way of viewing cars of your interest in such a transparent way.
Technical parameters of a car are not the only important part when searching for new information. Its look is of great importance as well. Pictures were thus, quite understandably, a crucial part of the project. The client was keen on the best possible option to use the pictures. Light-box effect was what he wanted to achieve, and Foliovision took care of it. The ability to share posts on social networks and a sidebar containing the list of recent posts, comments, archives, or categories as a tag cloud were among other (fulfilled) requests of the client.
When creating or significantly improving a website, the project team has to think about who the site's target audience. The Corvette Blog was created to appeal to certain demographics – in this case, it was mostly men of means thirty and over. What was required was a high end look which is very clean and easy to navigate.

Corvette Blog Logo
According to designer Michala, the new site should be very simple. Foliovision's designers cleaned the website navigation by reducing the number of menu items, and replaced the long sidebar lists with dropdowns, making the look much sleeker. As the pictures show, the new logo created by Foliovision is based on typography and one strong symbol. The dark background was used to keep consistency of the content body, and the bold font on headlines is supporting readers' focus on posts. The overall design of the site also makes the big, beautiful pictures stand out.
In the words of Alec Kinnear, creative director of Foliovision,
The idea was to put the focus on the cars and content and not on the site decoration. You have a sophisticated market who really want to see what they came for: the Corvettes. They want to be able to focus on the object of their desire.
Foliovision cooperated on this project with one of the best conceptual designers in Slovakia, Brano Matis, who is normally too busy preparing new exhibitions to do commercial work. Foliovision was able to prepare the project and brief in such a way to make it possible for Matis and the client to come together for a short sharp creative moment. With the visual concept perfected Foliovision smoothly executed on the technical side and on the finer design details.

Corvette Blog New Design
Since the move and transformation of the site, no dramatic fluctuations in the number of visitors were registered by Esler. However, he does realize that the blog would have more readership if it provided new content more quickly and frequently. Nonetheless, it should be pointed out that the most important ambition of the website was fulfilled. The greatest aim of the site was to become a destination for Corvette lovers, and it was both to offer information, and work as a sales tool. It is now safe to say that this objective has been reached successfully. As Esler stated,
We have sold many vehicles last year through readership of our Blog and generated countless enthusiasm and engagement in both the vehicle, and our brand and expertise!  The website allows us to connect with people all over the world, and sell Corvettes throughout the United States.
That sounds like quite a success. The site indeed is, as its description says, "the internet's source for Corvette news, information and inventory". When asked to sum up the project in a few sentences, Esler stated the following,
The communication process was easy and comprehensive. The planning and execution was flawless. The ability to work together via Basecamp (project management system) and monitor results was especially appealing.
Foliovision continues to supply ongoing technical and design assistance to Mattick Chevy. Esler is happy to have found a supplier with serious post-delivery support: "There's no question I'll look to Foliovision to help with all my WordPress needs."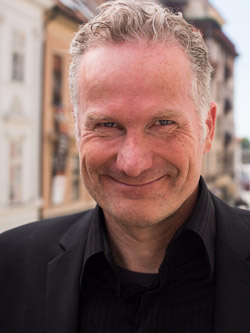 Alec has been helping businesses succeed online since 2000. Alec is an SEM expert with a background in advertising, as a former Head of Television for Grey Moscow and Senior Television Producer for Bates, Saatchi and Saatchi Russia.