Gary Vaynerchuk success – photo vinama
Online wine guru Gary Vaynerchuk is really getting around. I've seen him collaborating with internet marketers in the last few months on some relatively dodgy campaigns.
Lately I caught him in somewhat better company. Vaynerchuk was recently interviewed over at e-consultancy and he let fly what I think is the key to his success.
Who should be in charge of this sort of participation [in social media]? Do any rules of engagement need to be established?

It's really like the person who is wearing the underwear… who is controlling the game? That person needs to establish the rules for how you approach it and ultimately rules are hard to control in social media. You are better off letting the world run wild. You cannot completely control your message any more. Be as authentic and awesome as possible or you will fall like the Berlin Wall.
Vaynerchuk's absolutely right. For two years, one of my clients was always very uptight about stating his real opinion. The website languished. Since the last six months, he's been more and more willing to go out on a (at least partway) limb. And since he turned the page so to speak on his corporate persona his website and his sales are going through the roof.
What people are seeking on the internet is authenticity.
How to do change your corporate voice for a real voice?
Sit down and think about what's special about you.
Ask your friends about what they love about you.
Put that personality into your marketing.
If after careful reflection you don't think your personality will bear marketing – some don't, some people are just not cut out to expose themselves in any way – find someone else to be the front person for your organization. And support them fully in their endeavours.
Who would you rather buy from? A person you like or faceless corporation hiding behind marketingspeak and safe publicity material? Makes it pretty clear doesn't it?
Otherwise, go for it. Jump right in. The water's perfect!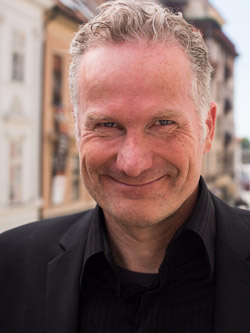 Alec has been helping businesses succeed online since 2000. Alec is an SEM expert with a background in advertising, as a former Head of Television for Grey Moscow and Senior Television Producer for Bates, Saatchi and Saatchi Russia.