Have tech companies gone blue chip: no risk, little reward?
Over at purveyor of dubious business advice The Wall Street Journal, Mean Street says it is so:
The good news: Tech stocks are the blue chips of today's economy. The companies are bigger and better run than ever before.

Still not convinced this sector has matured? Today, there are eight U.S. tech companies with market caps greater than $100 billion. Only three U.S. financial institutions are worth that much. Three. Last week, technology surpassed financials as the biggest component of the S&P 500.

The bad news: Tech stocks are the blue chips. Lower risk means lower reward. Are tech investors mentally prepared for the 10% equity return including a 2% dividend
Those are amazing numbers. Tech companies are bigger than banks. Curiously tech – and entertainment and weapon systems – seem to be the only products in which the US is a world leader these days.
Despite the huge market cap of the top tech companies, I think Evan Newmark is off base on the future of tech.
The Google IPO only took place in 2004. The tech market is as dynamic as ever. But there have been changes:
The movement is away from hardware to software as a service.
The movement is to profitable online models.
Online advertising is about to really grow again.
It's not that there aren't big rewards still out there in tech. It's just that it won't be in selling hardware.
The same thing happened when IBM released the PC, those cute old 286's. I owned one. Suddenly big iron and dumb terminals were of limited use. Companies like DEC hawking terminals and mainframes slowly just disappeared.
We are at the start of a new era of opportunity. The keywords here are:
linux – open source
flexibility
interface
availability
low-cost
Anyone who gets those right – and we are multi year clients at least five of these companies (37signals Basecamp, Statcounter, Freshbooks, iContact, all highly recommended plus one legacy with poor service to remain nameless) with the average bill over $50/month – is in for ongoing paycheques. Web applications and commercial refinement for Linux may not be as exciting as multibillion dollar investments in new Silicon factories, Plasma screens or brand new OS's.
But the oceans are a lot deeper here. The opportunites are vast. The plays will be smaller – but clever VC's will have the opportunity to own half of a whole revenue stream which could be tens of millions of dollars per year.
For the moment, the VC's are making their money on acquisitions – and doing very well with the biggest sharks Yahoo, Microsoft and Google – circling in the water at all times. Some acquisitions are huge: YouTube at $1.6 billion (Google), del.icio.us at $7 million (Yahoo). But the current acquisition frenzy is just the top of the iceberg.
We are at the beginning of a paradigm change, of a real tech business renaissance, akin to the launch of MS-DOS in 1981 or the Apple Macintosh in 1984.
Note: This is not to say this tech-media renaissanceis without risk. Those who blow the pricing-access model can lose big in this new era, like the New York Times.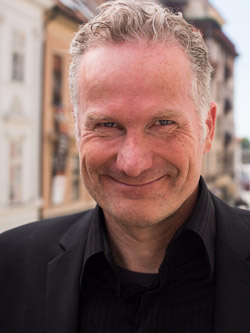 Alec has been helping businesses succeed online since 2000. Alec is an SEM expert with a background in advertising, as a former Head of Television for Grey Moscow and Senior Television Producer for Bates, Saatchi and Saatchi Russia.