WordPress are finally getting around to updating the Admin theme.
This is a great idea. From the beginning WordPress has generally looked great when going out with visitors but she dresses awfully sloppily around the house.
The front end just keeps getting better as the backend stagnates.
Unfortunately, current previews of the updated WordPress 2.4 Admin interface show a getup which looks worse if anything, than what's there now.
I'm having visions of Mambo circa 2004. What's with the dreadful new brown and orange? The blue on blue colour scheme is about all the WordPress Admin Panel has going for it aesthetically.
The only good looking Admin interface for WordPress has been Steve Smith's  WordPress Tiger Administration, which first saw the light of day in June 2005. 

Tiger Admin Page Management

Tiger Admin Dashboard
I gleefully ran WordPress Tiger Administration for about six months back in 2005. Sadly, WordPress Tiger Administration doesn't run on Internet Explorer – there's some very fancy CSS involved, which Steve didn't feel like bending to Internet Explorer. As WordPress Tiger Administration is free, who can blame him?
The end result though as the clients started to edit the sites themselves, I didn't want to be using an interface that was in any way different than theirs. Otherwise, I just might now know if a site was working properly.
John and I talked about doing an Admin panel redesign but John talked me out of it for compatibility reasons. Had I known just how long the stagnation would go on, he might not have dissuaded me so easily.
In the end we did create Foliovision Edit Templates, now part of the full Foliopress CMS suite with Foliopress WYSIWYG, Foliopress SEO Images and Foliopress Advanced Page Manager and Foliopress Dashboard. 

foliopress edit templates

foliopress advanced page management 

foliopress dashboard
Frankly, Foliopress Edit Templates and Foliopress Advanced Page Manager look better to my eye than what's coming WordPress 2.4. I'd still like to see a first rate designer have a go at the CSS.
As soon as John gets our registration and download system setup, I will release them for download for free non-commercial use. All of the Foliopress Admin enhancements are easily installed plugins which are fully compatible with all WordPress versions between 2.1 and 2.2 so switching over is not difficult.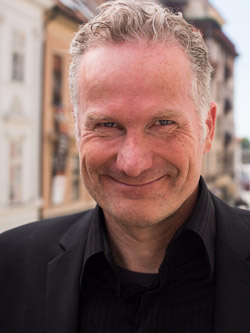 Alec has been helping businesses succeed online since 2000. Alec is an SEM expert with a background in advertising, as a former Head of Television for Grey Moscow and Senior Television Producer for Bates, Saatchi and Saatchi Russia.