We needed to add four new workstations to our Foliovision office in Bratislava. In my experience working on quiet computers really increases the productivity, so originally we were considering laptops. After quite a bit of thinking and research we've made the decisions to base our computers on Intel's Core 2 Duo chipsets, as they're fast and cool (they run almost at half of the temperature of their AMD alternatives).
WHY DUAL CORE

I've found dual processors to be great for design and internet related tasks, as you can leave an upload running in the background while still working at full speed in a text editor or browser. If the Core 2 Duo is good enough for Apple, we decided it was the choice for us. Going with a budget chip would save you a $100 or $150 on the unit but at the cost of additional heat, noise and problems.
After doing up a budget for Intel Core 2 Duo laptops and desktops, we found laptops would have:
smaller screens (1440×990 versus 1680×1050)
smaller and slower hard drives (80 GB versus 200 GB)
much higher price tag (25,000 SKK ~ $900 versus 17,000 SKK ~ $625, including Samsung 20" 205 monitors)
would be much harder/more expensive to repair
We also thought long and hard about whether we needed or wanted to be moving our computers around. We already have three laptops in the company so we already have some portable units – if we need them. And we found that portability was a small concern. The guys didn't feel like taking their work home for the weekend or to Switzerland for holiday. Why should they? Always having your work with you can be the bane of one's life, costing peace of mind and whole relationships.
So desktops would give us bigger screens for less money. The final big advantage is that if a laptop breaks down it goes into service for four weeks. With a desktop we just buy and replace the broken part and wait for a replacement from the manufacturer which goes into the spare part cupboard – almost zero downtime. So we went out and bought desktops and hoped they wouldn't be too loud. Here are the specifications:
Intel® Pentium Dual Core E2160 (1,8 GHz, 1MB L2 Cache, 800 MHz FSB)
GeForce 7200 128 MB DVI with TV-Out
Hard drive 160 GB 7200rpm SATA
RAM 1024 MB DDR2
DVD/RW Dual double layer recorder
Gigabit LAN, Floppy 3.5"
Keyboard and optical mouse.

Agem Intelligence 5300 as they come straight from the supplier.
And these computers are fast.
Unfortunately with four of them on, the site promotion room sounded like the deck of an aircraft carrier. This was just not going to work. Balázs went to work experimenting. Luckily the guys at Agem didn't make it impossible for us, to take the computer apart, the screws were easy to remove, the cables weren't glued in the harddrive, etc. The CPU fan didn't seem to make much sound at all. Part of the problem was an internal fan in the case, but the biggest noise was coming from the power supply.

This power supply was the source of all our problems.

The fan on the CPU.

The internal fan in the case.
We started looking at the silent computer sites. We found really good information at silentpcreview.com, buildsilentpc.com and hardcoreware.net. First order of business was to change the power supply. One of the possibilities was to purchase something like the so called PICO PSU, which needs only an adapter similar to laptops and makes very little or noise at all. We were a bit worried about if it is capable of delivering all the necessary power because of the lack of proper information on the manufacturers site. Luckily we found this great PC wattage calculator tool, from which we were able to figure out our needs specifically. Unfortunately there was no distributor in Slovakia, so we had to go for something else.
After additional research, we've finally found our best best. It's definitely a more expensive, but fully professional solution: the fanless Fortron PFC ZEN (2500 Sk / 100 USD + VAT) high quality convection power supply. Happily enough it was available from the distributor from whom we bought the computers ( Agem ). The power supply has a Active PFC circuit, full range input, real no noise design with 0dBs on full load and a dual 12V rail output for ensuring the consistency of the voltage rails. The excellent heat dissipation is achieved with partial mesh casing and conventional heat transfer. Here are the details:
Dimension: 140×150 x 86mm
Efficiency: > 89%
Color: blue
Noise: full load =0dB
P.G. Signal: 100-500ms
Over voltage: 5V trip point < +7.0V
Protection: +3.3V trip point < 4.5V
Recycle AC to reset: +12V trip point < +15.6V
Input voltage: Full range
Input frequency range: 47-63 Hz
Input current: 1.5~3.0A
Hold–up time: 17ms

Fortron PFC ZEN fanless power supply. We do recommend it.
Nonetheless, this supply looks really really cool given to its beautiful blue design. The cables from it are very well organized into small tubes, which also aids the air circulation inside the case. As we said before, these units make absolutely no noise and look great.

You can see the heatsinks inside.
The inexpensive cases turned out to be very well designed for silent computing as well. The power supply fits snugly at the top of the case at the back and top. This means all heat goes out the back and top of the computer never going near the CPU (main processor) or the GPU (graphics processing unit). This is a big improvement on Apple's design for instance which puts the power supply at the bottom of the case (G5's, new Intel towers) where they cook everything above them all day long, making the fans run and drawing lots of dirt and dust into the power supply.

The final configurations we use now after all the changed components.
We have changed graphics card to MSI RX2400 Pro, partially because I had bad experience with nVidia cards before and would rather have something else. The internal Intel 950 chipset would have worked out just fine, but it isn't capable of running my big screens resolution (2560 x 1600) and it was important that all the workstations are identical for the purposes of maintenance.
ATI Radeon HD 2400PRO chipset
256 MB, GDDR2 memory
DirectX10 support
Heatsink solution (zero noise)
525 MHz Core Clock (GPU)
800 MHz Memory Clock
Supports Crossfire

The graphics card has passive cooling. Good news for us.
After all these changes we were a bit worries that the PC's might overheat, so we were running several benchmarking tests for about two weeks.

Original configuration

Monitoring the temperatures with RivaTuner, SpeedFan, Hardware Sensors Monitor and Rightmark CPU Clock Utility.
You can see the CPU and the Mainboard temperatures have risen, but they're still within normal values. A GPU temperature of 62 °C isn't the best, but it's still within an acceptable range. Luckily there's no need for any noisy fans. Other users have reported temperatures around 90 °C without crashes.
In the end, everything turned out really well. Now we have a very quiet, great workplace that allows an increasing productivity, and we would surely advice for everyone to do the same.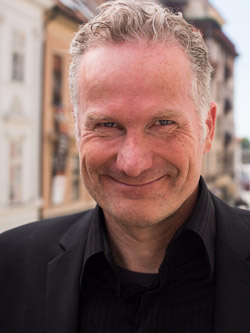 Alec has been helping businesses succeed online since 2000. Alec is an SEM expert with a background in advertising, as a former Head of Television for Grey Moscow and Senior Television Producer for Bates, Saatchi and Saatchi Russia.