A friend and colleague is about to implement a laptop program for 1700 students over in the amazing technology section in ISB (International School of Bangkok). We are talking about true one to one where each student gets a laptop to take home.
ISB haven't decided whether to put Microsoft or Apple onto their new laptops (actually with Apple you have to buy Apple laptops).
For a smaller program without dedicated IT help, I'd say Apple would be the better choice. But at 1700 students you have the scale to make other choices.
In terms of OS, I wouldn't choose either Apple or Microsoft. I'd look to the future and give the children Linux laptops. Linux Mint Debian Edition is a very nice distribution which can be based on the very reliable and spritely Debian core (rather than the top heavy and sometimes slow to update Ubuntu).
Of course there are driver issues in Linux, but as you have control of the hardware, you can choose recommended hardware with 100% compatibility and effectively achieve the OS/hardware integration which Apple does at a tiny fraction of the price.
I'm a 15 year Apple user with four Apple computers now (have to get rid of a couple actually). We use all three OS at work but will be moving to Linux over the next years.
Why drop Apple?
Apple is going back to walled garden:
software: only apps from their store
data: iCloud for all your data
hardware: all your devices and all your peripherals have to come from Apple (new proprietary data transfer and monitor connections)
This is an Orwellian world which I wouldn't want to push children into.
The arguments against Microsoft (backdoors, security issues, shovelware on delivery, performance deterioration over time) have been covered many times.
Let the kids learn how to use real computers where there is a chance to look under the hoods and tinker. It will help them to develop clearer and deeper thinking about IT and technology.
And it will save a boat load of money over 1700 laptops. I'd also try to pick laptops for which I could replacement parts at reasonable prices. I'm not sure what vendor offers that. I know Apple parts are very expensive.
One could still make an argument for hardware quality in favor of Apple in buying the least expensive Apple laptops (say MacBook Air 11″ with max memory) and putting Linux on them. Where that gets difficult is you do need a distribution which handles power management on those specific laptops well.
Those MacBook Airs are very light (I have one) and easy to carry around. The maximum memory at 4GB is a limitation but one that young students could probably live with, just as students are forced to live in shared dormitories and only get apartments later in life.
The equivalent of a MacBook Air 11″ was only made by Sony a few years ago and cost upwards of $2300. Current US educational pricing on a Macbook Air 11.6″ with 1.6 GHz processor, 4 GB memory and a 128 GB flash drive with Apple care is $1332 (bare bones 2 GB/64 GB is at $949 but it's seriously underpowered and nothing is replaceable). Not sure about Thai pricing on Apple computers. The advantage here is that the maintenance for three years would be all Apple's problem.
No, but even the Air doesn't scale out for educational use. The cost for 1700 machines would be $2,260,000.

Steve Jobs holding a MacBook Air: Laptops for Students should be small and light
durable and attractive. They also should not cost $1300+ with reasonable
memory and a multiyear warranty. Photo by MacMessiah.
Does anyone have any suggestions for similarly durable and attractive and lightweight mid-range hardware which would suit Debian Linux (with 1700 laptops, you could even afford to commission some power management rewrites from core Debian team)?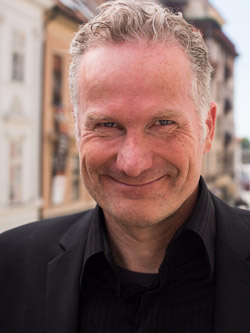 Alec has been helping businesses succeed online since 2000. Alec is an SEM expert with a background in advertising, as a former Head of Television for Grey Moscow and Senior Television Producer for Bates, Saatchi and Saatchi Russia.