The Sticky Video is a free FV Player feature that allows for a mini-player to pop-up and stay in the corner of the browser when a user scrolls past a video. Until now, the feature only worked when scrolling down.
Sticky video now works while scrolling up as well!
One of our users has recently pointed out that he would enjoy this addition to his educational site, to help his visitors follow a video while they read along. We like this idea and hope you'll enjoy it too! We're always open to requests from our users. You too can help us make our products better by contacting us!
Sticky video follows the user as he scrolls like this: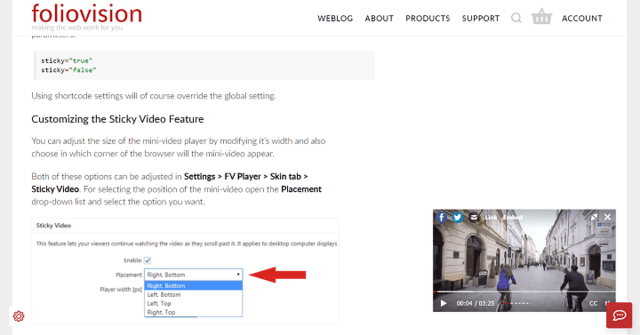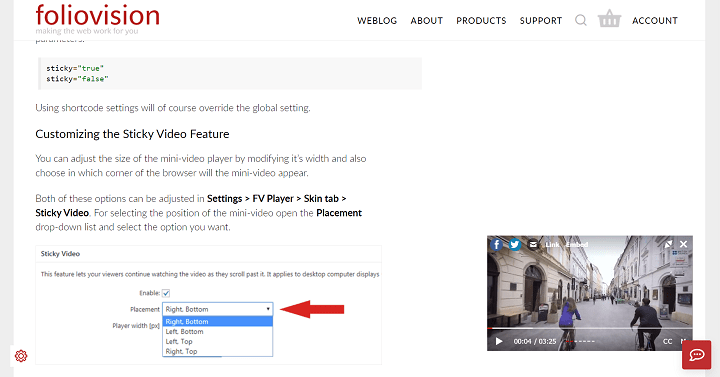 The mini-player will disappear when the viewer scrolls back to the original video box and re-appear again when scrolling away from it. It can also be closed by clicking on the close icon. The feature will work only on desktop browsers with minimal width of 1020 pixels.
Until now, the player would only pop-up if a user scrolled down away from the video. If you try playing the video underneath, or the one in our sticky video guide, you'll see that now the mini player is activated by scrolling up as well.
Try it!
Play the video below and scroll up to activate the sticky video:
03:25
Foliovision Promo Video
---
Stay tuned for more
We are trying to make our plugins better ever single day, by bringing more and more upgrades and updates. You can help us a lot by giving us feedback, or letting us know your thoughts by giving us a review. If you have any tips or questions, do not hesitate and contact us via our Forum!