There's almost endless talk about how charging one's cellphone up to 100% kills the battery, as well as talk about how to avoid charging an iPhone to 100%. Smart people just wish Apple would give us control over how far we charge our iPhones. Personally I could easily live with 80% as I can charge at home and work and know how to manage battery life (short version, only keep the radios on you need, turn off background processing for most apps) in exchange for five or ten years of good battery life. As it is, three and a half years later my battery is at 88% capacity.
The dying battery issue is not as bad as it used to be. At some point Apple built some smart charging into the iPhones to prevent them from charging up to 100% until shortly before Apple calculated you would pull it off its charger. That's great for people who live like clocks, not so good for the rest of us.
Fortunately, the right to repair movement and the batterygate lawsuits (slowing down older phones in iOS 8-12) put some fear into Apple about potential legislation to mandate allowing third party battery swaps. In response, Apple has a program which is mostly worldwide which makes a battery swap an on-the-spot scheduled repair with a price of about €69/$69.
There are issues to worry about though. I'm not convinced that post battery swap that an iPhone will ever be as waterproof or dust proof as it was before the battery swap. I don't entirely trust Apple not to degrade performance with the battery swap. Hence, better to save yourself the half day to get a battery swap done and the €69/$69 out of pocket and take care of the battery you have.
Bad Battery Apps
Before we get to the solution, there are hundreds of obstacles in the form of bad/useless battery apps, some of which are very, very expensive.
Ripoff-ware
Searching the app store for a solution leads to dozens of dead ends, including almost criminal apps which attempt to charge users huge subscription fees for functionality which is already built into the iPhone like Low Battery Mode: Battery Saver X (Magic Solutions DMCC, CAD$39.99/year, 2 ratings), Battery Doctor(APPNATION Ltd. YAZILIM HIZMETLERI TICARET LIMITED SIRKETI, CAD$38.99/year, $12.49/month, 1 rating), Mobile Doctor Pro (Beijing Elinasoft Technologies Company, CAD$37.99/year, 55 ratings), Charging Animation (TAPUNIVERSE LTD, CAD$24.49/year, 666 ratings). Battery Health – Charge Alarm (Junaid Mukadam, $1.99/year, 20 ratings) has the same vices but is much cheaper. Awful app for a subscription model.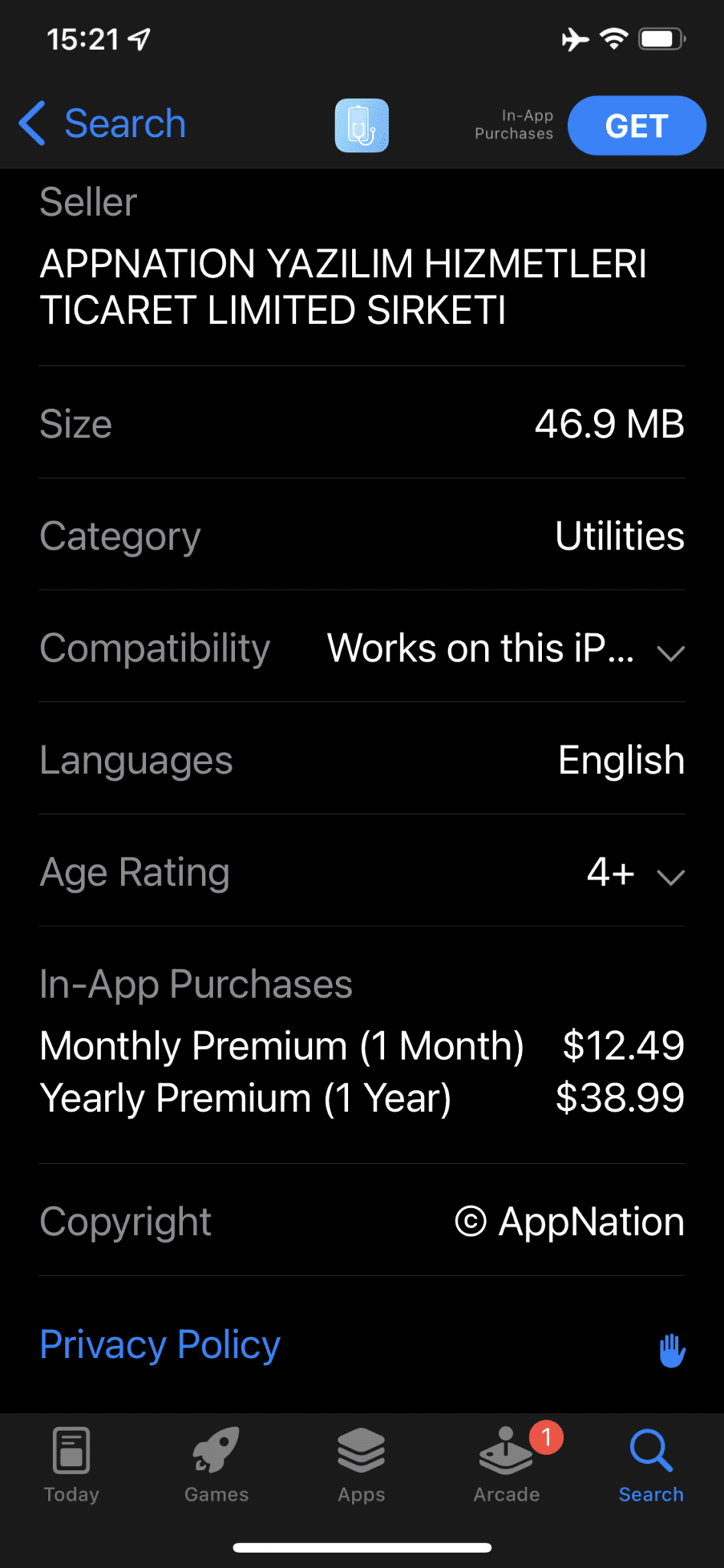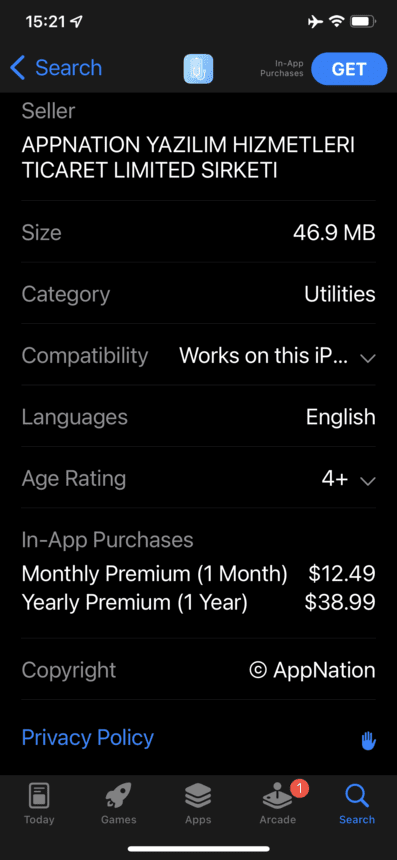 This is not a complete list. I found at least one battery manager with a $129/year charge but I can't find it now.
Adware
Outside of rip-off ware, there is another battery manager category of Chinese copycat apps full of fake reviews (multiple languages on Canadian app store) which do almost nothing. This includes Battery Saver (Chinese characters, CAD $13.99, 385 ratings) or adware like Battery Life Doctor (Maoli Wang, CAD $2.79, 411 ratings) to remove ads) which does nothing the built-in Battery preference doesn't do.
Spyware
Next category is free spyware (some of the rip-off ware is paid spyware). Tarika Sultana's Battery saver – wifi analyzer performs no useful function (not already in preferences) and tracks your Contact Info, Browsing History, User Content, Usage Data, Search History and Other Data. I.e. Apple blithely allows spyware in the app store. NO2 may be similarly spying on users with their popular and free Zen Battery which does nothing but give battery status but includes no Privacy Information (must offer it at next update, the next update never came). Qu Technology's free Battery Dr. Pro is in the same boat with info about iPhone 7, last update five years ago and no privacy policy. Moreover it no longer works (just crashes, I'd installed it years ago).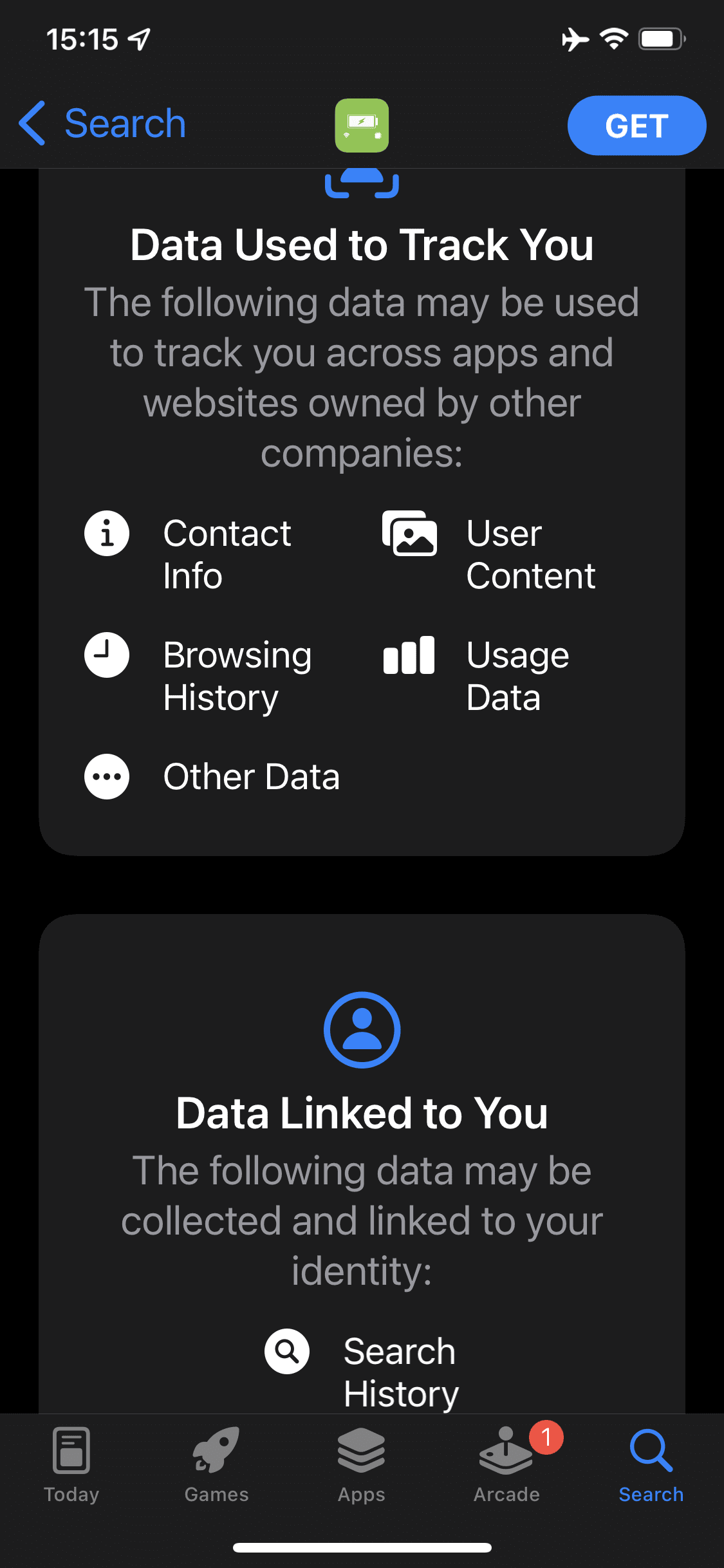 Salim Ullah's Battery Monitor: Manage… seems simple ad-ware without data collection, if Apple is checking apps properly. QUANTUM4U LAB PVT LTD's Battery Master also promised not to collect data but has no revenue model. Last update one year ago. Anatoly Rylskiy's Full Power Battery+ will do absolutely nothing for you for just CAD$2.79. As will Binh Tran's Battery Testing ($2.79, 63 ratings), or Citrus Apps Battery Percent ($1.79, 289 ratings).
On the plus side smalltech's free Battery HD+ more less just gives you a battery meter (and some kind of calibration process) but only tracks usage data and was last updated a month ago. smalltech's Clean Battery Lite does not offer privacy information and has not been updated for 4 years ago. It will let you know when your phone is charged but only at 100%.
Hardware solutions: Chargie
One of the clever ways to manage iPhone battery life is with an external dongle called Chargie. Chargie is the work of an innovative Romanian company called Lighty Electronics run by a chap called Ovidiu Sandru. Basically it's an app which via Bluetooth can alert it's dongle to block iPhone charging when the battery reaches 80%. For better or worse the dongle limits fast charging to 10w which reduces battery stress while charging will also well above the original standard 5w charge.
The downside of Chargie is that each dongle is €40/$40 and that you'll either need to carry it around or buy multiples. The other downside is that the reviews of the app aren't great. In April 2022 cheeze4U writes:
Quality control is zero.

The app is okay, it is the devices themselves that should have never been released. Of the two | ordered, one has a very large crack and the other stops paying attention to how much I want to charge my device and does exactly what it was meant to stop… it charges to 100%. I do NOT trust this product or the people who made it.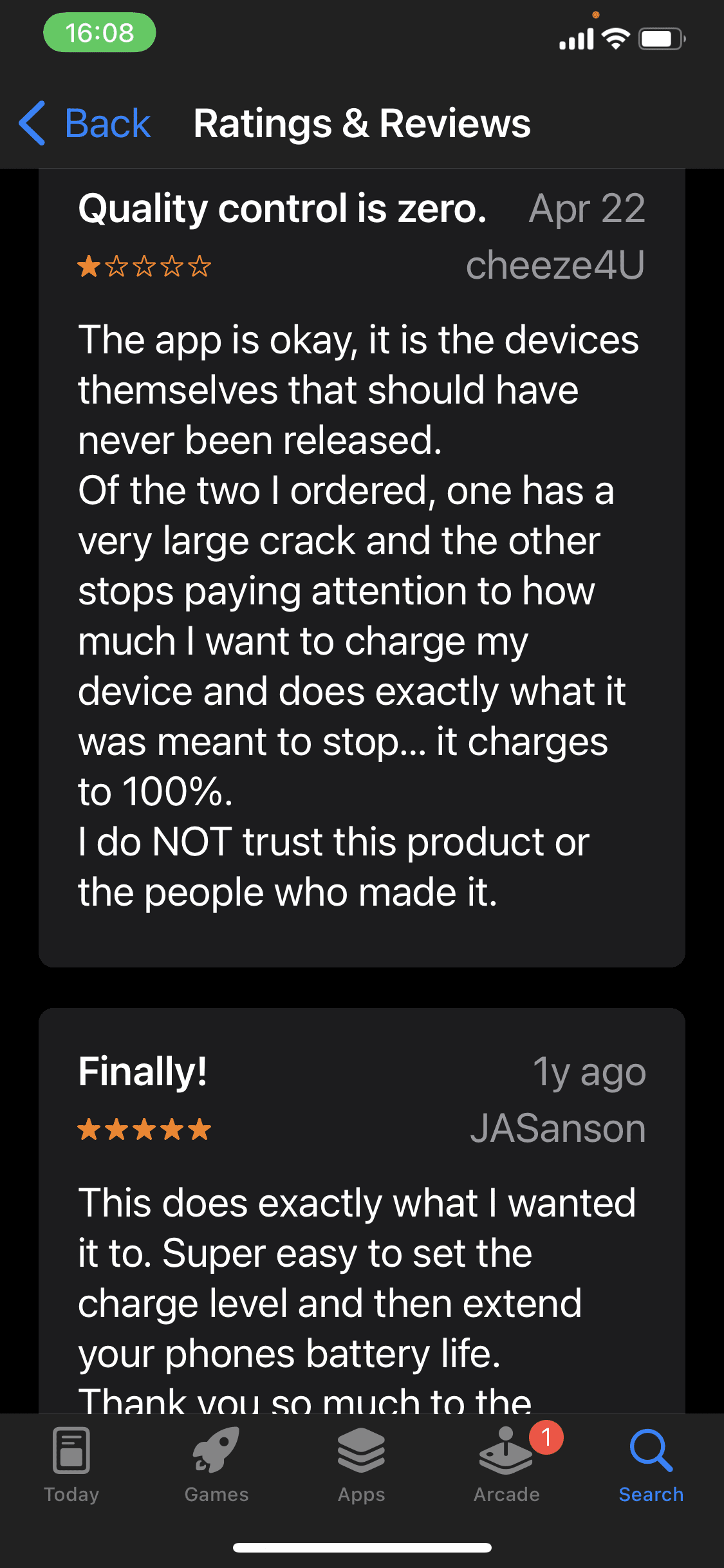 I'd be more tempted to use Chargie in autonomous mode where it senses the change in charging regime and just stops charging all by itself, rather than running the app all the time. Chargie is a great idea, but I'd have to be sure that it's sturdy enough. Chargie also seems overpriced for what it is, which is an issue for niche producers. A company like Logitech could make a fortune here by buying Sandru's tech and producing and marketing it on a much larger scale.
Software solutions: Battery Alarm
Happily there is a better way to manage iPhone charging which does not require hauling dongles around:
An application which will simply turn off charging at 80%. That application doesn't exist as Apple does not allow access to an API to turn off charging to application developers. But what an application can do is charge an iPhone to 80% and then set off an alarm.
There is an application which does just that: Battery Charge Alarm (Bastiaan Modderkolk, $1.39, 187 ratings). The icon is simple and looks good. If you don't pay, Battery Alarm works but shows a large ad for one of the developer's games and theoretically cannot be automated.
If you do pay, you get access to some built in shortcut actions, specifically "Play Alarm Sound When Battery Is Full". The iPhone already comes with a built-in automation, "When Charger is Connected". By creating an automation hooked up to the action, there's no need to keep Battery Charge Alarm open before attaching a charge cable.
If you are really short of cash, there is a way around paying. One can attach the "When Charger is Connected" automation to an action to open the Battery Charge Alarm app. It's not as seamless though and I'd rather send Bastiaan his $1.39. Full documentation on how to set up the official automation is here. I don't mind paying for apps, I'd just like to be sure they will work. This one does.
There's lots of settings to tune both the alarm and the battery level which will trigger it.
Since my partner regularly uses more battery than I do, she has her limit set to 85%. This means her battery is almost full but lowers the wear substantially. Her iPhone 11 Pro Max is newer than mine and still has 96% battery health, so it's very much worth her while to protect that battery to allow herself four or five years with the same phone.
Similar Apps
Daniel Lao's Battery Care Alarm (free, 24 ratings) promises to do the same thing but suffers from huge half screen ads for Bitcoin-centred financial scams. There's no way to disable these awful ads, even with a purchase. I'm astonished that Apple allows such ads on its networks. Stay away.
Battery Life (RBT Digital LLC, CAD $2.79 pro features, 4K ratings) seems okay but it's focused on sending notifications and requires radios on between iPhone and Apple Watch. Keeping bluetooth on on both is a sure way to run out of juice faster. I'd much rather have a simple alarm, as with Battery Charge Alarm.
Conclusion: Take Advantage of Shortcuts
It's unfortunate that we have to work so hard to outwit Apple to maintain our iDevices in good working order. Clever developers like Bastiian Modderkolk make it easier. Apple's Shortcuts app have made it much easier to manage iPads, iPhones and Apple Watches. Almost all of the two or three step actions buried deep in settings can now be scheduled or automated. I'll post some more tips for how to reduce your exposure to radiation via Shortcuts and how to quickly switch between Always On Display and normal mode on an Apple Watch.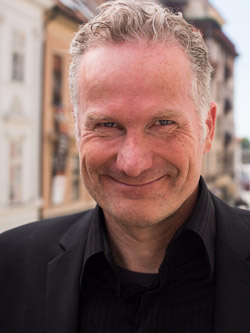 Alec has been helping businesses succeed online since 2000. Alec is an SEM expert with a background in advertising, as a former Head of Television for Grey Moscow and Senior Television Producer for Bates, Saatchi and Saatchi Russia.