After stepping down as Mozilla CEO, Brendan Eich founded Brave Software in 2015, offering privacy-first alternative to Big Tech. This is how's Brave introduced on their website:
The internet is a sea of ads, hackers, and echo chambers. Big Tech makes huge profits off our data, and tells us what's true and what's not. Brave is fighting back.

Brave is on a mission to protect your privacy online. We make a suite of internet privacy tools—including our browser and search engine—that shield you from the ads, trackers, and other creepy stuff trying to follow you across the web.
Brave blocks ads and trackers by default and is considered the most private browser out of the box, according to the conclusion of Douglas Leith's paper.
Right of the bat, you'll be happy to see that Brave allows users to manage privacy setting and blocked trackers while visiting any website. You'll access it by clicking on the shields icon next to the search bar.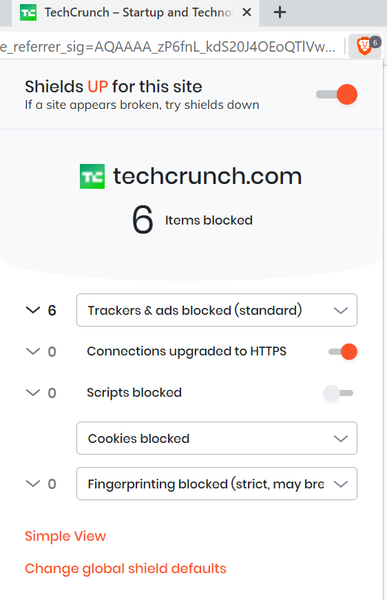 Furthermore, Onion lovers would be happy to know that while using Brave you can open private search window in Tor network.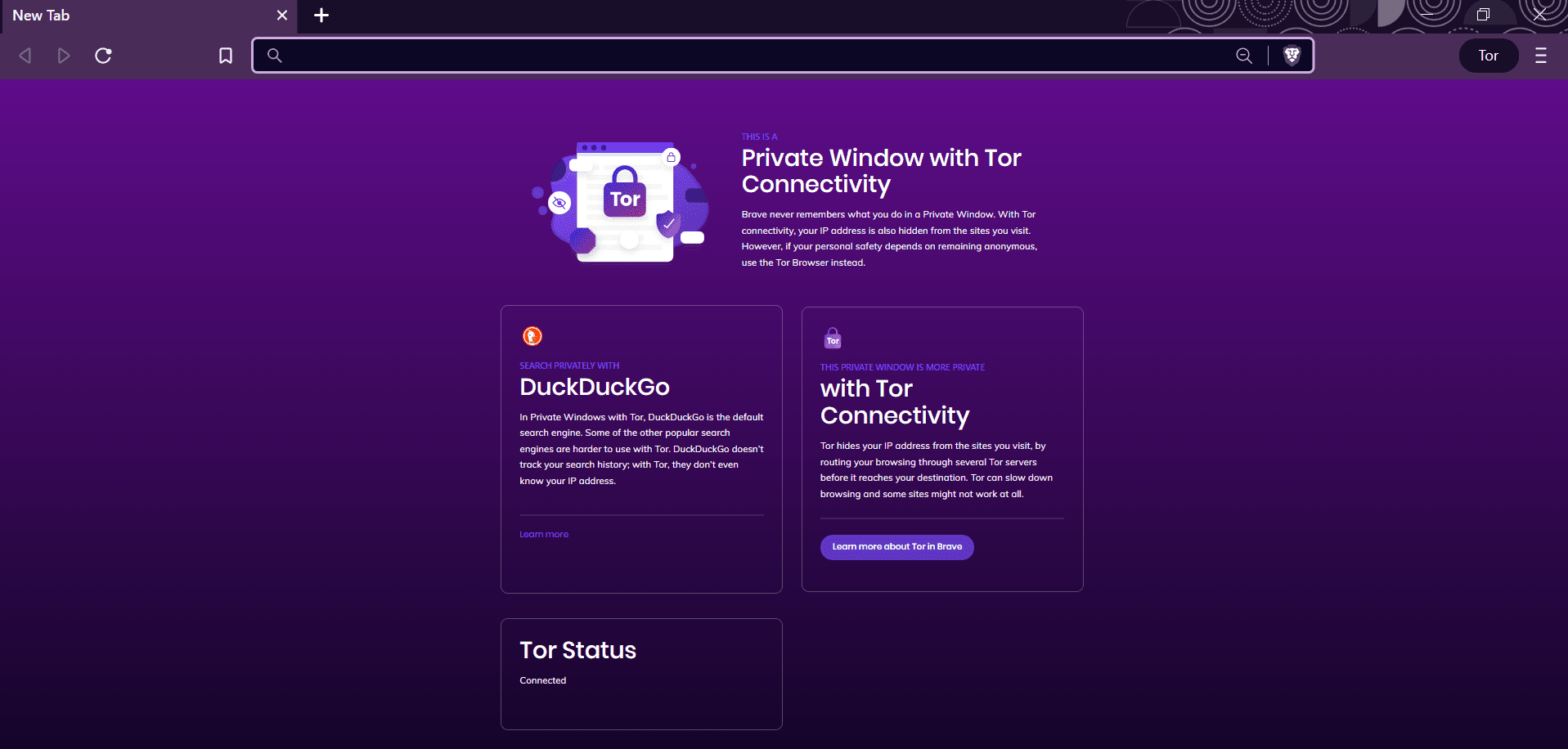 Let's see the results of EFF's Cover Your Tracks report for freshly installed Brave Browser in default settings: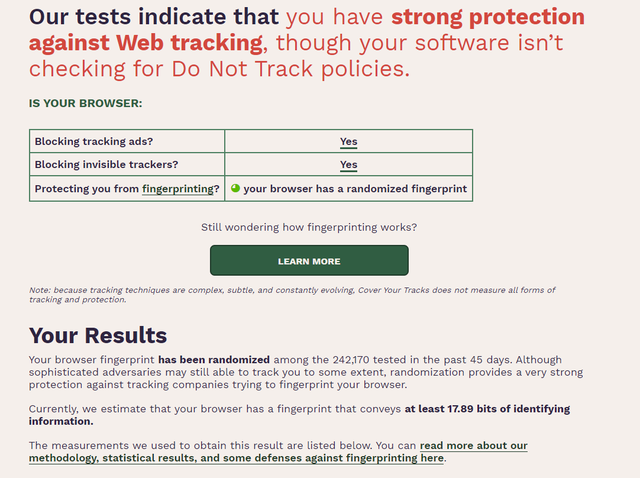 Although these results sound overtly optimistic, even Brave can be tweaked here and there.
1. Open the Brave browser settings.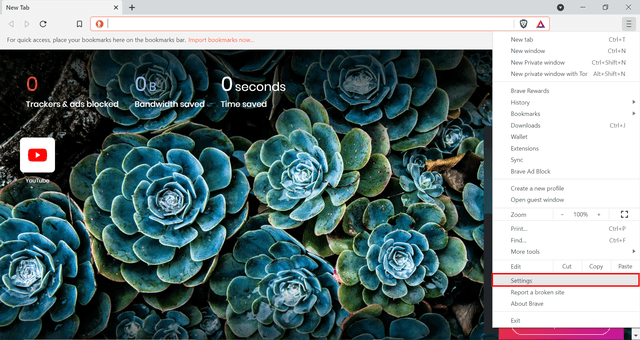 Once there, choose shields area on the left side to block all cookies, scripts, trackers & ads as well as fingerprinting. Same as in case of Firefox, you can also choose strict blocking over standard, but once again it will cost you usability, since strict options may break some sites.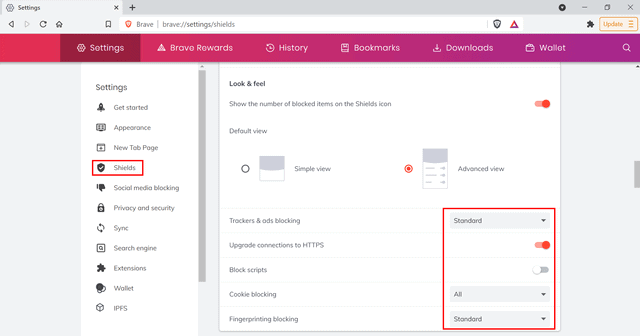 Note that blocking all scripts, on the other hand, can break functionality of some websites like those well-known and much visited like Facebook or Youtube among others.
2. Next step leads to Social media blocking area. Facebook, Goolge, Twitter, all of them infamous for privacy violations. Don't feed them. It might require to step out of your comfort zone, but privacy, especially these days, is only for the brave (no pun intended).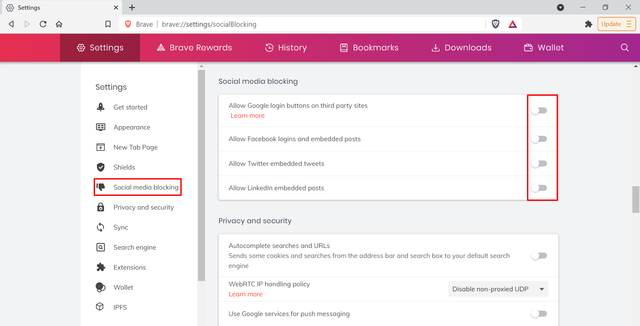 3. After scrolling down we can find default search engine options. Once again, choosing your trusted search engine takes at least as much time and effort as choosing your web browser. Happily, unlike most of the browers, Brave Browser now defaults to its native search engine – Brave Search – instead of Google.
From other options, DuckDuckGo represents something privacy minded individual could live with, in spite of having serious doubts nonetheless. Considerable alternative might be Qwant, since its servers are based in Europe not in USA, but less relevant search results are what you pay in return. On top of that, Qwant is highly technologically influenced by Microsoft and leaks too much data to their servers.
Thankfully, since Brave has launched Beta version of their native Search Engine, there's yet another private alternative. It has its own crawlers, doean't share data with third-parties and isn't influenced by any Big Tech company yet.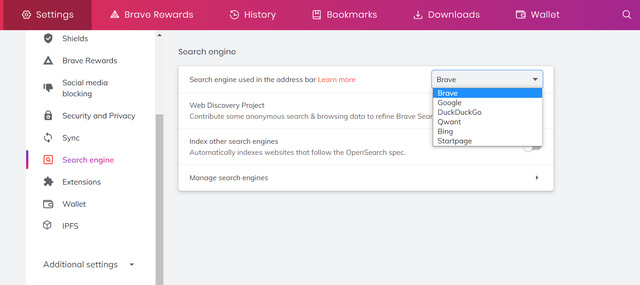 While Brave Search indeed provides much better results than Qwant, my boss doesn't like the layout of the results and has made a much more readable and scannable theme available to users of the popular Stylus and Stylish CSS customise plugins: Wide Brave Search.
4. In privacy and security area after scrolling down, there are also several things to be done to enhance your browsing privacy set up. Along with disabling telemetry it's also useful to disable WebRTC to non-proxied UTP, since WebRTC protocol can leak your IP address.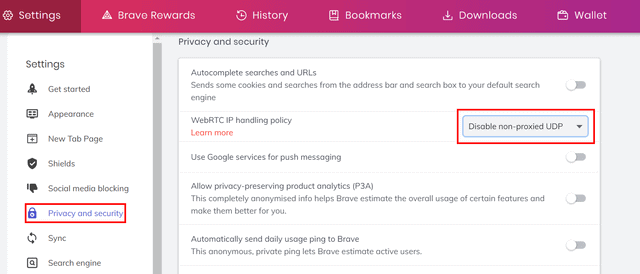 5. In Clear browsing data section I recommend to allow Brave clearing it on exit, thus, after closing the browser.
6. In payment methods section I suggest disabling Save and fill payment methods along with Allow sites to check if you have payment methods saved options.
7. Finally, Unlike Google, Brave doesn't rely on usual way of selling data to advertising companies, although they still need some income from ads, since considerable money's involved in digital marketing. Brave's business model is three-fold.
Affiliate links, primarily to cryptocurrency resources.
Sponsored posts in news feeds.
Donations to publishers, the so-called Brave Rewards.
Having the advertising ecosystem of their own, Brave is pocketing 15% of revenue generated by advertising. Users with Brave Rewards enabled are rewarded so called BAT tokens. Needless to say, if you really value your privacy, any kind of online advertising should be a red flag for you, rewards or not. So from the privacy point of view make sure to have it turned off.

---
These are the results of EFF's Cover Your Tracks testing I repeated after applying suggested changes in privacy setting: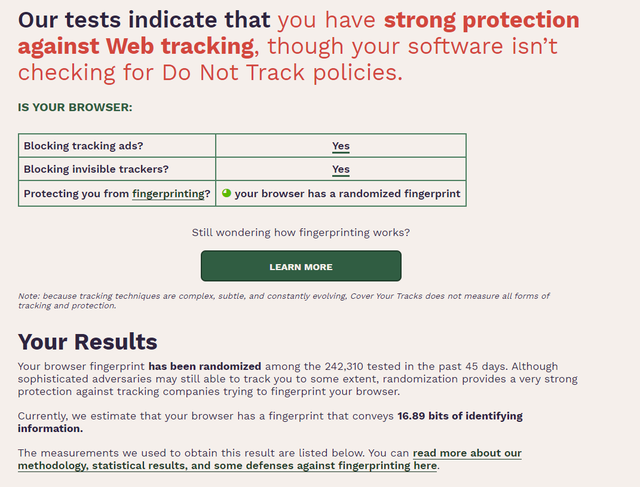 See our guide for Firefox.
See our guide for Opera.