Qwant is a French, privacy first search engine launched in 2013 with independent Web Crawlers and European standards toward data protection. At least, that's how they'd like to be perceived by the public. As a European I used to favour Qwant as a homegrown alternative and their promises of privacy. As I researched online privacy and search engines, doubts started to form about just how European and just how private Qwant is. Here's what I've learned.
Independence: ties to Microsoft, Huawei, and Axel Springer
Since 2019, Qwant is partnered with Microsoft, using its technologies in its infrastructure. Ironically, both Qwant and Microsoft are justifying this alliance by their mutual dedication to "vision of an open and responsible Internet" and privacy. In result, Qwant now use Microsoft Azure, Microsoft Advertising services and Bing's algorithmic research.
This is what Jean-Philippe Courtois, executive vice president and world president of Sales, Marketing and Operations at Microsoft, said about the partnership:
We share Qwant's belief that privacy is a fundamental right of citizens. This is the whole point of this partnership, which aims to make Qwant a leading search engine at European level, thanks to a unique Internet search experience.
While Eric Léandri, president and co-founder of Qwant, commented like this:
"Microsoft is a recognised world champion, Qwant is a responsible European start-up. Together, we will continue to develop a European research engine that is ethical and sovereign. It is a win-win partnership. For Microsoft, for Qwant and for Europe."
If Qwant really shares the values and vision of Microsoft, then it's time to reconsider Qwant's supposed dedication to privacy and open web. Reading Qwant's privacy policy, one learns means wholesale data transfer to Microsoft servers:
The search keywords;
Information about the browser you are using (the User Agent);
The first three octets of your IP address;
The approximate geographical area from which the search originated, on the scale of a region or city;
The salted hash generated from your IP address, your User Agent and a changing salt no later than every 3 months;
A random token generated by Qwant (aiming to limit data overlapping).
Qwant may also collect and transfer your full IP address to this partner (Microsoft).
Furthermore, Qwant also takes Bing ads and in the vein of Microsoft News' which has already paid $750 million to publishers over the past four years, Qwant now guarantees to donate at least 5% of the advertising revenue generated to French media companies. While the small revenue share to local media is welcome, Microsoft's deep ties to US intelligence agencies make the sharing of European users search data most unwelcome from a privacy and security standpoint. The largest single external investor in Qwant is Axel Springer Digital Ventures, in turn a subsidiary of German media conglomerate Axel Springer SA. Axel Springer SA is also known for its ties to CIA and Israeli intelligence agencies. Axel Spring SA aquired 20% share of Qwant in June 2014.
Bing's advertising model also isn't completely private for users and yet more pseudonymised data is handed over to Microsoft and can be retained for at least 18 months:
The searched keywords
The type and version of the browser used (User Agent)
The first three bytes of your IP address
The approximate geographical area at the origin of the search, at the scale of a region or a city
A salted hash generated from: your IP address, your User Agent and a salt that changes at least every 3 months.
One must ask oneself, at this point is Qwant embraced or already extended?
Axel Springer and online ads
While Qwant still seems to hold onto its privacy-first formula, Axel Springer seems to be not as fond of staying clear from online tracking and targeted ads. In words of Moritz Holzgraefe, who leads governmental affairs for Axel Springer:
Ad blockers stand as an example for private companies suddenly making the rules of how content is published. This is why it's such an important point for publishers.
Axel Springer sued Eyeo, the company behind AdBlock plus, arguing that ad-blocking, as well as the business model where advertisers pay to be added to the whitelist violates competition law in Germany. In the end, the whole case was dismissed by German Supreme Court, ruling in favour of Eyeo.
Huawei influence
Lastly, Huawei is yet another partner of Qwant which also obtains some of the anonymised user data.
When you use Qwant's app on Huawei Devices, or when you select Qwant as your search engine on Huawei Browser, parts of the Web results are also provided by Huawei Search. In such cases, Qwant remains the data controller. We receive the query on our own servers and retrieve the results to guarantee the respect for your privacy. Therefore, your identity and IP address are never accessible by Huawei. The only information provided to Aspiegel (a Huawei's subsidiary) when we require search results is the keywords entered for this particular query, the date and time of this query, the country and language, the kind of Web browser the results will be displayed on (its type, name, vendor, major version, and operating system), and the approximate geolocation of your search (at a country or regional level). If you click a result, the position of the result in the search results page is also transmitted.
Since March 2020, Chinese tech company Huawei has partnered with Qwant to offer its users the search engine on the HUAWEI P40 range in France, Italy and Germany. But this is not where the partnership ends.
On May 18 Qwant shareholders were offered a proposal to accept 8 million euro bond investment from Huawei, despite companies' problematic reputation. After digging into this topic, I found out that Qwant is not very transparent, prefering to conduct its business in secrecy, behind closed doors. All the confronted shareholders declined to respond to the journalists' inquiries.
French state-owned bank Caisse des Dépôts, a Qwant shareholder who voted for the investment, declined to comment on the topic. However, a person involved in the matter argued that the bank had been reassured by the fact that Huawei did not have the power to convert its bonds as it wanted.
Next Axel Springer which is also Qwant's shareholder denounced to comment on the topic. After some time though, Politico succeeded in getting response from Qwant's spokesman:
This is an investment via a bond. It is not an entry into Qwant's capital. It is a vehicle to finance our expansion, and importantly it's with a crucial global player that recognizes the solidity of our technology and the reality of our project.
In the end, Huawei acquiring a tiny bit of search data (which they would have anyway, it's their search box) via Qwant worries me less than the Microsoft and Axel Springer connections to US intelligence community, including but not limited to the NSA and CIA.
Bing proxy?
Despite Qwant claims to have its own crawlers, we should consider Bing as well, since it's Microsoft's Bing Qwant is partially powered by. In my own experiments doing parallel searches in Qwant and Bing, the results were usually highly similar.
While Google is under the fire of criticism for rigging their algorithms, not much has been said about Bing yet. In regard to video search, the results are strangely even more biased than Google in favour of YouTube. Vimeo/Dailymotion results show only if explicitly asked for with Vimeo or DailyMotion in the query. Moreover, there's literally no way how to get Rumble or Odysee results on Bing or any of its proxies.
This is what Bing has to say about images and videos ranking:
Bing's image and video experiences provide the user with image and video results relevant to their search query, both on the main search results page and in the image and video verticals. Bing prioritizes relevance and may display an image or videos within search results based on query intent. Ranking within the image and video experiences generally rely on the same parameters as the main web search results page, i.e., relevance, quality, freshness, authority, and popularity. Ranking inputs are derived from the content meta-data and a deep learning algorithmic review of the content.
So let's see how the results are relevant to my search query.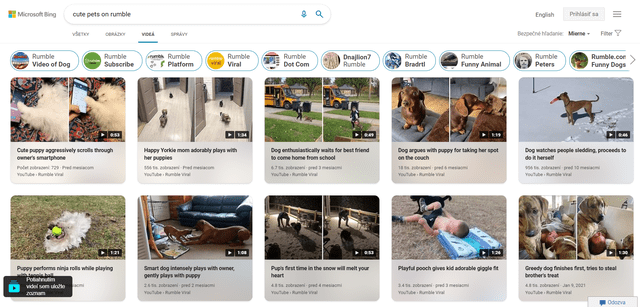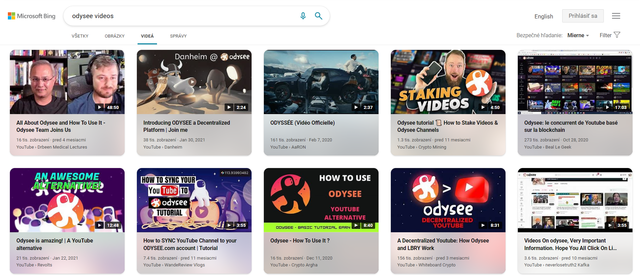 Furthermore, regarding domain/platform bias in Bing search, Jason Barnard argues in his SEJ article where he interviews Fabrice Canel, Bing's Principal Program Manager, that there isn't any:
The platform doesn't matter as much as producing relevant (that word again !), quality video that your audience engages with. Hosting it on YouTube, Twitter, Facebook, Vimeo are all options.

But think about the type of query and your vertical.

Different platforms dominate on different verticals.

YouTube is a great source for How-To, but news would tend to favor the BBC or another news site.
However, when I used several different search queries in order to get Vimeo, Rumble or Odysee videos from Bing, from neutral to politically coloured, I met the same scenario. The very same applies to Bing powered metasearch engines.
What's surprising, though, is the position of Qwant which claims to have its own index and is only partially supported by Bing. No matter how you structure your keyphrase, Qwant will always give you YouTube and Dailymotion results split evenly.
The DailyMotion slant is understandable. DailyMotion is a French video sharing platform owned by Vivendi. All the Qwant founders and core team probably know all the DailyMotion founders and core team personally. That's how business is done in France. For instance, one can easily learn that Corinne Lejbowicz who was appointed as a leading corporate director and digital expert at Qwant in June 29, 2021, has deep history with Vivendi Group. She has worked as Director of the broadband Internet access project at Numéricable (Vivendi group) and later was appointed Strategic Marketing Director of the Internet division of the Vivendi group holding company
I don't hold the home team bias against Qwant, I am looking for a European search engine after all. What worries me is the exclusion of all alternative platforms like Rumble, Odyssee, and Bitchute.
no diversity at qwant
In my previous article focused on the video search bias across popular (and also less popular) search engines I noticed several problems with the results. So, now I'm going to approach the most important takeaways:
While there's a lot of backlash against Google's alleged ranking monopoly abuse, its results were not as uniform as those of Bing.

While both Bing and Google seem to downgrade alternative video sharing platforms like Rumble and Odysee. Bing effectively has blacklisted all such platforms.

The most interesting finding is the absolute exclusivity of either YouTube or Dailymotion video search results on Qwant.
Just go ahead and try to make Qwant give you different results in its video search. I did and I can firmly state that there isn't an option. Just take a look at the "cute pets on Rumble" query for instance: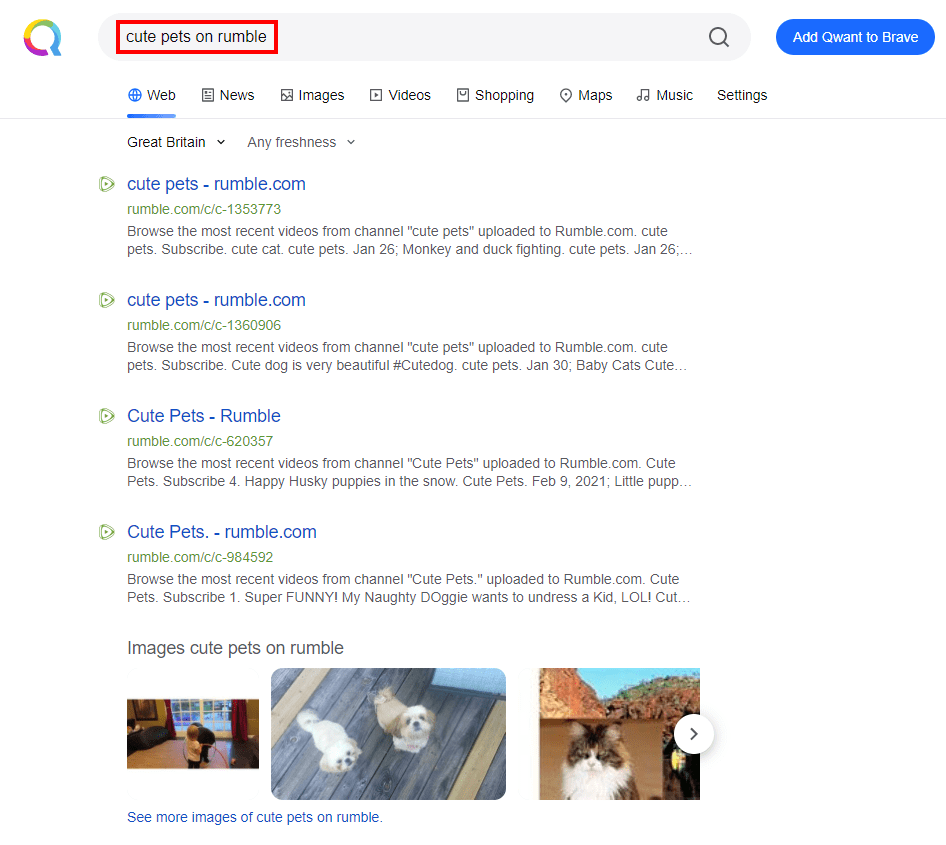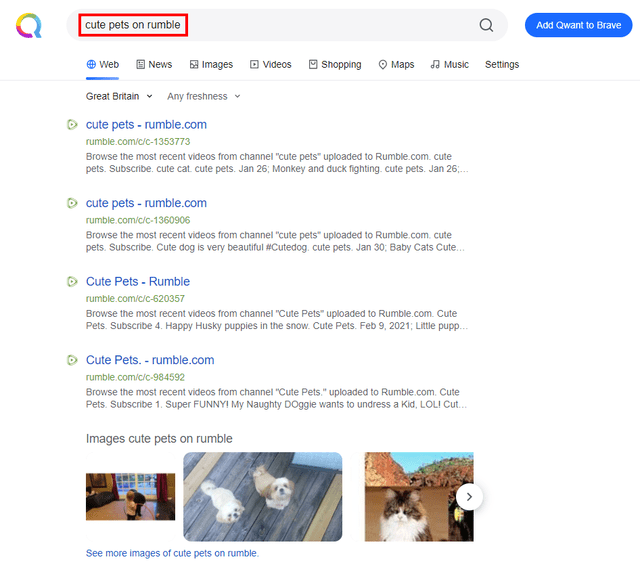 One of my findings of the previous article is that the general search provides overall much more accurate results across search engines. Video search appears to be the worst. The same query, the same search engine, yield different (and much less varied) results.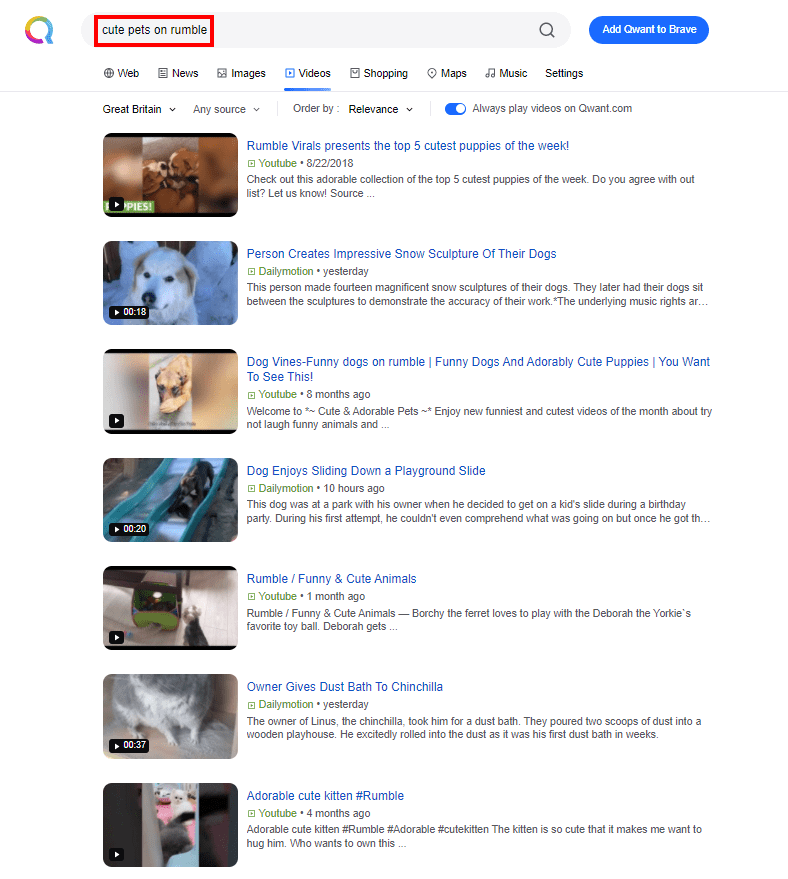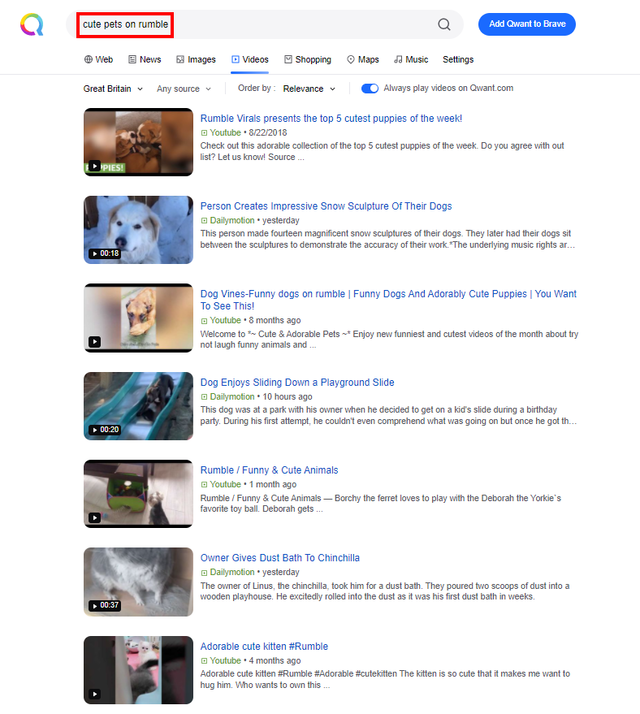 After all, Qwant has an embedded video feature which allows users to watch videos without ever leaving the search engine to the source site of the video. Even if you choose "any source" option (which is default), only YouTube and Dailymotion videos will appear, mixed more or less equally.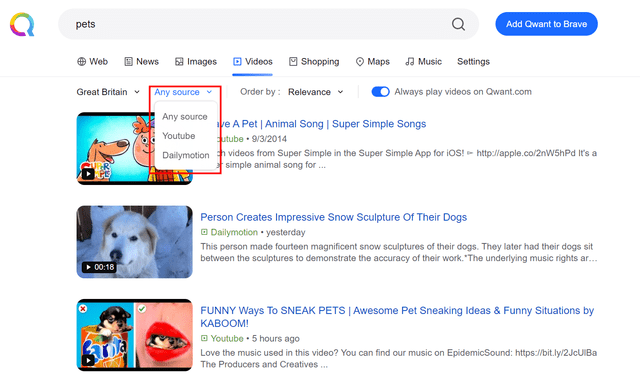 If you turn off the "Always play video on Qwant.com" option, one would hope for different sources than supported on page. There's not the case.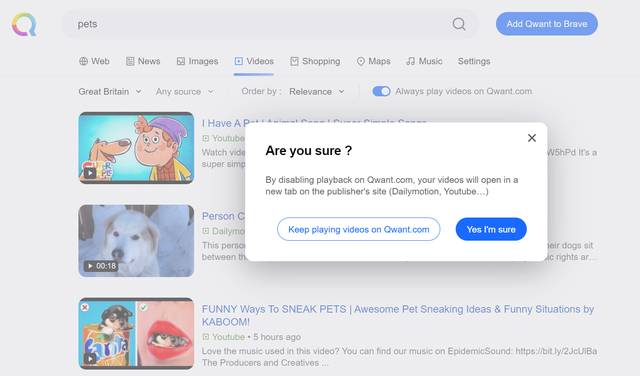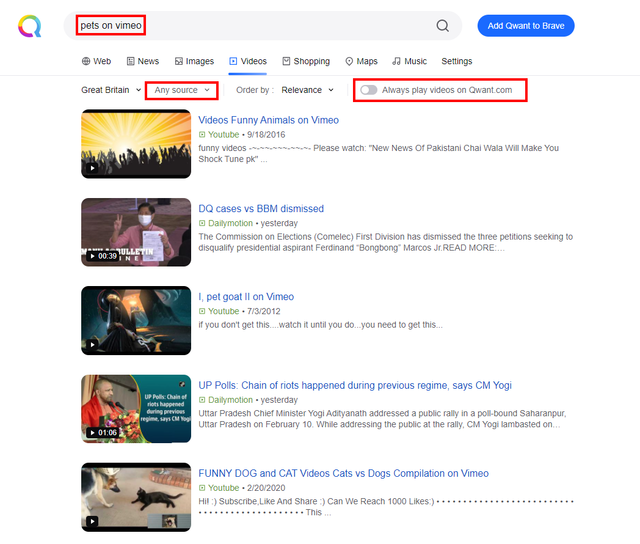 I could go on like this forever, asking for videos on any platform other than YouTube or Dailymotion to no avail. This raises eyebrows, so I tried to take a closer look at it. First, I contacted Qwant team asking them for their reason. Once again, they didn't reply as of 8.03.2022. This doesn't surprise me, since they weren't talkative either when I asked them last time about the dubious lines of their privacy policy.
Qwant Team background
When one reviews the professional background of the people working at Qwant, one is surprised to see how many of them have spent five years or more at US-based multinationals like Microsoft, Amazon, eBay, Colgate-Palmolive. The CFO began her career with eight years at Rothschild Bank and followed it up with a year managing the books for an international security company. Many of them studied at US colleges like Georgetown University or Wharton. The senior management Qwant team in particular show less European colours and more stars and stripes.
Finally one has the feeling that Qwant is a European search engine in name only. A cynical person might suggest that Qwant is indirectly funded by the same US intelligence agencies, Qwant end users are seeking to escape.
Why create Qwant at all? Otherwise, search users would be forced to use Google or Bing or Ecosia (Bing-powered) anyway. The answer is fairly simple. The existence of Qwant makes it hard for any truly independent European search engine to raise funding or succeed. That place in the market is already filled.
Sadly, Qwant is a Potemkin-village, built to impress naive Europeans that we are in some way independent in our online lives. No we're not, and the fences are being moved tighter every day.