Initially released in 1995, Opera Browser can be considered legendary by now. And even though it has had its ups and downs throughout the history, there's still bunch of users sticking to this Chromium-based browser in 2022, unwilling to consider any alternative. Moving away from the unique engine since its release, in 2013 Opera Software announced that it would drop its own Presto layout engine and will adopt WebKit, using code from the Chromium project. Another drawback stems from its acquisition by Chinese consortium in 2016.
Taking out of the box Opera in default setting for EFF Cover Your Tracks testing, no wonder it received by far the poorest results yet: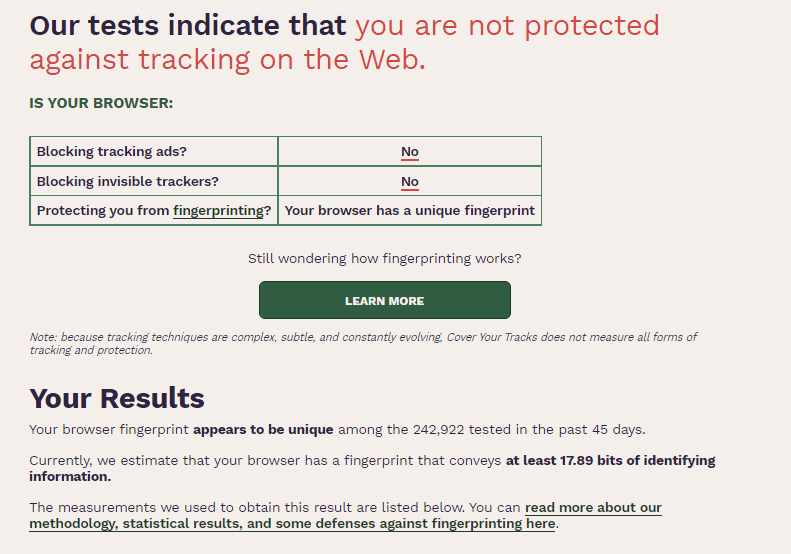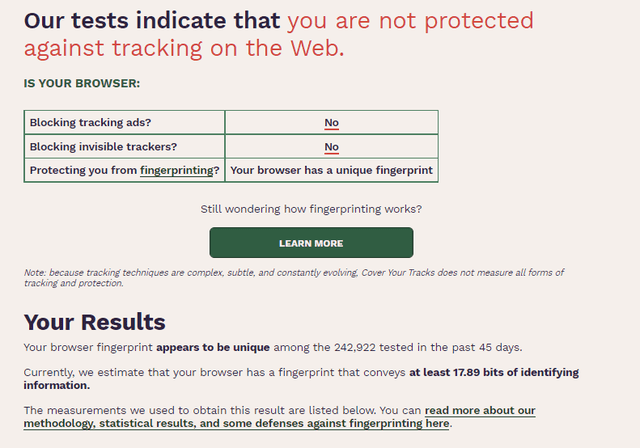 Can Opera be salvageable after tweaking its privacy settings? Let's see.
1. Open the settings in Opera and scroll to the Privacy & Security. There, toggle block ads and Block trackers (which are not blocked by default).
2. Then, to access further settings, click full browser settings at the bottom of the window: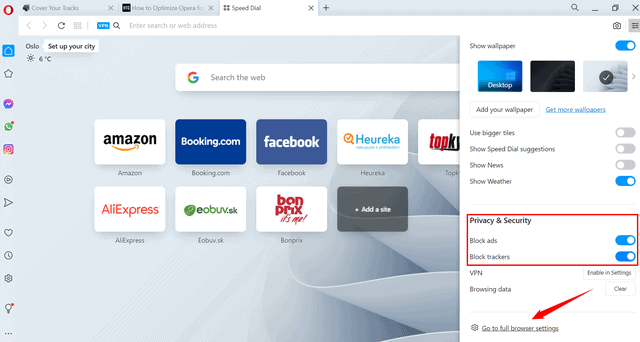 3. Once there, scroll down to the Security and Privacy section.
4. Let's first talk about telemetry and autocomplete. Opting out of telemetry and autocomplete features is a wise step toward privacy, since it reduces data transmitted to Opera servers.
The settings say: Opera may use web services to improve your browsing experience. You may optionally disable these services – don't mind these persuation tactics. If you want having your browsing history and entered search queries private, don't share them with Opera, or your default search engine.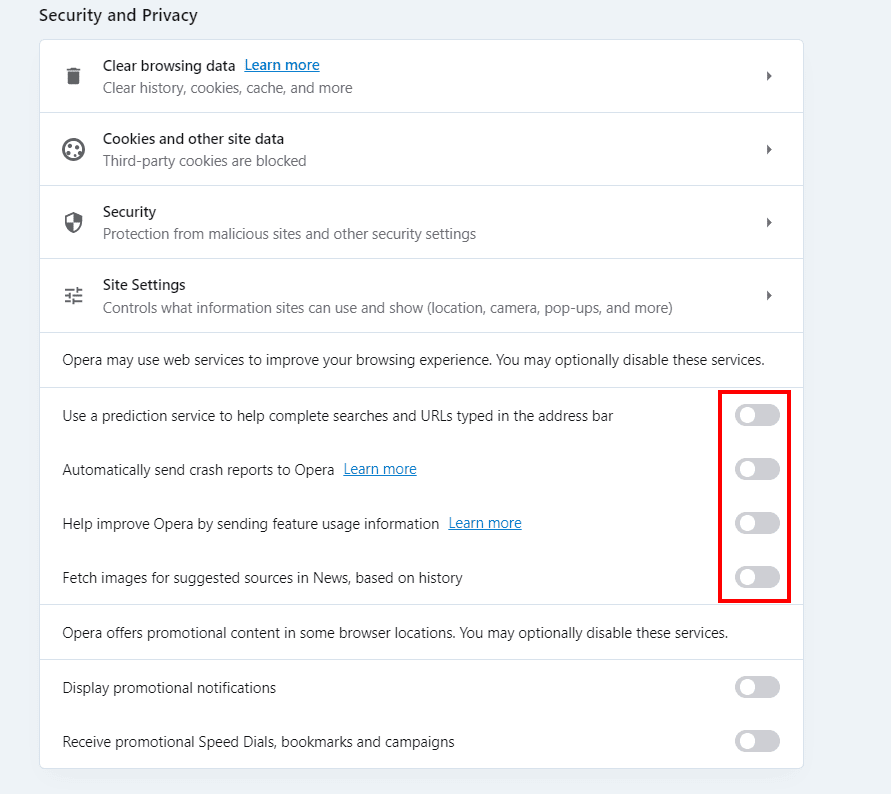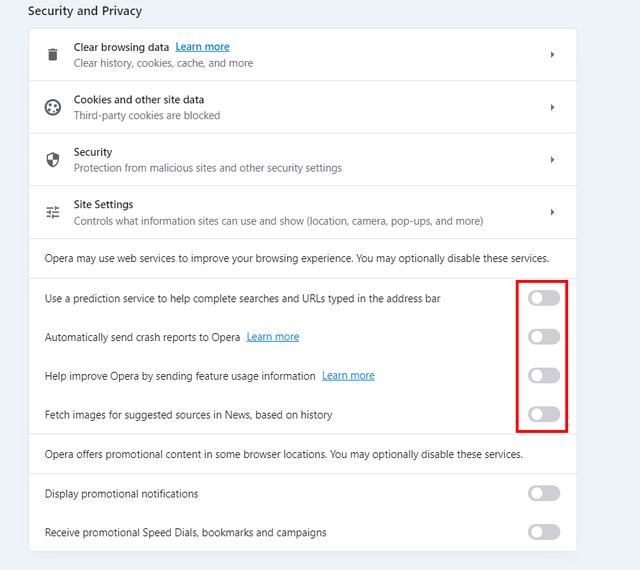 5. If you need it right now, you can go ahead and also clear browsing data: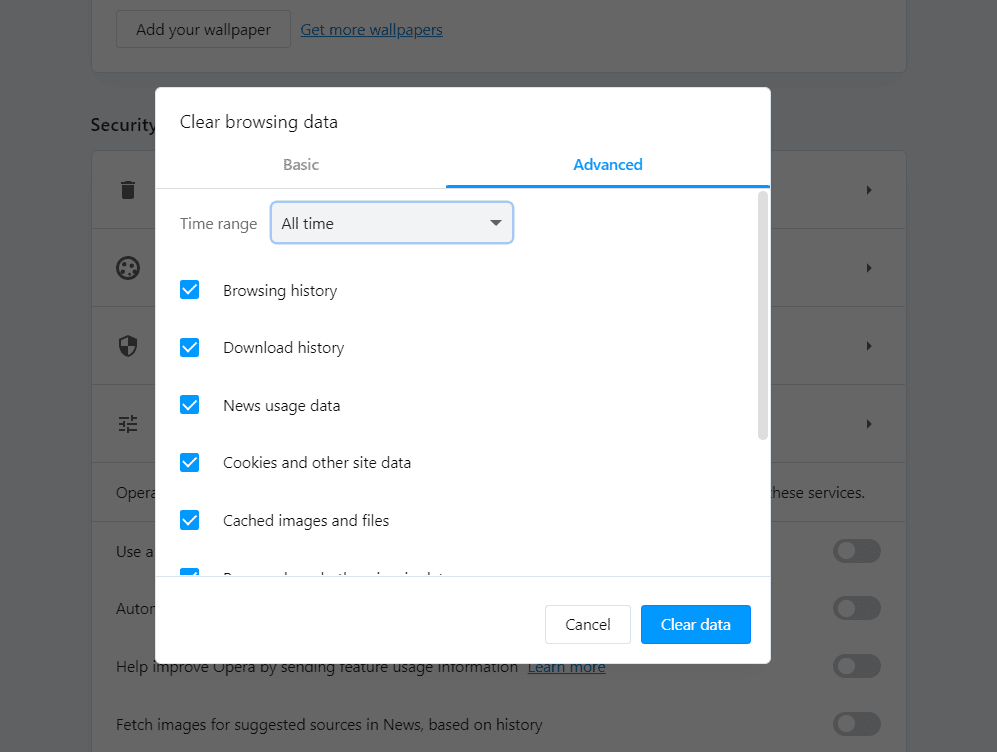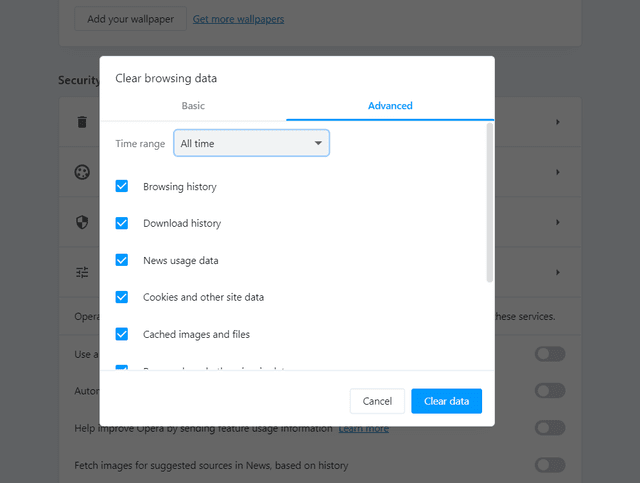 6. Let's move to Cookies and other site data.
Blocking all cookies is not recommended since it can break some sites, but this strict setting is still at least worth consideration based on your usability vs privacy preference.
After all, below you can set cookies to be cleared after quitting Opera, which is a viable compromise.
Concerning Do Not Track request, I prefer to have it turned on, although the setting is not enforceable and many websites decide against accepting it.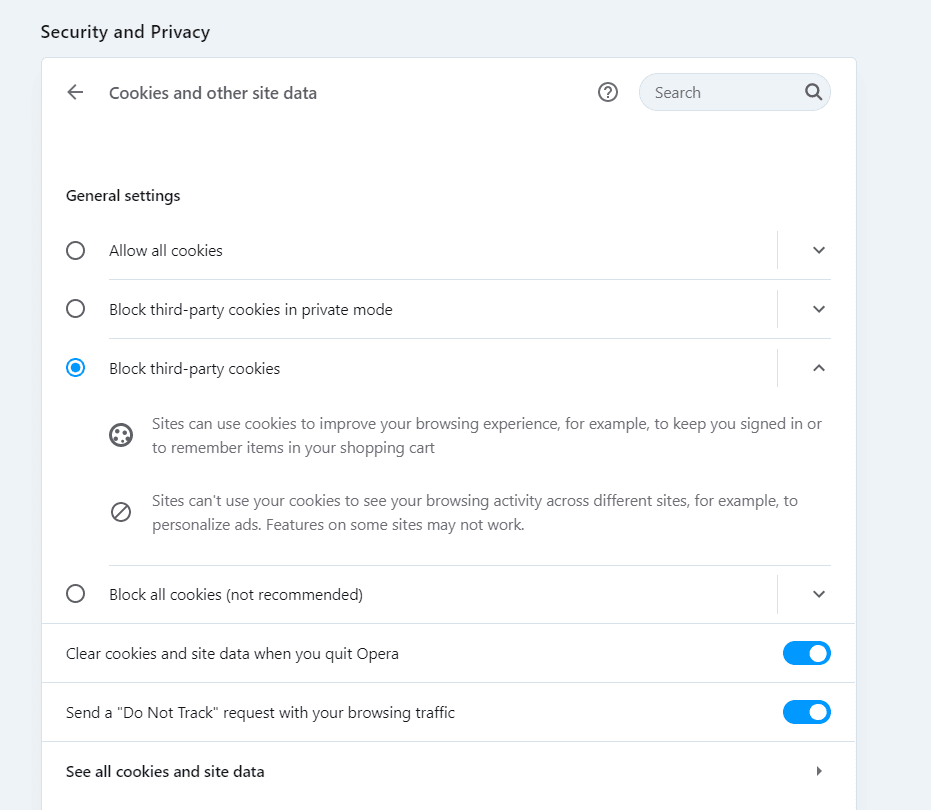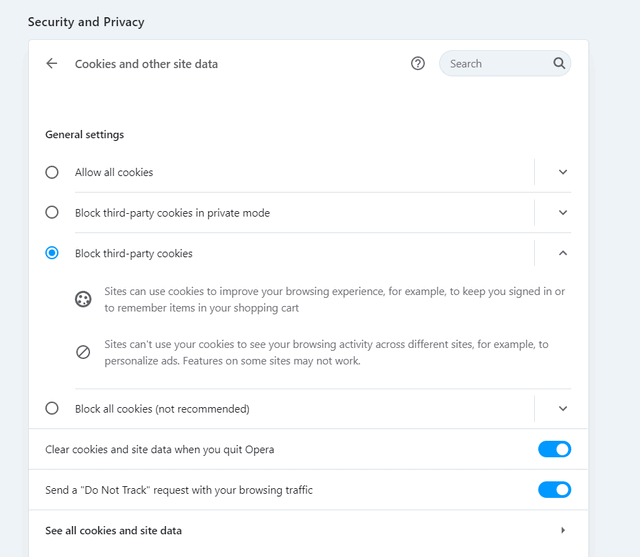 7. In the security section, make sure you have Always use secure connections setting enabled. It upgrades navigations to secure HTTPS and warns you before loading sites that don't support it.
Regarding malicious sites protection, there's dilemma whether or not to allow it, since Safe Browsing agents impose several privacy risks, especially Opera's Fraud and Malware Protection is considerably less private than Google Safe Browsing. But risks of browsing the web unprotected, I daresay, outweigh the privacy concerns in this case.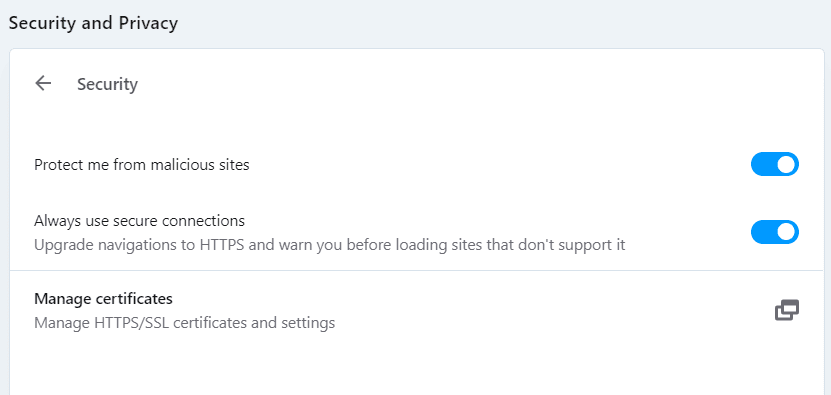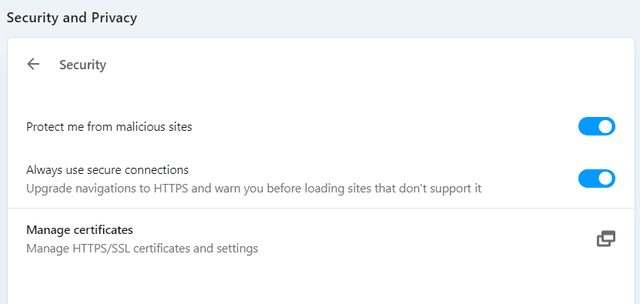 8. Next go to the Site Settings. Here you can get in control of permissions to forbid sites from having access to your location, camera, microphone or make sure that websites won't be allowed to send you notifications. It will also disallow closed sites to finish sending or receiving data. Once again, strict settings can considerably undermine day-to-day usability, but can increase the level of privacy.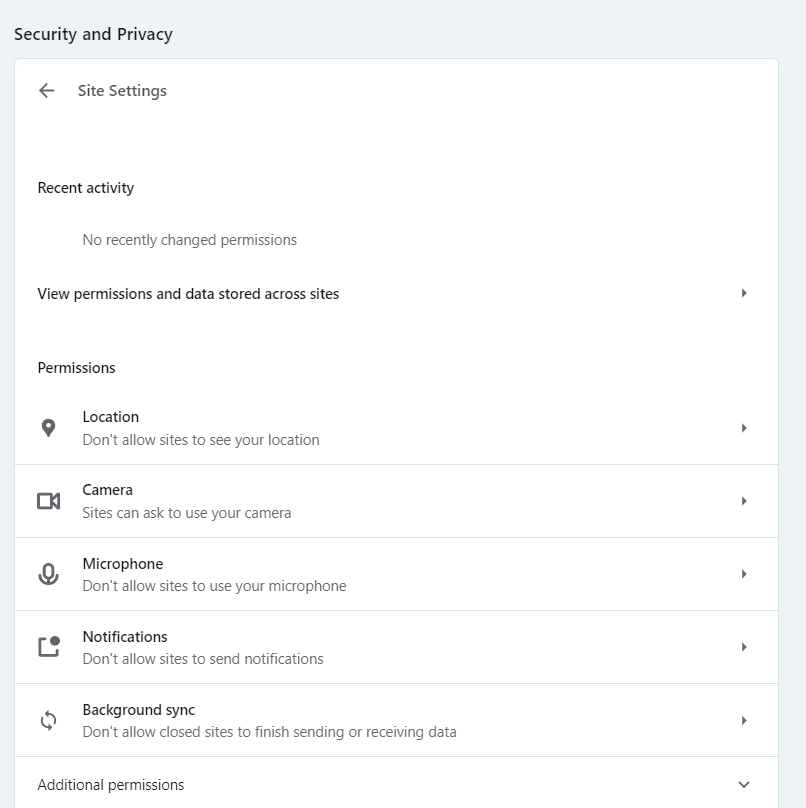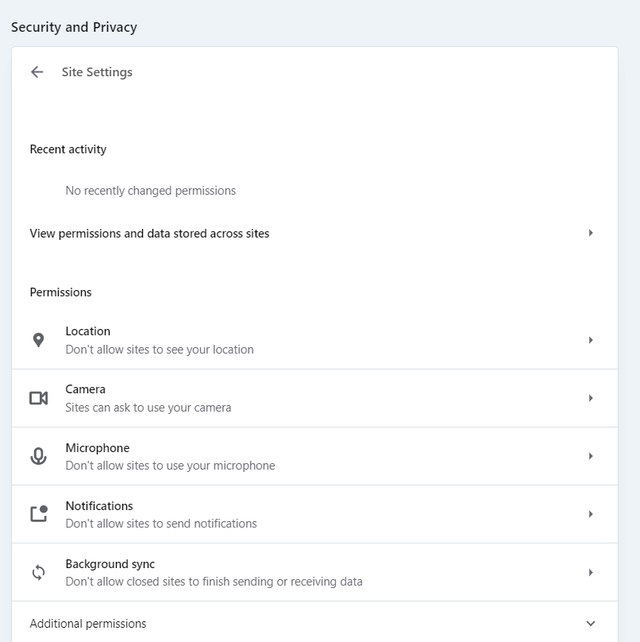 9. Scrolling down to Content subsection of site settings, Cookies and site data, JavaScript, Images, and Pop-up and redirects can be taken care of.
Ignore the cookie settings, as these just redirect you back to general cookie settings which we've already covered.
JavaScript once more represents somewhat of a controversial decision. Blocking scripts indeed improves online privacy, however, many modern sites with tons of scripts won't load at all. That is why we leave this to your consideration.
Lastly, all those super annoying pop-up windows and redirects should be out of question.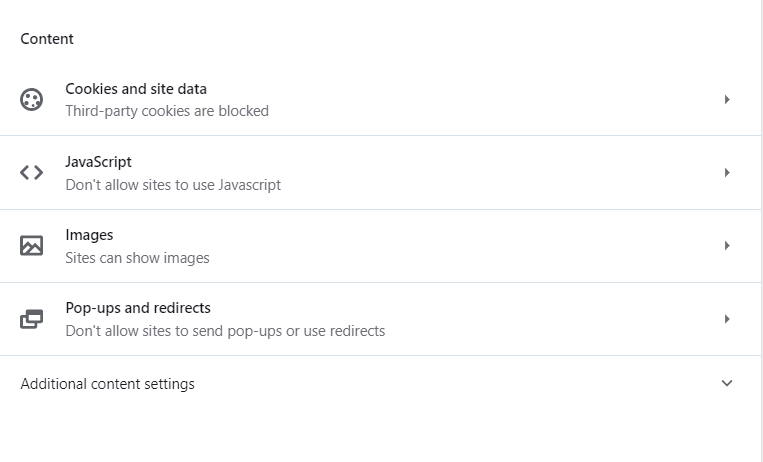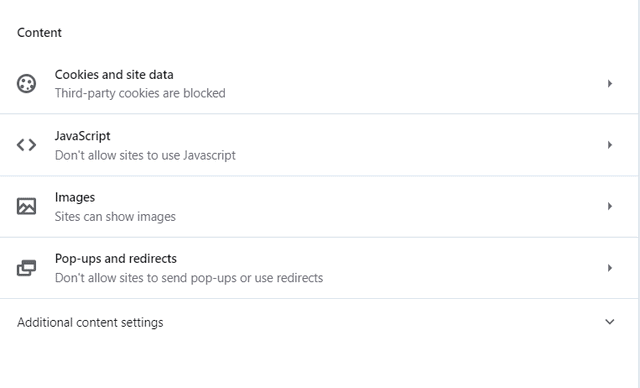 10. Lastly, let's set your default search engine. Go back to the general settings and scroll down to the Search engine section. Opt for a less invasive search engine than Google. From the ones offered only DuckDuckGo is acceptable, although not quite there.


---
Now, Let's see how Opera fares in EFF Cover Your Tracks testing after applying these changes: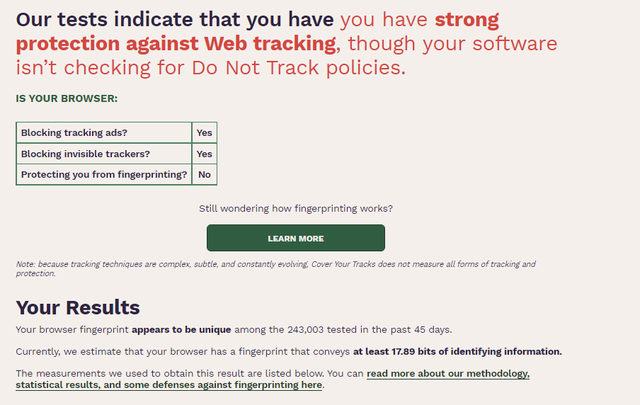 Fortunately, some improvement can be seen. Yet still, I'd suggest ditching Opera for some of the more private browsers nonetheless, either Firefox or Brave preferably.
See our guide for Firefox.
See our guide for Brave.