If you are in a hurry, here's what the conclusion looks like:
| Size | FV Player Coconut | Amazon Web Services | Cloudflare Stream | Bunny Stream |
| --- | --- | --- | --- | --- |
| 250GB stored | $5 | $5.75 | $50* | $2.5 |
| 200GB / 42h and 20min encoded | $114,17* | $255,73* | included | free |
| 500GB traffic | $2.50 | $42,46 | $19* | $2.50 |
| Initial price with encoding | $121,67 | $303,94 | $69 | $5 |
| Recurring monthly price | $7.50 | $48,21 | $69 | $5 |
*Converted from $/min pricing assuming various encoded qualities
Introduction
For years we have wanted to give publishers the same experience with self-hosted video that a platform like Vimeo or YouTube provides. You just upload your videos and then the video is available to all platforms and all screen sizes automatically. Currently, FV Player supports a wide array of hosting services and CDNs you can pick from. But what about encoding?
You can skip ahead, if you only want to see the pricing overview, or the example comparison.
Back in the day, the first platforms focused on encoding for self-hosting emerged, for example Brightcove. However, these quickly switched their business models to forcing publishers to use their in-house hosting and CDNs. While this provides a certain level of comfort, it severely lacks in freedom. Especially with the predefined pricing models.
AWS and similar services appeared to shake up the self-hosted video encoding landscape with Elastic Transcoder and Cloudfront CDN. Today, AWS offers one of the few stand-alone encoding services. When Elastic Transcoder first appeared with its extremely complex interface and horrid documentation, we thought this will get much better with time.
They later retaliated with MediaConvert which provided a cheaper, more feature-rich transcoding with a nicer interface, but ultimately proved to be just as painful to operate in the long run. As most of you know, AWS is still absolutely no fun to use and requires fairly serious technical chops to get anywhere with it.
Why Coconut
We get back to our key mission for video encoding – to give publishers the same experience with self-hosted video that a platform like Vimeo or YouTube provides. Key being the self-hosted part. While AWS is definitely great, it is undeniably as far from the comfort of YouTube or Vimeo as you can get.
We looked for something that was easy to use and just as powerful as AWS's MediaConvert, while also being more affordable. We've found that Coconut.co easily satisfies all three of these conditions. No hidden expenses and no inexplicably terrifying documentation or complex usage.
Pairing it with the increasingly beloved BunnyCDN was a no-brainer. In the base plugin, the hosting by DigitalOcean Spaces concludes the easy to use and affordable workflow. However, we would be more than happy to help you integrate Coconut.co with your own hosting servers or CDN if that's what you are after.
FV Player Coconut is a free add-on you can purchase here. After uploading your source videos to DigitalOcean Spaces, everything else happens right in your WordPress.
We are actively working on making the free FV Player Coconut add-on better. Simplifying the plugin with a drag and drop feature is next on our bucket list.
The Pricing
Our solutions are based on pay-as-you-go pricing models. Meaning you don't need to stress about having to pay for a comically large package just because you need a tiny bit more than the smaller package offers. Even worse would be, if you only used that amount every now and then.
With pay-as-you-go, you only really pay for what you use that given month.
That being said, calculating hosting, CDN and encoding services can get quite complex, especially when we start to talk about users per month and minutes of video encoded per month. So, is FV Player Coconut really all that cheaper than Amazon Web Services?
FV Player Coconut Pricing
With Coconut, the price is $0.015 per minute of HD video including the encryption. Note that each video is encoded in multiple qualities for optimized video delivery for mobile and 4K users.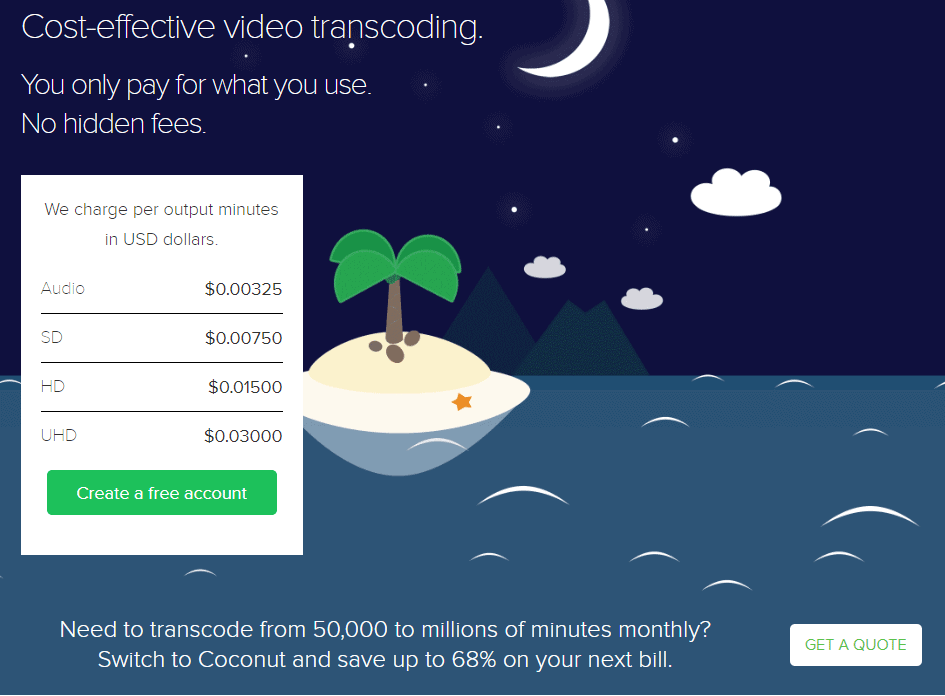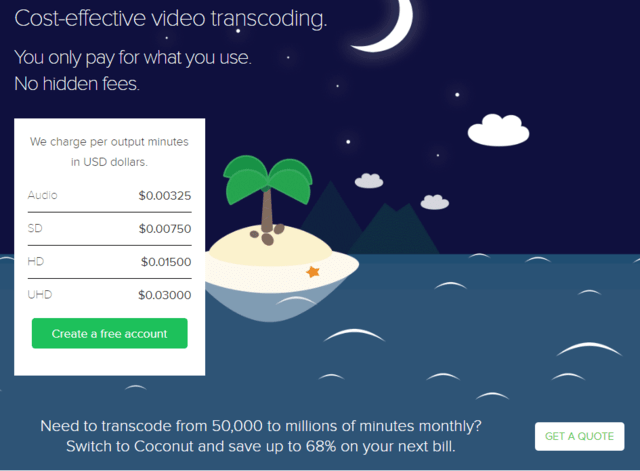 BunnyCDN recommends using the Volume Network with videos, which costs as little as $0.005 per GB. Even their most expensive region of Standard Network is $0.025 less than the cheapest region of CloudFront.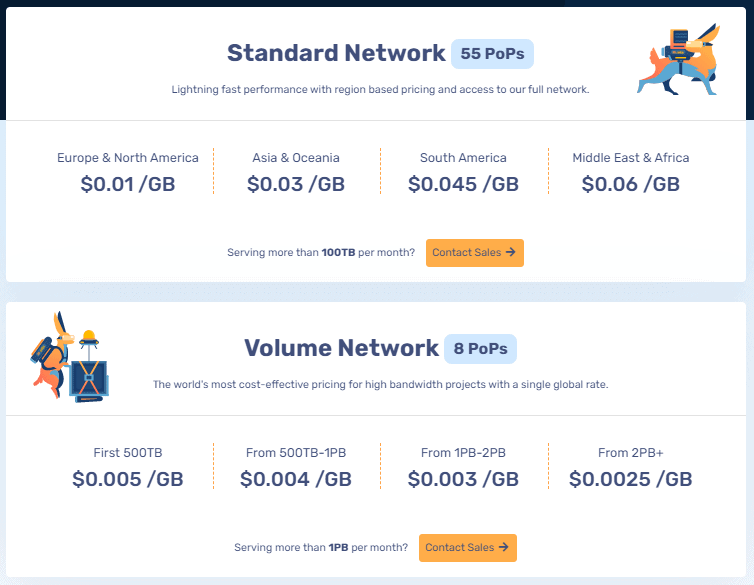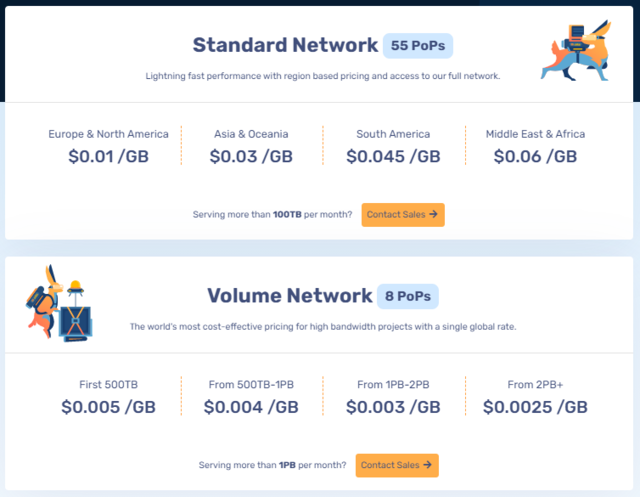 As for storage, With DigitalOcean Spaces you pay a base fee of $5 per month which gives you 250 GB of storage, and pay more only if more storage is needed. If you are expecting to store much less than 250GB, you might find better prices elsewhere. However, DOS is a true winner in the long run.


Amazon Web Services Pricing
AWS MediaConvert costs $0.015 per minute of HD video at <=30 fps.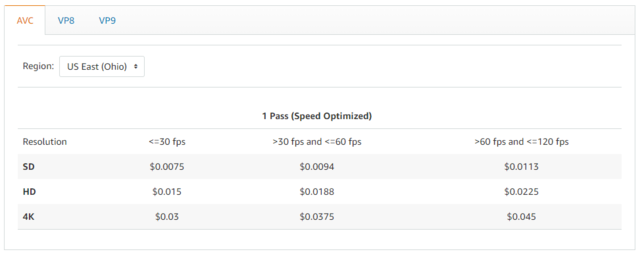 And to get the video encryption too, you need to use the Professional tier which is $0.024 per minute of HD video.
Cloudfront does give you 50 GB of free data transfer for a year as a part of their free tier. But after a year, it costs $0.085 per GB in North America and Europe, and even more elsewhere.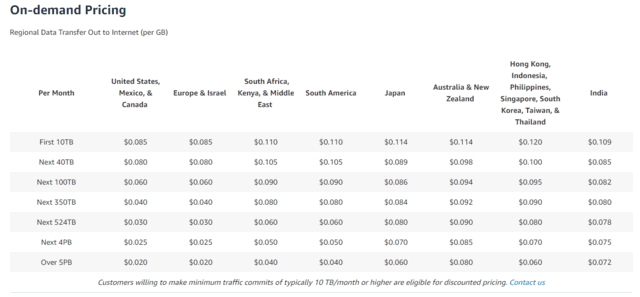 As was already mentioned, DigitalOcean Spaces is about the same price as AWS S3, but you pay a base fee of $5 per month which gives you 250 GB. This would cost $5.75 on AWS S3 and the gap keeps widening with each GB.

Cloudflare Stream
The ever-increasingly popular CDN with free pricing options entered video hosting and encoding fairly recently. They boast unusual pricing model based on stored and streamed minutes. However, while it is a comprehensive and easy to use solution, the prices aren't quite as great as they claim to be, and Cloudflare Stream proves to be needlessly expensive in the long run.
Cloudflare's pricing based on fixed price 1 000 minute units, has to first be translated into $/GB. For these purposes, we will assume a standard HD 720p, 3.5 Mbps video. That comes to about 26GB being equivalent to 1 000 minutes.
The basic fees that Cloudflare charges, are $5/1 000 minutes of storage and $1/1 000 of video delivered to users.
Note that each new minute above a thousand mark starts another thousand, and it would be less than pleasant to pay a whopping $10 for 27GB stored.


The lowest possible price you could potentially pay, is $6 dollars for under 1 000 minutes of stored videos and under 1 000 minutes of it being delivered to users. Full 1 000 (26GB) would cost $5.13 in FV Player Coconut(initial encoding price not included). Most of that being the base fee for DigitalOcean Spaces, meaning the gap widens as the size piles up. For example, at twice the size (52GB), it is already nearly half the price with $12 dollars for Cloudflare and only $5.26 for FV Player Coconut.
Bunny Stream
The only true competitor for FV Player Coconut is the Bunny.net Stream service. Their prices sound truly too good to be true, but they are very much true. With free encoding, storage from $0.01 and CDN from $0.005, their prices don't even have a competitor that would fall in the same price bracket.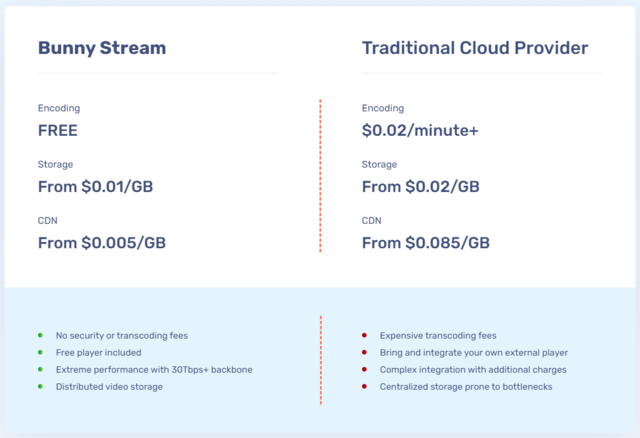 So, what's the downfall? Why are we not scrapping FV Player Coconut, and not telling absolutely everyone to go and use Bunny Stream? We point our customers towards Bunny Stream often, it's just not for everyone.
Firstly, while other players may withhold this information, Bunny Streams actually does not allow for their encryption solution to be used in third-party players. So that means lower level of video download protection than other solutions on here. However, we are actively working on removing this limitation and making the protection better.
See our Bunny Stream integration that lets you upload and encode videos right in your media library.
Secondly, you might be thinking that it doesn't matter since you can just use Bunny.net's built-in video player. Of course you can do that, but remember to see the features of that player before deciding. Truth be told, the Bunny Stream native player is just an accessory to the workflow which has only basic features. Making use of it in WordPress, especially if you want to use page builders or LMS is a no-go too. Bunny Stream player has zero WordPress integrations.
So, if you don't mind slightly lower protection, using Bunny Stream with FV Player is absolutely the best for you. If you don't care about any advanced player features, multiple hosting services, being able to change CDN on the fly, or managing your videos right in your WordPress, using Bunny Stream with advanced protection in their own player is for you.
Example Use Case
Let's compare the prices on an example. Slightly higher volumes have been chosen for this example in order to allow for true differences in prices to be visible.
Let's say you will be using 250GB of storage, out of which 200GB will be encoded video. Let's assume that it will be streamed up to the traffic of 500GB.
Remember that encoding is paid in $/min of output video, so a 1 000 of minutes of original video will translate to 4 000 minutes of encoded video in 4 different qualities.
Also, please keep in mind that encoding is a one-time expense. Hosting and CDNs are paid monthly.
| Size | FV Player Coconut | Amazon Web Services | Cloudflare Stream | Bunny Stream |
| --- | --- | --- | --- | --- |
| 250GB stored | $5 | $5.75 | $50* | $2.5 |
| 200GB / 42h and 20min encoded | $114,17* | $255,73* | included | free |
| 500GB traffic | $2.50 | $42,46 | $19* | $2.50 |
| Initial price with encoding | $121,67 | $303,94 | $69 | $5 |
| Recurring monthly price | $7.50 | $48,21 | $69 | $5 |
*Converted from $/min pricing assuming various encoded qualities
Coming in at $60 a year Bunny Stream price is definitely unmatched and will remain to be so at any size, but there are video protection limitations, making it not fit for everyone.
Cloudflare includes encoding in the price, making it initially quite sound. However, in the long-term, it proves to be needlessly expensive with $828/year. Given the price difference in recurring monthly payments, at the sizes in the chart, it already evens out and surpasses the price of FV Player Coconut by third month. In most cases, Cloudflare becomes more expensive by half a year. However, for it to cover the initial price of AWS MediaConvert, you'd have to use it for at least a little over a year.
Amazon Web Services is immensely reputable and reliable – that much goes without saying. Once the overpriced monthly payment for Cloudflare surpasses the initial MediaConvert encoding price, coming in at $578,52/year AWS also gets cheaper than Cloudflare. Then again, is it really worth all the complications and hassle with their services, when there's cheaper options with the same level of security?
Yes, we're talking about FV Player Coconut which costs $90/year. Same level of security as AWS, but cheaper and easier to use. Similar to Cloudflare, but vastly cheaper in the long run. Noticeably more expensive than Bunny Streams, but offering much better protection.
Note: Please, keep in mind that this comparison and adjacent chart are purely informative. It's best to calculate based on your usage and needs, and pick a suitable service accordingly.
We are always looking to make our products better. If you know about any other reputable services out there that we should support, or perhaps even consider adding to FV Player Coconut, please let us know in our forums or at support@foliovision.com