Just watched the behind the scenes video Nightshift, a promotional film made for the Panasonic SH1.
'NIGHTSHIFT' - short film behind the scenes (LUMIX S1H + ATOMOS NINJA V)
Absolutely minimal crew and stunning images. These techniques show how to produce million-dollar work on a beer budget. All of the equipment in this video could be owned by a DP or a shooting director (a director who doesn't shoot any of his or her own work would work with DP's who have all their own gear: a shooting director does not necessarily shoot all of his or her productions, just some, usually the lower-budget works).1
Owning your own gear is one of the keys to be shooting more and being able to execute personal projects.
Here's some of the other lessons:
owning your own handheld lightweight LCD light rig you can either mount it on yourself when filming or hand off to a single assistant allows filming on night streets with no additional lights or with the need to plug in to power, making you very mobile. To make such a lightweight lighting rig work, it's important here to have low noise, high ISO camera (the extra lights should not overwhelm the street lights and an ambient lights).
a lightweight camera and lens rig will allow a filmmaker to shoot complex, very expensive dolly and crane moves with no heavy equipment. Check out Brandon Li's work for examples of what can be done by a talented DP with a lightweight gimbal (latest work, Crossroads is an A7S III test film). Note, I'm recommending Li's camerawork, not recommending Li's editing which suffers from too many gimmicky transitions.
using the camera's built-in face detect tracking for running focus moves. Video auto-focus follow is imperfect in this case, but perfect in recent Sony cameras (A9, A7 III, A7S III), very good in recent Nikon (Z6) and Canon (R5, R6).
What I don't like here:
the car rig would belong to a DP who regularly shoots motor vehicles or a rental. This is more part of a full scale shoot, not a budget production. A budget production would do what Brimble did when the final firmware dropped into his hands at the last moment: handhold the camera from a parallel platform. Hey, if you've got the expertise in your crew, use it though.
requiring an add-on record device (the Atomos Ninja V in this case which requires a full cage and even an arm, which doubles the weight, requiring much heavier gimbals, in turn radically lowering the time for handheld or demands a much stronger (probably male operator).
The Ninja V add-on is not Lee Brimble's fault. The only DSLR style lightweight camera which shot internal RAW last year was the Blackmagic Pocket Cinema Camera 6K which was released in August 2019, the same time as the Panasonic S1H. 6K RAW (not used in most of Nightshift, as the RAW firmware was not ready from Panasonic and Atomos until April/May 2020).
Sadly the final grade in the final film suffers from the trends of the moment: too little contrast in the service seeking a wider dynamic range and some posterisation of the colours from footage shot in log (the shots of the driver in the car from behind his left ear, some of the driving and a few of the walking shots). There's also an issue some footage shot as if through a seaweed green filter which is normally more of a Sony issue than a Panasonic one.. In the behind-the-scenes, the editor was clever to show only the higher contrast and more cinematic shots.
Nightshift - A short film shot on the LUMIX S1H (with Pre-production firmware)
The final film also suffers from a weak sound design, with the soundtrack track, mainly just music, with no good foley or effects. Film is not just picture but the integration of image and sound.
The issues with post-production and shutter angle in now way negate the low-budget, high-value production techniques used here.
Panasonic S1/S1H: Technical Analysis
I'm a Nikon shooter, specifically for video a Z6. This is Panasonic gear, but the principal is the same. I shoot Nikon as my main work these days is sports stills, where Nikon glass and performance are class-leading (followed narrowly by Canon with Sony offering a different experience for those who like to shoot sports on an EVF: not me, my primary body is a D4). In video on the other hand, Panasonic leads with in camera 10-bit with its S1 and S1H. Sony's new A7S III gives them a party entry to 10 bit and 4:2:2 colour but Sony A7S colours remain problematic with an ugly green lurking in the shadows. Canon's R5 offers great colours, 8K and a beautiful image but is simply unusable for a shoot like this, due to the firmware crippling timer (it's not a heat warning as there's no heat and the timeout doesn't seem to be affected much at all by heat).
Canon's Cine line are Super-35 (effectively APS-C) and would not be capable of capturing footage in such low light, tripling the lighting and crew requirements. The once exception is the full frame C500 which is €15,000, putting it out of the casual personal ownership category. It's also 1.8 kg which would require some of the lightweight rigs to be rethought. Perhaps one could shoot Nightshift on the 1DX II or III: I'm not sure their low light capabilities go this far, and again they are bigger heavier bodies.
In a shoot like this, while limited footage is shot, the camera is on almost all the time to allow the DP and director to observe the effects of light and blocking. The only way to shoot this film with an R5 would be to have two idling bodies for every camera in use. So the only two affordable DSLR style cameras which could work for this film would be the Panasonic S1/S1H or the Blackmagic (Pocket) Cinema Cameras. The Blackmagic don't have any auto-focus follow function which the DP used here for the gimbal shot in steadicam style. He'd have to set the lens to a smaller aperture (f4) and a manual focus distance and keep his distance identical throughout the shot: i.e. a lot less flexibility.
The quest for the ideal lightweight video camera continues. It should be 4K, 4:2:2, 10-bit, offer competent follow-focus and should shoot internal RAW (without overheating after 20 minutes, Canon). Even better if it records to inexpensive cards, but I'm willing to live with XQD or CFexpress.
---
Exception for the Sigma Cinema Lens which are about €40K for a full set of primes: the cinema lenses are not necessary, Nightshift could be shot on the Panasonic L lenses which are about one-third the price per lens. ↩︎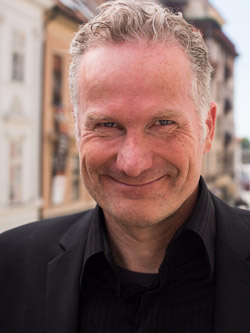 Alec has been helping businesses succeed online since 2000. Alec is an SEM expert with a background in advertising, as a former Head of Television for Grey Moscow and Senior Television Producer for Bates, Saatchi and Saatchi Russia.