In 1993, a young British man recently finished a degree in English literature at University College in London. For full disclosure, the man had been president of the Film Society and made some short films there every year. After university he fell into directing corporate videos and was unable to get any kind of artistic project funded.
In 1997, the frustrated would-be director pulled together £3000, borrowed some of his old university film equipment, talked all his friends and acquaintances into either acting in or crewing on the weekends for six months, and shot his first feature film, Following. Here's the trailer.
Following (1998) would travel to festivals around the word, earning accolades comparing the young director to a budget Alfred Hitchcock.
The young director had other plans than indie-films and low budget. His next film had a budget of $4 million and was shot in Los Angeles, including well-known actors like Carrie-Anne Moss and Joe Pantoliano. Memento (2000) earned $45 million at the box office. Since Memonto, Christopher Nolan films include The Dark Knight Trilogy, Inception (2010), Dunkirk (2017) and Tenet (2020) and earned over $5 billion at the box office. Like most directors, Nolan's better works have been interspersed with some duds like The Prestige (2006) and Interstellar (2014).
With David Fincher (b. 1962) and Steven Soderbergh (b. 1963), Nolan (b. 1970) represent a generation of successful intellectual filmmakers working within the studio system. Soderbergh deliberately places himself on the fringes but still works with A-list US actors and enjoys wide distribution for his indie films.
How did Nolan move his career ahead so quickly? Good-looking, charming and clever helps. But behind that gloss and his hard work, Nolan was blessed with a singular talent. Nolan has a hand not just in developing his first scripts but in writing the screenplays. His work was simply head and shoulders above everyone playing on the same field as he was (no budget, indie mid-budget, blockbuster). In his early days, Nolan sought to surround himself with like-minded and talented people to whom he had access. The first film Following though required an absolute belief in self and persistence and a love of the art.
Nolan's small savings went into that film as well as all of his free time, for what, based on the trailer, probably looked sometimes like very fragmented and mediocre-quality black and white rushes.
The real lessons here are:
learn visual language by watching films like Nolan (or François Truffaut who lost Catherine Deneuve who'd rather eat in restaurants than sit in darkened movie theatres)
hone your technical craft through any visual work, as either a cameraman or an editor, including industrial film
work extremely hard on story before starting to shoot your own low-budget work. Time spent on story and storyboards will cut costs in half or two-thirds, while making it far more likely people will like the final result.
These pages of script, side-by-side with the action, showing how carefully Nolan prepared for Following:
Christopher Nolan shared his own takeaways about shooting Following after a screening in 2013, including his love of including on-set ambient sound and dialogue and working over time with the same trusted technical and creative team.
When you're ready, you have to step out and take risks. Make sure you're ready. If you are not good enough to push yourself into the ranks of elite directors, wish to work in the industry and don't have a lot of industry connections, all is not lost. There's a lot of work for adequate cinematographers and even directors in television. In this case, pick a craft for which you have at least some talent and slowly work your way up that ladder. If you want to make it in film or television, don't neglect to work on your social skills. Your ability to charm people and get along and make them feel valued will act like a talent multiplier over the years.
Much of the film world is a somewhat snobby one, inhabited by those born to a certain privilege. Nolan himself is the progeny of an advertising creative director who brought Super 8mm cameras home for the seven-year old Christopher. His uncle is working British actor John Nolan. Ideally I'd suggest proceeding as Christopher Nolan did with a university degree which will enhance your knowledge of history and art. A solid liberal-arts background gives most people both the ability to express themselves confidently. Not having enough eduction leaves many with weaker communication skills and an inferiority complex.
If narrative and/or relocating to Los Angeles, Vancouver or Toronto, don't suit you, all over the world there's a growing swell of demand for web and industrial video. These days many people are making a very good living and buying homes on industrial video.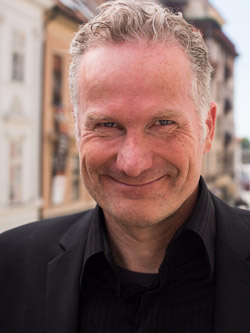 Alec has been helping businesses succeed online since 2000. Alec is an SEM expert with a background in advertising, as a former Head of Television for Grey Moscow and Senior Television Producer for Bates, Saatchi and Saatchi Russia.