Hollywood stars like Spike Lee and Viola Davis complain there are not enough roles and films and opportunities for black directors and actors. Texas-based and Zimbabwean-born Michael Maponga experienced this first hand. Maponga had an idea to change this but from the other end. He decided to create a platform to bring black cinema from around the world to an international audience.
In Hollywood, both as a black actor, but not only as black African actor, I saw that we have limited roles. But when I looked outside Hollywood, I saw wonderful films being made in Nigeria, Senegal, even here in the United States with black directors and mostly black casts. The most important step to take was to bring those films from around the world to the homes of the African diaspora.

Maponga named his vision AfroLandTV, bought the domain AfroLandTV.com and set about gathering content, raising funds and trying to figure out a way to build a Pan-African Netflix.
Planning the New Platform
Maponga built a first version of AfroLandTV.com in 2016 on WordPress. The functionality was built by stringing plugins together. Some of the individual components worked but there were issues with both payment and membership components. The one part which worked seamlessly was video playback, thanks to Foliovision's FV Player:
I was introduced to the company by my mentor and advisor. His name is Ron Valderrama and he has an online streaming platform called streamnowtv.com. At the time, he was still using Flow Player but their support team was just horrendous. They have a great product but, it's about the support, the people as well. When we switched from Flow Player to FV Player, we found out that the support team is incredibly helpful. I saw that you wanted to see me succeed in whatever I'm doing and that really means a lot to me.
After his initial DIY proof-of-concept, Maponga realised that he needed a more solid platform. He'd managed to assemble a diverse and astonishing collection of content. He wanted AfrolandTV.com to work as well as Netflix.
He carefully considered using an existing SAAS platform.
It was important to me to own our platform. A WordPress based open source platform means that we have control over our own future. AfroLandTV.com is a long term project. It's impossible to know what will happen to any SAAS platform. We could lose our entire platform after a sale or a shutdown. I was also surprised at the setup fees. But we were in a difficult situation. A totally custom solution represented a huge up front investment and the platform might be inadequate.
As Maponga has been using FV Player on the original AfroLandTV.com platform, he decided to reach out to Foliovision for an estimate for their "Netflix in a Box" custom solution.
Foliovision creative director Alec Kinnear found Maponga's vision inspiring.
As someone who has worked in independent film and very much enjoy films outside of the mainstream, I could see that AfroLandTV.com opened a new world to viewers. I wanted to help Michael realise his vision, whether on a tailor made site or an existing platform.
Together they explored the SAAS option and then the Netflix in a Box solution. SAAS couldn't meet all of the Maponga's technical requirements, Kinnear points out:
One of the most interesting technical aspects for us was the Roku integration. From the beginning the WordPress site was conceived and built to support a robust Roku integration. I'm a huge Roku fan and had two Roku Ultras running at home. It was very exciting to make our FV Player work as part of a sophisticated multi-platform streaming service.
The financial side gradually came together:
When we ran the numbers together, they supported Michael's notion that he was better off owning his platform. For about twice the upfront investment in SAAS, we were able to help Michael make AfroLandTV.com match his vision, of a Pan-African Netflix.
Maponga felt confident that Foliovision both understood his vision and could be relied on to make it work at a high technical level:
With Foliovision, I knew I could trust the team, even with my growing project ambitions. That's how I made the decision to put this project in their hands.
The New Layout: Competing with Netflix

Closely emulating the well-known Netflix wasn't a casual decision, but a way to jumpstart AfroLandTV.com with new users. Michael wished for an online space which would be able to reach out to people globally:
Obviously, our first two markets are in the United States and Europe but we already have interns in Ghana working for AfroLandTV.com and we want to penetrate the African continent as well. We decided to learn from the bigger successful platform-role models like Netflix and Hulu and implement some of their bold style into our layout. Netflix is the king in terms of seamless user navigation, while Hulu is being beautifully designed. Picking the Netflix style of navigation, we edited it and attached a little bit of Hulu's sleek approach with nice and neat looks including the fonts.
A sleek appearance of navigation details make the website simple and intuitive to use.
Creative Director Kinnear concurs:
What a huge platform like YouTube or Netflix have available which a smaller or new platforms do not enjoy is a massive userbase on which to run user testing. At that level of traffic, the big platforms are able to micro-test even the smallest changes in user interface. By thoughtfully adopting most of their conventions as a starting point, it's possible to get most of the dfficult user interface issues right the first time.

The other important point is familiarity. Almost everyone who watches video online is familiar with the interface conventions of YouTube. Everyone who subscribes to a video streaming service is familiar with how Netflix works. Familiarity breeds comfort.
There is space for important differences though. Kinnear explains the biggest differences:
When you open Netflix you can only subscribe. That's it. Netflix is a big enough brand you either sign up right away or you have to leave. AfroLandTV.com is a new service for most people, so we want to open the door wide to new users, allowing them to browse the catalogue and view trailers right away, without having to give up even an email address. This also improves the search visibility for AfroLandTV.com as search engines can index the films themselves.

Netflix is also very parsimonious with trailers. They expect their subscribers to be familiar with the movies and actors in most of the movies they present, so they only offer trailers for Netflix's own productions.
Now every film on AfroLandTV.com includes an easily accessible and high quality trailer to allow a visitor to quickly choose the films s/he will enjoy the most.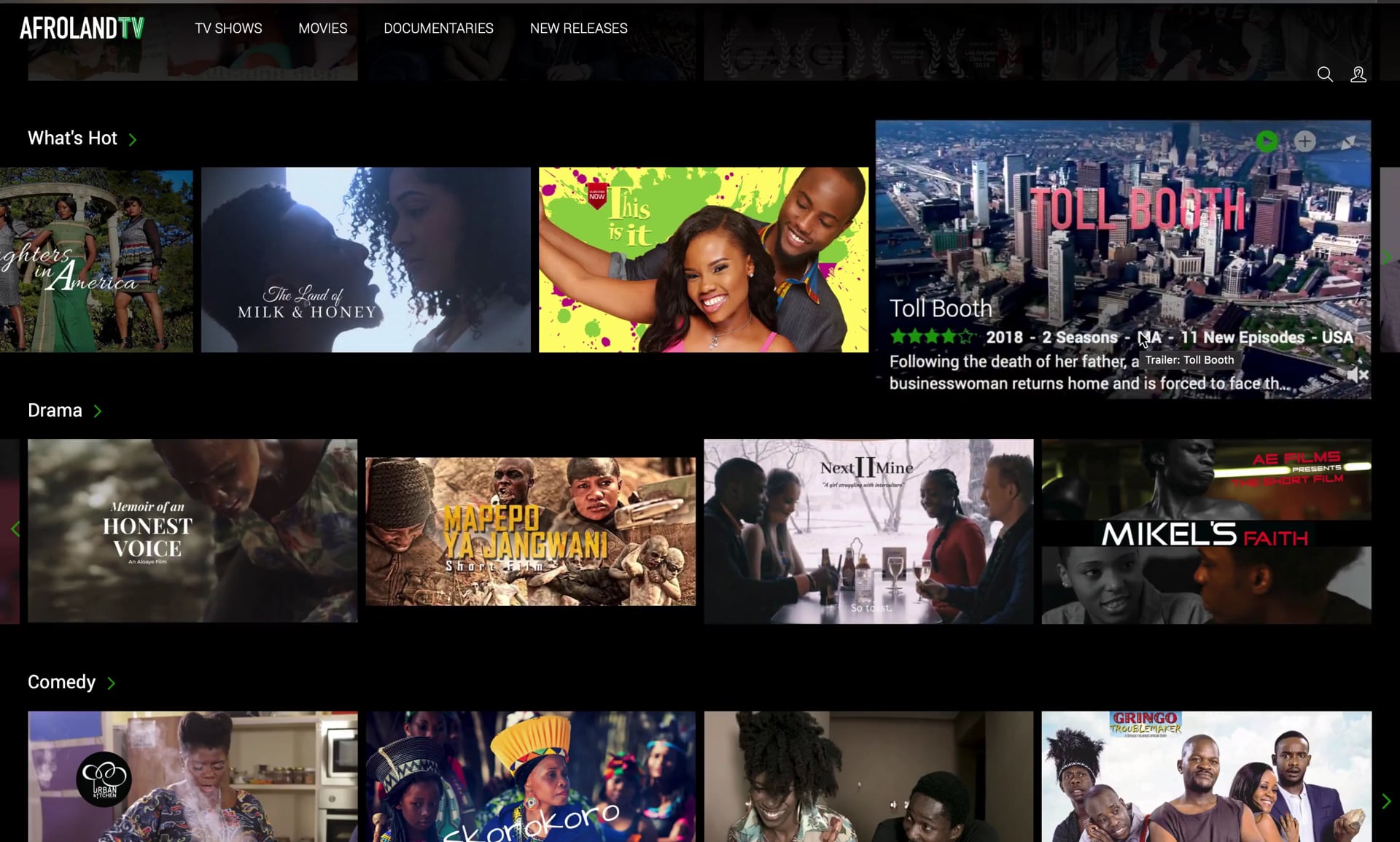 The trailers allow users to have a better overview of titles.
Subscription Model and Pricing
AfroLandTV.com allows immediate access to trailers. When a visitor tries to view the main video of a specific film, s/he is prompted to create a free account with a seven day free trial.
A monthly subscription is $2.99 in summer 2019, while an annual plan is $29.99.
The subscription form offers more options on both membership and payment method level.
Maponga plans to grandfather early subscribers:
As we grow the library, we may slowly increase annual subscription costs, but those who join AfroLandTV.com early will enjoy the same price they paid in the first year forever.
Members enjoy a watchlist, a recently viewed category as well as the ability to rate films. Members progress through a television series or a film is recorded across all devices, whether a desktop, a mobile device or the Roku app. Continual progress avoids one of the biggest frustrations with smaller platforms: having to requeue a partially watched film or series every time a member reopens it.
Users can create personalised libraries by adding unlimited amount of titles to their Watchlist. 
AfrolandTV's Market Positioning
Whether it's a drama, comedy or document, the titles are created by independent artists. Maponga explains market positioning.
We're not trying to compete with Netflix, we just want to be a complement. The average subscriber in the US has three services and basically they're creating their own subscriptions. Someone might have Netflix for Originals and HBO for Game Of Thrones. Now they might have AfroLandTV for the Pan African content. We want to fit in that bundle for our target audience. Right now, the independent artists are our focus.
Independent does not mean compromising on quality. Here's a list of few award-winning AfroLandTV.com films:
The powerful face of the critically-acclaimed movie Breaking With Customs (2017).
Particular Technical Challenges
Senior programmer Martin Vicenik is very proud of some of the special technical challenges he and lead CSS designer Viktor Klimo overcame while building the new AfroLandTV.com. In particular background autoplay of carousel items with an automatically expanding movie box presented challenges both at a CSS and a player level.
When the mouse hovers over a movie, the movie poster expands and reveals the title, description and other details. At the same time, the movie trailer starts to play.
A fluid experience on mobile was a priority. Vicenik explains:
We didn't want members to suffer through a heavy desktop-centric interface and download for each page. We didn't want them to scroll in every direction on their mobile devices though, therefore there are no sliders available. Instead, tapping on any of items opens a lightbox where you can see the related entries. (we run Ajax to show these). Tapping repeatedly opens another light boxes endlessly. User can explore movies effectively and quickly like this, without ever having to wait for a movie page to load.
 There is almost no difference between AfroLand's mobile version (left) and Netflix app (right).
The improvements of mobile version are not only a tool for providing a comfortable navigation, but helped AfroLandTV.com accomplish something very special. Sophisticated features lift the user experience to a level where it becomes almost as identical as using the Netflix app. And that means having the same possibilities to stream content – only without the necessity of downloading the app, while also saving some extra memory space on the device.
New FV Player Features
AfroLandTV.com presented new challenges to FV Player technology which pushed Foliovision to add some amazing new features. In particular, adding television series meant creating a new vertical playlist style. No player button is visible – the visitor just clicks on the episode s/he wants to watch goes immediately to full screen mode.
The highly scrollable FV Player's new Vertical Playlist style.
When watching series, a menu appears in the control bar appears to allow quick switching between episodes, giving users more control over the streamed content.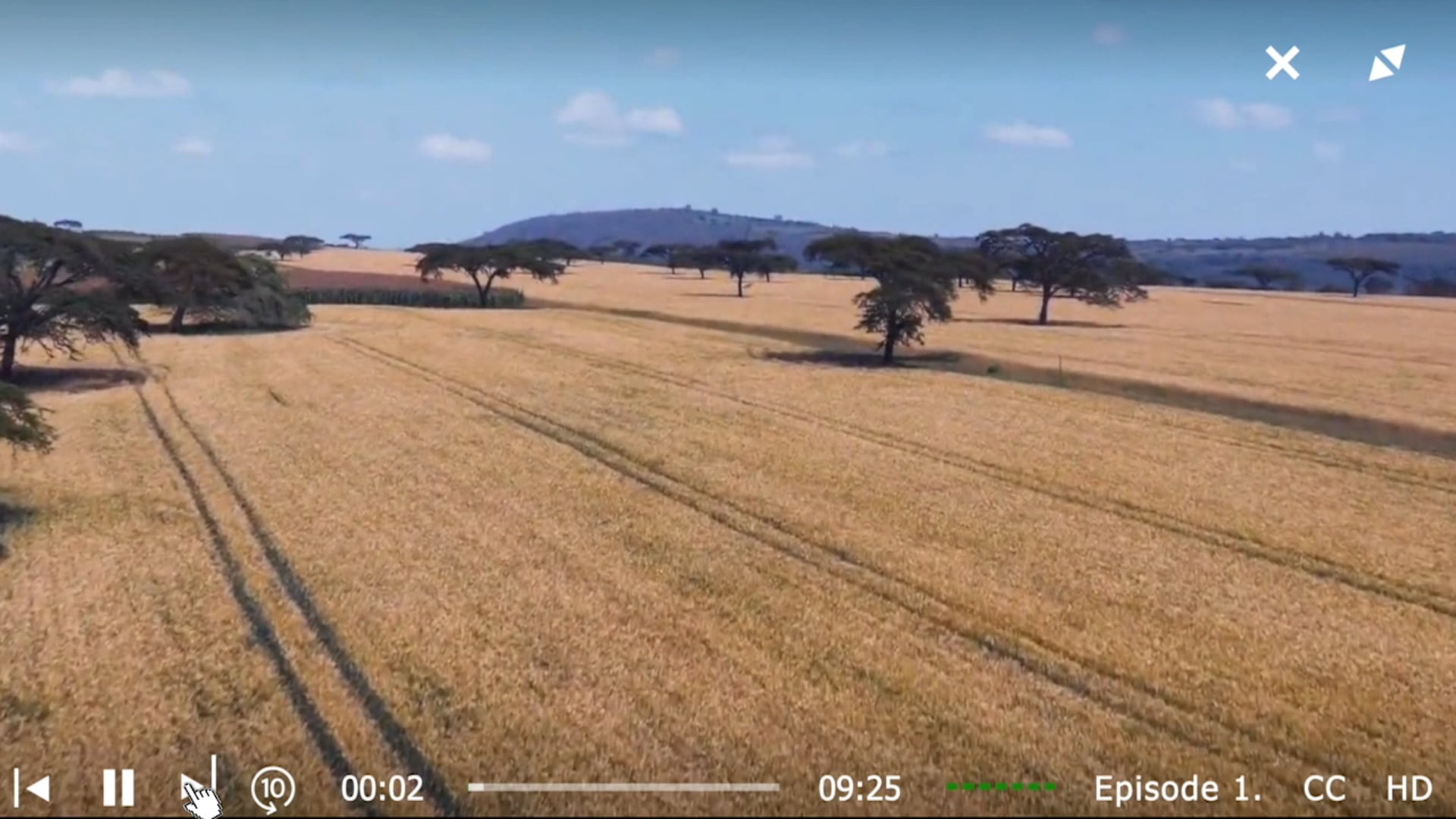 Press 'Play' to look how users can switch between episodes thanks to the Control Bar panel.
Performance is improved exponentially by avoiding WordPress page loads where possible by just running simple PHP scripts for much of the functionality. There is no need to force a full page load unless the page address changes.
Making adding new films and managing the content library easier
Creative Director Kinnear explains how Foliovision works to make editorial teams' lives easier.
We deeply believe in a custom editorial interface for particular publishing needs. Whether it's a bio, testimonial, portfolio item or a streaming service movie, you are publishing, it makes no sense that an editorial team is confronted by the WordPress blog interface with some ugly custom fields. There's nothing I loathe more than the very popular Custom Fields Plugin. It's begot more ugly posting interfaces than MySpace.
How does a Foliovision admin interface differ from a conventional WordPress interface?
We build a custom posting page for each content type. We arrange the fields in exactly the right order and format to post in sequence. Any fields which are not relevant are removed. Posting any item becomes a simple rote fill-in-the blanks exercise. This is so much better than the usual WordPress learn and guess what fields need to be filled in maze.
Kinnear animatedly answers my question about how the infamous WordPress Gutenberg Project fits into the AfroLandTV.com posting interface.
I'm amazed that WordPress which was designed as a publisher's CMS is slowly being converted into a random page layout builder. So much energy and resources have gone into Gutenberg whose freestyling in my opinion runs contrary to the spirit of CMS.
Maponga concurs:
When we had our initial version it was always very difficult to train new interns on how to add and improve films and television series. With the new interface, it's easy to add new team members and I'm able to work faster myself. Everything is intuitive and logical. I had no idea posting and managing content in WordPress could be so efficient.
The Build Process and Collaboration
How does Maponga feel about the AfroLandTV.com rebuild now that the new site is launched?
The communication between both teams was very clear and we understood what we want and how we're going to execute it. The Foliovision team was very responsive, patient and that was great. They even introduced some new ideas of the platform that I've never thought of myself. We've had a great response from our subscribers.
Every newcomer to the site is welcomed to enjoy the movies by setting up an account.
There's films not to miss on the AfroLandTV.com platform. Here's a few of the Foliovision favourites:
From San Francisco With Love (2016): A sensitive love story between a French woman and a young jazz musician from Africa thrown together by fate in San Francisco. In the tradition of the French *Nouvelle Vague* and Eric Rohmer.
 
Animal (2017): Dangling between sci-fi and contemporary drama, Animal follows the path of an injured African boy through his healing process. A visually haunting story represents the New French movie.
 
Coming Of Age (2015): A documentary set in south Africa follows the youth growing up in the deep mountains of Lesotho. The two year observation of four teenagers projects development of relationships onto a traditional background.
 
Shock Nation (2019): Soulful web series uncovers the dynamics of winning and losing through the soulful stories of young dancers fighting for their dreams in Baltimore. Produced and directed by Kimia Workman.
Iconic scene from the award-winning movie Animal (2017).
Reference
If you'd like to explore the work of the freshest voices in Pan-African cinema, AfroLandTV.com offers a trial. 
To follow the latest news from AfroLand visit Facebook, Twitter or Instagram.
For more details linked to FV Products visit: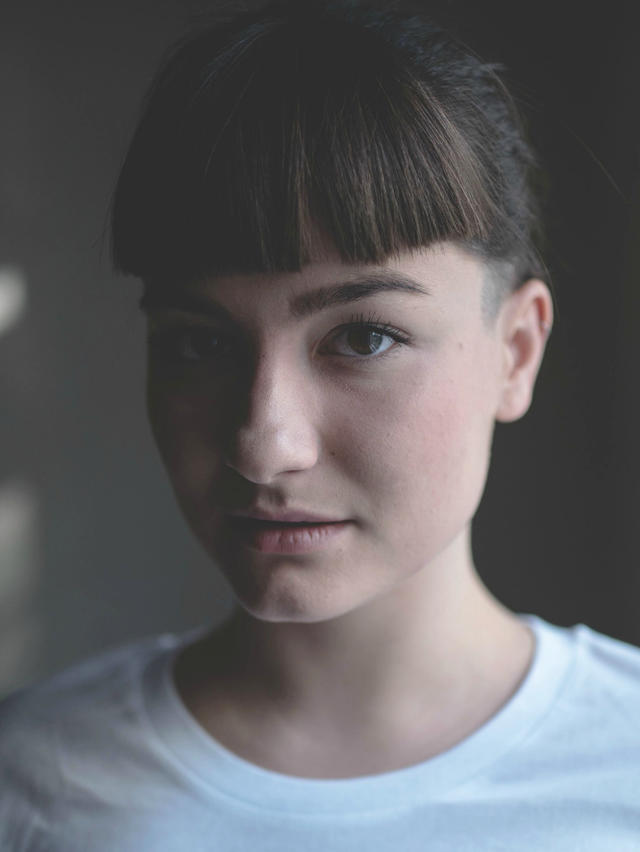 Chiara was born and raised in the neighbourhood of Petržalka in Bratislava. Besides studying Marketing Communication at Comenius University, she happens to be an observer, mostly through the lens of a camera.