Fortunately life is not just about disputes over the GPL and broken payment gateways. I've been a little bit too deep in bickering with Matt Mullenweg, Samuel Otto Wood, Jeff Chandler and Automattic about GPL in the evenings (a long post to come). During the day, we've been slaving to create a great Payflow gateway for RCP (Restrict Content Pro) as quickly as possible for a client on a deadline.

When last week our long time programmer Ivka got married, Lucia and I were delighted to attend. We had no idea just how wonderful Ivka and Mato's marriage would be. Smolenice Castle is not far from Bratislava (home to Mato) and very close to Trnava (where Ivka grew up). It's also one of the most beautiful spots in Slovakia.

Mato had thought up an ingenious program which included a guided tour of the castle, outdoor and extreme sport videos on closed circuit television which turned out to be Ivka and Mato rock climbing, white water rafting and downhilling themselves. At the church, a string quintet played Vivaldi. Ivka and Mato rode up to the castle on horseback, Mato in a traditional morning suit. Later there were opera singers, waltzes, Slovak folk ensembles and after midnight a rock concert.

Thank you Ivka for reminding us all that life is not all legal wrangling (GPL) and coding.
Congratulations to Ivka and Mato and we all wish you a long and beautiful life together! You're off to a great start.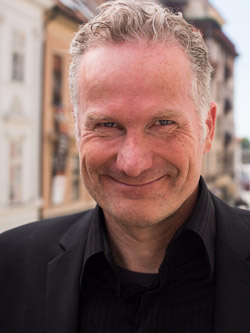 Alec has been helping businesses succeed online since 2000. Alec is an SEM expert with a background in advertising, as a former Head of Television for Grey Moscow and Senior Television Producer for Bates, Saatchi and Saatchi Russia.