We haven't posted any photos of Bratislava for awhile. Today was our second really big snowfall this year (last time the snow lasted only a day or two).  After team lunch at our favorite restaurant Modra Hviezda, Lucia and I took our Belgian shepherd for a walk in the castle grounds. Stunning. Here's the pictures.

castle park

st martin cathedral

castle walls

orthodox cathedral bratislavsky hrad

novy most

castle ramparts
All our posts should have some technical content. So the technical theme are HTC One Photos. HTC One has the controversial "low" pixel count 4 MP camera with the f2.2 lens. Frankly I've been amazed at the quality of pictures this camera takes in minimal light, far outdoing the iPhone 4s or 5s or anything I've seen from Samsung Galaxy S3, S4 or S5 tests. Those were the other camera candidates.
Here's an example of the natural low light one can get out of the HTC one. This casual cafe shot took resonates with a kind of Dutch masters atmosphere.

St Martins cafe restaurant
There has been zero retouching or exposure correction on the photo above.
With the outside batch, I ran into one consistent issue: underexposure. I should have put a global correction on the set. That said, much better to underexpose snow than overexpose it (everything would be too white and one would not be able to adjust exposure at all without leaving huge areas visibly incorrectly exposed). Nothing a quick levels correction wouldn't fix.
Oh and the HTC One M7 handles action shots just fine as well with fast exposure times.

gulliver in lilliput

jumping dog bratislava – Alec in shot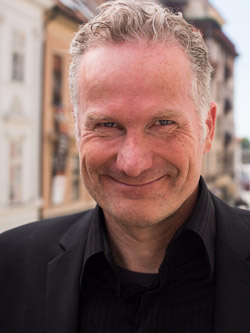 Alec has been helping businesses succeed online since 2000. Alec is an SEM expert with a background in advertising, as a former Head of Television for Grey Moscow and Senior Television Producer for Bates, Saatchi and Saatchi Russia.