You know you are doing a good job if your client keeps coming back for more. For Foliovision, Jeff Utrecht, an international educational technology consultant living in Bangkok, is a fantastic example of a satisfied customer. His cooperation with our company began several years ago, but thanks to mutual satisfaction, it did not end after the initial project was completed. In fact, Foliovision has been helping Utecht to create and maintain several new websites. Let's look back at this extraordinary working relationship from the very beginning.
Jeff Utecht first contacted Foliovision when he needed to redesign his own blog, The Thinking Stick. As many bloggers, he took care of the site for some time. It is not extraordinarily difficult, if all you want is to share your thoughts every once in a while. However, Utecht's blog quickly expanded and reached "the point where I wanted it to do things that were above my coding expertise." While browsing online, Utecht came across a few of Foliovision's clients. He liked what he saw on their websites, and in November 2010 he decided to contact the company and ask for assistance.
First of all, the blog had to be moved from TypePad to WordPress. Foliovision's programming team took care of the entire move: the client did not have to invest his time in this part of the project at all. "I love that there are specific people that work on specific issues. A designer for layout, a coder to make it work. It's nice to be working with a team," Utecht stated. It was clear that The Thinking Stick needed a redesign, which included a new logo. Utecht encouraged the designers to use their imagination to the fullest, as he did not want to limit them by asking for specific fonts or colours. There was only one condition they had to fulfill, and that was incorporating the baseball bat that has always been a part of the logo to their creations.

New logo design for The Thinking Stick blog
Regarding specific features, Jeff Utecht had a clear idea of what he would like to have on his blog. After looking for inspiration on various blogs and websites in the field of education, he knew he was eager to have a fast website with integrated social media and a community-like look. Utecht wanted the homepage to display as many previews of articles as possible, with each of them showing exactly how many people liked or shared them on social media. Furthermore, he was keen to have direct links to his own social media profiles, as well as his most popular articles visible right away. The integrated Google search bar is also worth a mention. Quite simply, Utecht put together a list of his favourite features seen on other sites and he wanted to be able to offer them to his readers as well. Connecting is crucial for this client and his requests show it very clearly.
"With my personal blog TheThinkingStick.com I love being able to say what I like about different websites and what I don't like and we add those into the site's next updates", he noted. Foliovision worked on Utecht's ideas and made them a reality. The new site was launched on January 7, 2011, and for two years, it was perfect. However, Utecht realized that it was time for a small refresh if he wanted to keep up with the newest online trends. In February 2013, he started to discuss an upgrade of the site with Foliovision. The Foliovision team is already working on that, and the results will be available in the near future – keep checking The Thinking Stick if you are curious.
As it marked the start of a lasting cooperation, The Thinking Stick was somewhat special. However, the greatest project Utecht and Foliovision worked on together has been, without a doubt, COETAIL. "Hands down the COETAIL project has been the best project", the client agrees. Coetail.com (formerly coetail.asia) is a community portal that Foliovision has helped create and build up from the start. Let me guide you through this impressive piece of work in more detail.
COETAIL, the abbreviation of Certificate of Educational Technology and Information Literacy, is a website that aims to "help educators learn to use technology in a meaningful way through a 15 graduate credit program." Its goal is to offer "a community approach to learning", and you can sense 'community' all over the site. It was the keyword that the whole team working on the project had in mind since it had been launched.
Before devoting full attention to design and specific features on the website, however, it was crucial to solve technical issues. Foliovision's programmer and the supervisor of this project Martin Vicenik particularly remembers the bad hosting server, which caused the site to be very slow. To offer the website visitors the best possible experience, switching to Foliovision's hosting services was a clear choice. On April 7, 2011, this issue was settled with a dedicated West Coast server in place (to serve Asia faster), and the focus shifted to the much-needed new design.
"Everything from colour to functionality was talked through with the (Foliovision) team. They helped to create our logo and a website that meets our needs and the needs of our participants," Utecht noted. He provided a few examples of sites that he found appealing, so that the designers got a rough idea what the he aimed to achieve. Utecht's dream was to create a community portal. He knew he wanted a site that looked fresh and friendly, and the choice of colours (purple and green) correspond to that. While creating the logo, designer Michala had in mind that it should symbolize community, technology, and at the same time, friendliness – as you can see in the picture below, it indeed does.

For Michala, the COETAIL project was unique because a lot of time was spent on discussing the experience of the two types of visitors to the website. Utecht and the Foliovision team had to consider different user-experience for non-registered visitors and those, who are members of the site. Just as Utecht wanted, the website displays slightly different data to the users before and after they log in. COETAIL really is a very user-oriented website, and its owners want to offer nothing but the highest-quality experience to every single visitor of the site.

Foliovisioin Art Director Michala Lipkova
One of the most crucial parts of COETAIL, the BuddyPress plugin, also helps to make the site visitors feel welcome. This feature contributes to the overall community feel of the site perhaps the most significantly. Thanks to BuddyPress, COETAIL is somewhat similar to many of the popular social networks. It is not your regular educational website, really. Coetail.com is a membership site, it pulls out information from its members' blogs and social networks (it has nearly 500 members at the moment), and for many people, it has become a place where they can express their opinions.
The site members want to contribute to one another's learning process, and they do so by discussing various topics, share their opinions and experience in blog posts, and commenting on each other's views – the site undeniably turned into one big community, and it is clearly visible on the homepage already. COETAIL displays the most recent articles written by its members (on their own blogs) and Tweets (yes, from the members' Twitter accounts) on the homepage, just like your news-feed on some of the social networks does.
As Utecht said, "this project has seen amazing growth over the past couple of years and we even moved the domain from coetail.asia to coetail.com. Alec (Kinnear) and team did this without missing a beat". Indeed, COETAIL has passed Asia's borders quickly. It was therefore logical to move it to coetail.com in December 2012. Of course, no content from the original website was lost, our programmers made sure that all the old URLs would redirect properly.
In summary, COETAIL truly has been a dream site for Utecht, and it makes him, as well as Foliovision, proud. The client described the cooperation on his most valued project followingly:
Alec (Kinnear, creative director of Foliovision) and team helped us scale the wordpress multi-site install from a few blogs to over 500 blogs and growing. The best move we made was hosting our site with Foliovision as they keep the server tweaked to best serve our site and our community. They watch the site, and as the site grows and needs more resources they add the resources to the server. It's great to know that you're only paying for what you really need at that time.

Jeff Utecht (c) TED/Davis Apas
The clearly expressed high level of satisfaction motivated the client to seek Foliovision's services on (so far) two more occasions. Firstly, Foliovision was asked to create a website for an international education conference taking place every fall, Learning 2012 (this year, it is Learning 2013, and the number will, obviously, keep changing every year). The site informs its visitors about the conference, it contains details about registration, program, conference speakers, pictures and materials from the previous years, and so on.
As Learning 2012 is a website devoted to one event, it is not the busiest one of Utecht's sites, and thus did not need as much work as COETAIL, for instance. The biggest tasks for Foliovision's programmers were taking care of integrating Google Custom Search to the site, installing and adjusting BuddyPress, and making sure it works correctly. Maintenance of the website belongs to their responsibilities up to this day. Foliovision's designers were not involved in this project, the theme was purchased from WordPress.
Finally, the fourth project Utecht and Foliovision worked on together was a new parent portal for International School Bangkok. The website aims to inform parents of the children who attend International School Bangkok about news from the school. The school already had a few existing portals for parents, including one where they could log in to see the grades of their children, or one for the school's cashless system where they couch check cash balances and top-up. Utecht's goal was to have all the existing portals, and possibly new ones, incorporated in one single website, and once parents logged in, they would have access to all of them.
The new portal is absolutely secure – not everyone can register on the site; the employees of the school are in charge of the database of parents, and they manually add or remove members. The database currently contains about 2,600 people, and this number changes as the number of the school's students changes. Besides the obvious activities, such as controlling how their child is doing at school, all the registered parents regularly receive a newsletter to be as well-informed about happenings at school as possible. Designers did not have much work with this project, Utecht has chosen to use some of the already existing banners and colour schemes. Nonetheless, Foliovision makes sure the website is well-maintained.
The aim of many websites is to attract as many visitors as possible. While it is fairly important for Utecht's sites as well, their main goal is different. In his words:
The aim of our websites is to create a community of learners. The number of visitors is not our focus…they come through great content that is written from our community members. Our learning community is focused on sharing openly and publicly their learning journey. Foliovision handles the SEO of the site and it's great for our participants to see their material find its ways into search results pretty quickly. Our site is more about promoting the work of our participants than it is about the hits to our site.
Over the years of cooperation with Foliovision and several projects, Utecht has become quite an experienced WordPress user, but the company's help is still needed regularly. If there is any problem with any of the four of the above-described website, Foliovision is ready to step in immediately. As Utecht describes it, "I would send them a request 'Can we do this?' and next thing I know Martin (Vicenik, Foliovision's senion programmer) has it up and working on the site. That's been the best part having someone that has access to my site where I just have the ideas and they make it happen. I love how quick they are to respond to issues. Usually I get issues fixed within 24 hours or less."
For Foliovision, Utecht has been a reliable client, who knows what he wants, is responsive and eager to learn. Simply said, this client has been brilliant to cooperate with, and Foliovision's staff is more than ready to work on more of his ideas and projects. Utecht also expressed his sentiments clearly, saying that he will "continue to trust Foliovision with my websites and communities moving forward. It's great to know you have a team you can trust to make your dream site a reality". Upgrades of the already existing sites, as well as new projects, are undoubtedly on the horizon, stay tuned!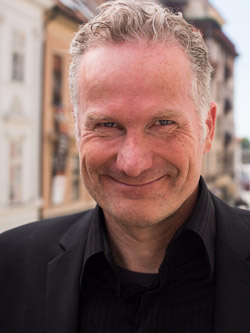 Alec has been helping businesses succeed online since 2000. Alec is an SEM expert with a background in advertising, as a former Head of Television for Grey Moscow and Senior Television Producer for Bates, Saatchi and Saatchi Russia.