I was getting very tired of some rather obtuse discussions in the LinkedIn groups and in particular WordPress.
I decided to change my primary address in LinkedIn so this nonsense would end up in my secondary email account (non-time critical items and newsletters).
Still getting endless groups updates on my main email address.
So I decide to remove my main address altogether from LinkedIn.
Still getting endless emails from LinkedIn.
I submit a support ticket.
Member Comment: Alec Kinnear
06/20/2011 05:41

Hi,

I've removed name@domain.com from my account as I couldn't stand the incessant emails from groups anymore.

I'm still getting notifications to this address despite name@domain.com being my primary address now.

Please help stop the emails to name@domain.com

Making the web work for you, Alec
A nice enough support person by the name of Darci offers a polite but vague reply:
LinkedIn Response
06/20/2011 14:53

Hi Alec,

Thank you for contacting us.

I sincerely apologize for the inconvenience this has caused.

Please know that we are fully aware of this issue and have a team of dedicated, highly qualified individuals who are working diligently to resolve this.

I appreciate your patience and support as we attempt to resolve this matter.

Regards,

Darci
LinkedIn Customer Service
When I start to hear about dedicated, highly qualified individuals, I start to get nervous. It makes me think about McDonalds dedicated restaurant crews. So I ask Darcie for a bit more precision:
Member Comment: Alec Kinnear
06/21/2011 08:40

Hello Darci,

Thanks for your email.

When do you expect this issue to be resolved?

I do not have name@domain.com hooked up to LinkedIn in any way now, so effectively you are spamming me.

Making the web work for you, Alec
Apparently vague promises are fine but resolution is not.
LinkedIn Response
06/21/2011 10:23

Hi Alec,

I'm sorry but I do not have a time frame that I can give out. We are working on the issue, and will contact you as soon as we know anything further. I'm sorry for any inconvenience this may cause you.

Regards,

Darci
LinkedIn Customer Service
No time frame is really not okay. LinkedIn has hijacked my primary email address and won't let go:
Member Comment: Alec Kinnear
06/21/2011 11:33

Hi Darci!

No time frame is not acceptable.

Please remove name@domain.com from your servers completely. I do not want any LinkedIn messages to that address at all.

Thanks.

Making the web work for you, Alec
The situation is worse than I thought. LinkedIn will really spam me until the ISP's block their pipes:
On 21 Jun 2011, at 17:23, LinkedIn Customer Support wrote:
Subject: Still receiving LinkedIn emails on name@domain.com after removing it from account

Hi Alec,

I'm sorry but we have a bug in our system at this time that is not releasing email addresses that were entered into it at one time and now removed. We have a team working to resolve the issue as quickly as possible. I'm sorry for the inconvenience this is causing, but there is nothing further I can do at this time. We will contact you as soon as the issue has been resolved.

Regards,

Darci
LinkedIn Customer Service
I'm not happy about sitting around, waiting for LinkedIn to stop spamming me.
Moral of the story
I'm very sorry to have given LinkedIn a primary address in the first place. I recommend you don't.
Where LinkedIn get marks is for having a customer service department who respond to emails at all. That's a big improvement over Google or Facebook.
Now I really know why I'm not on Facebook. I'm sure it's far worse over there if you want to stop the deluge.
Practical Advice Before You Close Your Account
Several readers have written to complain that closing your account doesn't stop the LinkedIn Spam:
I am so upset I put my primary email address on Linkedin (which I didn't do on Facebook). I joined both of these social websites to keep in touch with actual groups I am an active member of but LI quickly wore out my welcome mat. I've tried to remove my welcome mat but LI ignores my closed account still to this day. Hopefully anyone reading this is smarter than I was and takes these warnings to heart and uses a throwaway email account to subscribe if at all. WARNING: You will not be able to unsubscribe no matter what their website states!!!!!
Here's what you must do first, before you close your account.
Be sure to change your email address to one which you can verify and then turn off. Give it a week or two for the new email address to take before cancelliing your account.
Be sure to unsubscribe to email updates from every group you've ever joined. While I know unsubscribing to email updates works, I'm not sure that unsubscribing to an active group before unsubscribing to email updates actually works.
Further Practical Advice on how to get LinkedIn Shut Down as Spammers
There's a service called SpamCop.net. Sign up and report your LinkedIn messages there. If you use Google, Hotmail, MSN, AOL or Yahoo there are huge spam buttons there.
Report every LinkedIn email. While LinkedIn has some corporate protection (as one of the big boys club), if even half the people getting their unwanted emails complain about it, LinkedIn emails will be reclassified as spam and forced to change their policies.
LinkedIn Management and Reid Hoffman
It's a pity LinkedIn management are such wankers. The service would be valuable if they had any respect for users/clients. I don't know if Reid Hoffman has any idea about how much hatred his lazy/deliberate spamming policies would generate on the net. Hoffman was a founding director at Paypal (perhaps the web's most hated company, although Paypal appear to be trying to clean up their act somewhat now, before regulators do it for them), so perhaps no surprise Hoffman has no respect for users.
Hoffman is also responsible for setting up the first round of angel investment in Facebook. Again no surprise about the lack of respect for users. Hoffman again was a first round investor and director at Zynga, well known for spamming Facebook and other users and for scam ads.

Reid Hoffman of LinkedIn – Heart of Darkness: Photo by Robert Scoble
Generally Hoffman is a fat rude prick with no respect for users. He has a consistent background of involvement with the net's worst spammers. This is the man who has rough ridden users to $3 billion net worth. Report his spam mercilessly and shut him down.
Who says crime doesn't pay? Unfortunately, crime often leaves its traces on your body and your face.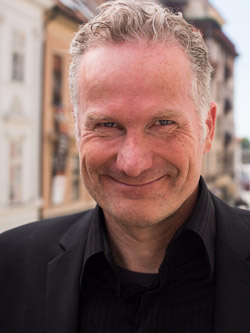 Alec has been helping businesses succeed online since 2000. Alec is an SEM expert with a background in advertising, as a former Head of Television for Grey Moscow and Senior Television Producer for Bates, Saatchi and Saatchi Russia.