Last Friday, Anil Dash and I had a delightful conversation. I mean that delightful. Anil and I share many of the same passions: the web, media, user interface, weblogs.

Anil Dash of SixApart / Typepad by Joi Ito
Anil is a very congenial sort and was a prominent early weblog writer. He is now both a Vice President at SixApart and head evangelist for Typepad.
I have a deep and intimate acquaintance with SixApart's Typepad service, as a founding user in 2003 and now as the founder of the premier Typepad to WordPress rescue service.
The starting point of our call was clear. Anil is annoyed about my regular unfavourable postings about Typepad. I don't know if SixApart is annoyed about our rescue service itself – we've moved some pretty high profile sites in the last few months, some of which I am not even at liberty to disclose their names.
A few great sites which I can tell you about are Leah Piken Kolida's CreativeEveryDay.com, a resource site for artists. We did both the move and a custom redesign for Leah. We love Leah's work and she loves her new weblog. Recently on the other side of the fence, we moved one of America's premier personal mortgage sites, Dan Green's TheMortgageReports.com. Oh, and please don't visit this link if you are hungry, Blake Royan and Nick Kindelsperger's delightful ThePauperedChef.com a guide on dining well parsimoniously. The photos are homemade and real and delicious as are the recipes.
We take this work very personally and treat the client's sites with the same tender loving care as if they were our own. When they go into WordPress, they are going in first class with websites run like Swiss clocks and look great to boot.
But it's hard as hell and not inexpensive.
Why?
Because SixApart has no working export. Yes that's right. You heard me correctly. SixApart has no working export.
It takes over ten hours of programmer's time to do the move perfectly per site (that's down from 50 hours for a first timer, with a bit of trial and error) via custom templates, 100 posts at a time (it used to be 500 posts at a time but Typepad clipped our wings a couple of months ago). Here's our 20 step guide to moving from Typepad to WordPress.
What's that export link you ask? No not the big green one on the right which leads you to a page SixApart asks you to pay them $300 to export your website correctly to MovableType format, the free link at the bottom of the page.

typepad export options
That export button is a great big whopping PR sopped lie. There are three working import options. Anil told me they had programming teams spending months getting the automated import just right. I can believe it. But SixApart haven't spent a day on Typepad export since 2003.
But the export (export is easier than import as it is your own data) doesn't work. What's wrong with the export:
It doesn't include permalinks: what that means is that all your page URLs will change from http://gorgeous.com/2009/05/01/mypostname.com to http://gorgeous.com/2009/05/01/mypostwhoknowhat.com.
Who cares? Google cares, that's who. All the other websites which have linked to your weblog care. To do a successful move, you have to go through all your 1327 posts one by one and change the URL by hand. A nice job for a rainy Sunday or three.
Other flaws in the export include that there is no easy way to gather your images for export. Our workaround for that is quite passable so playing around with the images would only be a few hours passive work if the permalinks would work.
Why no permalinks? Anil's answer.
The export function is very old, in old Movable Type format. We're so far beyond that. We've standardized on the Atom API for export. With Google. Much more complete. The old format is expected in so many places, LiveJournal etc. we couldn't possible change it. We even worked with Lloyd Budd at Automattic in perfecting the Atom export of Typepad to WordPress.

You do know about the Atom exporter, don't you?
At first, I was intimidated and concerned. Here I had been charging clients considerable sums for long handmade moves which could have been done automatically at half the rate in a quarter the time.
Google teams and Automattic had all been working together to ensure the data portability of Typepad. An automatic routine was out there, I just wasn't aware of it.
That's was Anil's intention as far as I can tell. FUD.
Anil, have you forgotten about Google?
The first I thing I did even before we got off the telephone is that I did a search on Typepad and Atom export. Yes, the posts from Lloyd Budd at Automattic are there, even one about a similar experience Lloyd had with you Anil.
But there's no working exporter, Anil.
What's worse is there can never be a working Atom exporter from Typepad:*
Atom doesn't get all the old posts/archives (it's restricted to a subset of newer posts)
Atom doesn't offer up comments
So instead of getting a complete weblog with broken permalinks, you'd get an incomplete weblog with your posts from the last three months and without any comments. Well that's a great improvement, Anil.
If I was clever enough to create a working Typepad to WordPress service, Anil, I'm clever enough to Google your dissembling excuses. It pains me to call you names as I enjoyed our conversation, Anil. But man, don't lie to me. Lying is no way to win friends or even influence your enemies.
So Anil, if you really want to fix the situation, stop making up stories about Atom and some weird Google Data Liberation Machine of which you are founding member. Just add working export to Typepad and we will be mostly out of business. Most people will be able to move their sites themselves. But you won't do that.
Why won't you add working export to Typepad? The real reason, this time.
Because your mediocre service at Typepad is losing more customers than you are generating new ones. You are on downward attrition and you know that there are a good 15 to 20% of your current clientbase who are just dying to leave but can't. They'd drop you tomorrow, leaving you sucking on a 20% monthly revenue drop.
Well, I'll sugges you to do the opposite. Make the export work, Anil. Sure the first three months will be a bloodbath. But then the bleeding will stop. The people who have outgrown Typepad (Typepad is a lousy place to try to build a webapp or a heavily customised site – I know it's technically possible but it's very painful) or just don't like it, will leave.
Many of the others will be happy as they will know they could leave if they want to. The urgency to take flight will leave.
I can promise you Anil, the moment there is working export in Typepad, about half the reasons to leave Typepad will disappear. There won't be lock-in anymore.
People like me won't have anything to complain about anymore. The Typepad lockin will become a part of history, gradually just a memory.
I offered you our working custom export templates to install as the default export in Typepad. You refused that offer.
Well, now that I've looked into what you told me on the telephone, that makes you dishonest and a liar. When you were small, or when you started your successful weblogs, I don't think that's what you aspired to – to grow into a paid liar.
What happened to you in your time at SixApart? It is possible to tell the truth and earn a good living. There are lots of top webloggers who manage it. Quit SixApart and stop your lying. You'll do fine, if you just put your mind to it. On the other hand, the more years you burn your credibility to the ground with falsehood and disinformation, the harder it will be to get people to trust you again.
Half of success is charm. The other half is truth. Without a balance between the two wings, a plane is destined to crash.
In the meantime, could you still be so kind as to put working export into Typepad?
If we manage that this month – May 2009 – I will take a few paragraphs out of the above essay and replace them with a better story about the earnest collaboration of SixApart and a small design and marketing company on improving the Typepad service, making the export function work fully.
We'll still do some Typepad to WordPress moves, probably fewer. We'll be able to charge less as we can do it much faster. And nobody will be able to accuse SixApart of lock-in. Less angry users.
Sounds like a win-win to me…
The Wizard of Oz ends happily…the Wicked Witch melts. Why can't this story end happily, why can't Typepad have working export?
---
* Curiously enough Blogger/Google have actually built themselves a working Atom export system – unlike Typepad. So it appears that it is technically possible.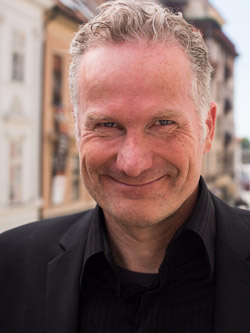 Alec has been helping businesses succeed online since 2000. Alec is an SEM expert with a background in advertising, as a former Head of Television for Grey Moscow and Senior Television Producer for Bates, Saatchi and Saatchi Russia.