Over at LifeHacker a fascinating discussion of monitor size and productivity. It caught my eye as I've recently moved from a 30" monitor to a 24" and 12" setup. Strangely I find I'm more productive on the second setup.
In any case, people have all kinds of strange setups including one guy with six 15" LCD's all on a special mount. I think he's onto something. As I said, I've gone from a single 30" to a 24" (1920 x 1200) plus a 12" (1280 x 960). At home I now have 20" (1680 x 1050) plus the same 12" (Macbook).
I stopped running the 30" as my Macbook can't do Dual-Link DVI.
I thought my productivity would go down. No way. Substantially up. Managing the windows and flipping between applications was a hassle on the 30".
With a dual monitor setup, all the distractions on small monitor. Work on big monitor.
That said, I much prefer the 24" as a main monitor. I am less productive by an order of magnitude except when web browsing and writing on the 20". It's just not big enough to handle two full size documents (without having 8 or 9 pt antialiased type to squint at). 24" is the sweet spot.

simple dual monitor setup 24" and 12" (macbook plus 1920 x 1200)
Finally, if you can avoid TN screens on your main screen. Sometimes you want to stand up and look at your work. Sometimes you want to lean back and look at your work. You can't do it. The colours go all wonky. Things get dark. The monitor distracts.
Caveats: the 30" monitor does have two useful functions still. It is superb for sorting and editing high res digital photos (3000 pixels and up). It is also superb for running FCP. As I don't do any video editing anymore only the first still applies to me. When I bought the 30" I was still planning to edit video. Running a company leaves no time and takes no prisoners though.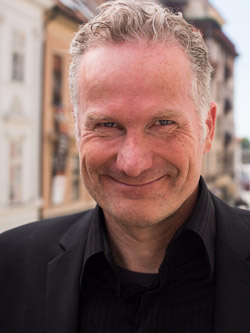 Alec has been helping businesses succeed online since 2000. Alec is an SEM expert with a background in advertising, as a former Head of Television for Grey Moscow and Senior Television Producer for Bates, Saatchi and Saatchi Russia.