Some well-known SEOs are advocating using rel="no-follow" on all outbound links. Aaron Wall has unearthed this gem in Dan Thies's updated SEO Fast Start (free content flypaper for StomperNet membership which is $800/month):
Add nofollow on all of the links that point to other sites, unless you have agreed to a direct link for some reason.
This is the most narrow-minded tripe I've ever heard. Google will rank websites higher who don't link to anyone else? Such a strategy makes a mockery of the whole essence of hypertext and the WWW (world wide web).
This school of thought has its origins with Leslie Rohde from his Optilink/Optispider cult days (circa 2002-2003). The clunky and overpriced Optilink has since been superceded by Brad Callen's Link Proctor, later renamed SEO Elite. Aaron Wall has some free tools (alas some of them broken now – SEO Elite is more reliably updated) and there are lots of other pay tools out there now which track your backlinks.
What is valuable advice is not hoarding PR, but channeling Page Rank. I mean really – you don't increase your wealth by putting your money under your mattress. You increase your wealth by reinvesting your money wisely. And the same thing applies to Page Rank on the internet.
What is channeling PR? Channeling would be not linking internally to one's own privacy policy or TOS. Unless you are running a weblog about privacy issues – those page are off-topic and are only likely to confuse Google about the nature of your own site. If you have other off-topic/irrelevant pages it might be wise to do as much as possible to reduce their part of your site's footprint in Google.
But overall I disagree strongly with these Page Rank hoarders. The more (quality) outbound links on a site the better. It shows the site is serious, is participating in the web and that it knows what sites are worth linking to. In short, a hub.
PR hoarding is a very short sighted strategy. Strange that Leslie Rohde is still pumping these five year old ideas (pre rel="no-follow" he was advocating putting all of the links on your website in javascript except those which you wanted to highlight – he used to call it Dynamic Linking). Both of these guys (Dan Thies and Leslie Rohde) have joined StomperNet faculty so whatever disinterested credibility they might have had as experts is out the window. This kind of occultish trick is so WMW doorway page 2001 (think javascript redirects as well). Much of it is obstructionist technobabble to hinder people from making worthwhile websites while making the vendors rich peddling black magic software. Ultimately, websites live and thrive by their content and your social networking – and not by these kinds of cheap tricks.
Aaron is also against PR hoarding but for different reasons:
If something is worth mentioning then I think it is worth mentioning to both people and search bots.
I think excessive use of nofollow carves up the web, leaving scars in it and making it more wounded for those who use it.
What was once white hat became gray then black. There is nothing saying that search engines won't eventually penalize sites for excessive or manipulative use of no follow. Just how nofollow magically made paid links evil one day, so might excessive use of nofollow the day Google realizes how damaging it is to the web.
All valid arguments. Many people like to pollute, except in their own home. Just drive down any highway and look at the rubbish at the side of the road which people have thrown out of their car windows (Austria is a very pleasant exception to this rule, America is the worst offender I've seen). So I'll advance my argument again – I think link hoarding damages your own website, right here right now. It's in your own interest to link widely and link wisely.
There is a certain irony to Aaron's post. He has disabled both trackbacks and links to commenters' own websites on his own weblog. Ostensibly this is to protect himself from "noisy off topic comments to get a link to a spammy site". Aaron, I tell you, if you don't have the time yourself, hire yourself someone to edit incoming comments. Train that person to throw out noisy off topic comments. Otherwise you are putting yourself at risk of hypocrisy – at this point you are almost the pot calling the kettle black.
I think we need a name for this new kind of person who wants links but doesn't want to give them. To me they are all linkocrites. I strongly disagree with all kinds of Linkocrisy.
The accent goes on on the o.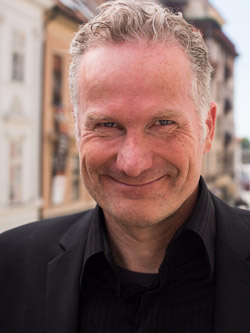 Alec has been helping businesses succeed online since 2000. Alec is an SEM expert with a background in advertising, as a former Head of Television for Grey Moscow and Senior Television Producer for Bates, Saatchi and Saatchi Russia.