Every week Quora will mail you questions and answers which you might be interested in. In my inbox just arrived Aaron Wall's answer to the question "What's the most awesome SEO material I can lay my hands on?" Aaron and I go back a long way and I'm always interested in what he has to say about SEO, so I clicked through.

Aaron Wall of SEObook: would you take SEO advice from someone
living in a trailer park. In the case of Aaron Wall, mostly yes.
I was astonished at how facile and amorphous Aaron's answer was, apart from the first sentence (which is a very important distinction). Enough to comment on it and write this post.
Here is Aaron's original answer.
There is a huge difference between enterprise-level SEO & ranking a small local website. Search is large & complex enough that there are great resources on local search, great resources on paid search, great resources on video search, etc.

There is no single individual guide that is the best at every aspect.

And then there are different resources that would be better or worse depending on someone's capital to invest, someone's desired level of risk, etc.

I would encourage one to read a number of sources (and, more importantly, get some experience & compare what people say works vs what you find works in practice on your own site), as many sources parrot hypocritical ideals espoused by the market monopoly that are inaccurate dogma. Only through reading a number of sources & learning the biases of the various offers & seeing where people differ on things will you really have a strong/deep/rich set of background context to inform the lens of what their writing, how they are writing it & what they are writing for.
The original poster is clearly looking for a concrete answer. I'll try to provide some.
Resources (work in progress)
Aaron's own SEO Book was the right answer years ago before he move to his $300 month private membership model. Aaron's blog is still pretty good, even if the guest posters whom he employs or gives space to are rarely as interesting on search as he is.
Someone else mentioned Neil and Sujan Patel's Guide to SEO. Neil is a good and persuasive writer so even if his guide covers much of the same ground as other writes, at least it will be readable. Just the guide itself is a fairly brilliant example of link building. By putting out material of this quality, Neil has just scored free editorial links at both Quora and Foliovision.com (with anchor text, no less). Neil is heavily focused on quality content strategies (hint: content is not always writing, it can be tools and/or calculators) but a strong site is the starting block for any useful SEO these days.
The British SEO's are pretty good. English people have many centuries of experience of successfully lying, cheating and manipulating with words. How people carry gifts of tuberculosis infected blankets to innocent Canadian Indians got a reputation for fair play indicates just how good they are at it. Our friends at Distilled run a nice weblog about search and have a paid training section (free May 8) which is just $40/month. If you are in a hurry to learn search, you can learn everything in there in a month or two and you've just done $2000 of SEO training.
Now a little bit more about SEO itself.
On Page SEO
To answer the original poster, on page SEO is relatively easy. If you're using WordPress for example, grab a good plugin like our FV Simpler SEO or Yoast and most of the on page work is done for you just by filling out the form (our FV Simpler SEO will even tell you when what you are writing is too long or borderline).

FV Simpler Seo: note the nice preview and the warnings for too long a title
and too long a description. We include intelligent defaults so clients
can post their own articles without any risk.
Cardinal rule: don't be boring. Boring will never get you links or positive attention. You want to be challenging and often somewhat controversial. Take a position. The technical stuff doesn't matter too much.
Brief On Page SEO Guidelines (from top to bottom)
60 character engaging title filled with keywords
short URL with two to four keywords in it
tasty one sentence meta description (145 characters or less) which will show up in Google's SERPS as the short text most of the time
body of text uses your keyphrase in the first paragraph and a couple more times
body of text includes relevant synonyms (natural writing almost always does this so you don't really need to worry about it)
link out to some high quality resources so Google knows you know what you are talking about
best to structure text in subheadings, lists and bite size paragraphs but implementation of this rule partly depends on audience/subject matter
choose two to three social services for which you will provide easy one click sharing (Google, +, Twitter, Facebook, Pinterest, Reddit, Stumbleupon). Do not confuse the reader with too many choices: they will choose none
attractive easy to read design
a few appropriate and engaging illustrations with titles which include your keyword
Following these rules are enough to get you to the 90% factor for on-page SEO.
Off Page SEO
For off page SEO, at this point you want quality links. Quality links are largely obtained by building relationships or evangelising.
The days where Aaron or I could rank crappy websites at will are almost gone.
You'd better start with a website worth visiting with both good information and useful tools.
And yes you should read Aaron's SEO Blog as normally he writes really intelligently about search. He's been farming a lot of the posting out lately so the overall quality has fallen but is still much denser in terms of signal to noise what you will read on SEOmoz.
As Aaron points out, large enterprise SEO is a different beast. You will start by managing 15 or 20 substantial domains across the world who can cross-link and you can order up links from thousands of partners of which the smaller guys can't dream. On top of that if you do something really sneaky, Google will only punish you for a week or two instead of forever.
So with your smaller client or your own website, you want to get out there and interact with people. If you are an intrinsically boring or lazy person, please don't even start on SEO. The internet is now filled with interesting, engaging and passionate specialists. Your mediocre blatherings about something you don't really care about will not interest anyone. If you are successful in search via tricks, you will just get thrown out of the SERPs when you get to the top. The Google penalising and manual review of ranking sites is working pretty well these days in competitive SERPs. We all report one another for obvious violations.
The only successful long term way to do search is to offer more and publicise yourself better. The merging back of SEO and PR is nearly complete at this time. Cultivate your media contacts and your relationships. You'll need them in competitive SERPs.
In less competitive SERPs, making friends with other interesting engaged people will probably be enough. Interviewing them for your own site is one good shortcut.
This is the shorter version of a 45 minute Wordcamp presentation on SEO and WordPress. I will try to post the full version soon. You have just learned more than $1000 of SEO in five minutes. I hope it helps someone.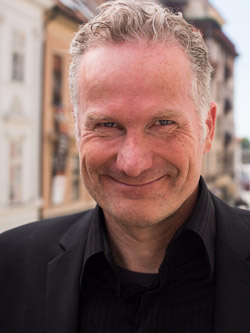 Alec has been helping businesses succeed online since 2000. Alec is an SEM expert with a background in advertising, as a former Head of Television for Grey Moscow and Senior Television Producer for Bates, Saatchi and Saatchi Russia.