Short answer: Probably not.
Long answer
I've just come across colourist and colour theorist Alexis von Hurkman's early and enthusiastic essay on HDR: "HDR, Resolve, And Creative Grading" (May 2016).
HDR (High Dynamic Range) is an escape from the tiny box, as currently defined by BT.709 (governing color gamut), BT.1886 (governing EOTF), and ST.2080-1 (governing reference white luminance levels), in which colorists and the video signals/images they manipulate have been kept imprisoned for decades. [emphasis mine]
Let me warn you about the length of that article before you click. It's 14000 words and fairly dense. Frankly if I'd known how long the essay it is, I wouldn't have started, as I have some soccer photographs to grade tonight.
Speaking of photography, HDR, as von Hurkman points out, means different things to photographers and cinematographers/colourists.
High Dynamic Range photography is about finding tricky ways of squeezing both dark shadow details and bright highlight details from wide-latitude image formats into the existing narrow gamuts available for print and/or on-screen display, HDR for film and video is about actually expanding the available display gamut, to make a wider range of dark to light tones and colors available to the video and cinema artist
von Hurkman argues for the creative possibilities created by HDR – the screen can be bright as a sun, audiences can investigate the shadows with the same enthusiasm visitors to museums show for delving into the shadows of Renaissance paintings like Francesco Bassano; Jacopo Bassano's The Element of Water, 1577).
richly saturated colorful and bright image details such as neon lights, emergency vehicle lights, backlit tinted glass, explosion effects, firelight, skin shine and bright highlights, and other saturated reflective areas and direct light sources, as well as the glows and volumetric lighting effects they emit, may carry saturation well above the 100 nit level on an HDR display, which is a creative choice previously forbidden to colorists, who had to be sure to compress color saturation somewhat below the 100%/100 IRE/700 mV maximum allowed by most conservative QC specifications for broadcast television just to be on the safe side.
Yes, HDR does open up some technical possibilities.
There's three flavours of HDR:
licensable DolbyVision
open standard SMPTE ST.2084, Ultra HD Premium, and HDR10
Hybrid Log-Gamma (HLG)
DolbyVision provides metadata to tell displays how to interpret the high luminance, shadow and colour information. HDR10 expects displays to interpret the incoming signal themselves, but sets certain technical minimums (UHD, colour coverage of at least 90% of P3, a minimum of 540 nits of brightness with peak luminance of no more than 1000 nits).
Counterargument: Commercial
One would assume that DolbyVision's attempt to bottle colour and bright colour would be no more successful than a company who bottles water with sugar in it. Selling air, energy and water has been astonishingly successful to date, even if it harms the health of the buyer.
Frankly, most of HDR is just commercial noise to make studios and consumers buy new cameras and televisions. And I won't need 14000 words to make a convincing argument.
Argument One: Our Projector
We own a 4K Sony HDR projector, which we absolutely love (VPL-VW520). This projector can be fed with HDR or DolbyVision from Netflix and/or UHDR Blurays. I duly purchased a reasonable number of UHDR Blurays to enjoy our new HDR home theatre environment.
Astonishingly, most of the time we preferred the standard bluray which studios are clever enough to include in the box. Issues:
wonky bright colours in the UHDR version (the reds in Shazam for instance)
strange colour casts in the shadows (Assassin's Creed)
There are ways around this. Panasonic produces UHDR players (UB424, UB824, UB9004) which allow the end user to set up luminance mapping at home to suit their equipment and their own tastes. Panasonic's remapping is remarkably effective. Unfortunately, the tone mapping function only works for physical media and won't work on the streaming channels in the player. Basically these delightful devices just turn the very expensively produced HDR and DolbyVision back into SDR content which everyone can enjoy.
Netflix HDR/DolbyVision were a similar story. We could get DolbyVision out of Netflix from an AppleTV 4K or we could decide to watch in HDR10 via our Sony bluray player. After endless weeks of playing with different flavours of HDR, in the end, we were most satisfied with SDR. The colours in DolbyVision were better than HDR10 most of the time, but SDR was better than either.
Some will argue we just need a brighter projector (ours tops out at about 400 nits, at the bottom end of what's required for full HDR). I'm not a fan of this argument. In the end, we found that in our dark living room set up for watching film (we don't have a television in the house and never watch anything before dark)1, we prefer to watch in SDR as it's less strain on the eyes. Within 200 nits of our peak, brights are plenty bright and there's no shortage of shadow detail and depth.
All we miss out on our overly hot larger than life colours. Not much loss.
Argument two: Lucia's iPhone (and yours too)
Recent iPhones are the most ubiquitous high quality HDR devices in public circulation now. Apple has some very smart people implementing HDR and has created some astonishing hardware. From about the iPhone 11 Pro, iPhone peak brightness ranges from 800 nits to 2000 nits in the recent iPhone 15 Pro.
Lucia, my wonderful partner is a gourmet cook and a cinema enthusiast. We both dig science fiction and dystopian films, from the uplifting (early Star Wars) to the very dark (Bladerunner, original Planet of the Apes Soylent Green, Rollerball, In Time, Daywalkers). She has a keen eye for detail and notices the differences in colour. A bio-mechanical engineer by education, she's neither an artist nor a tech faddie – she lives firmly in the real world. If technology makes her life better, she adopts it. If it makes no difference, she tries to ignore it.
Her iPhone is always set to about 30 nits brightness (just above minimum). For watching a show, she might crank it up to one third if in a bright room and watching from far way. My own eyes are less sensitive so my own iPhone is usually somewhere in the middle. I don't turn it up for AV material as the relatively high brightness I have on by default is more than enough. I require higher brightness to read text and not to watch AV content.
Those P3 colour space, high brightness screens seem more like a marketing claim than a requirement. That's not to say colour accurate screens are not a pleasure in life. But it doesn't matter much if the colour space is Rec709, Rec2020 or P3. What matters is that it's accurate. It's also not to say high peak screen brightness is not useful. It is, but not for watching AV content, high screen brightness is useful when creating AV content out in the sunlight.2
Argument three: 120 nits monitor brightness recommended for digital darkroom
Photographers when creating their images for print and screen should work on monitors no brighter than 120 or 140 nits. This kind of ends the argument about whether one needs HDR levels of brightness to differentiate shadow and light. Photographers whose only business is light and darkness work with in just 140 nits – not 2000 nits.
In the same vein, those Renaissance paintings about which von Hussman enthuses have a zero nits value. Of course, paintings are reflected light. Let me quickly check now what the recommended amount of light is for studying paintings. It's far lower than I thought. Recommended light levels are from 50 lux to a maximum of 150 lux. To reach 150 lux on a 4m2 painting requires 600 lumens (also the equivalent of a 200 nit monitor).
Every Renaissance painting which von Hussman has enjoyed except in a book has been illuminated in both this century and every past century has been lit no more brightly than an SDR projector. A very far, far distance from the 2000 nits or 7000 lumens of light von Hussman would like to mandate for the production of future AV content.
We are starting to approach the point where the HDR hype starts to make no sense. Few physically enjoy it, the technology distorts the colours it purports to illuminate to unnatural extremes, existing best practices suggest human perception works better under controlled conditions.
The ability to absorb aesthetics in AV content depend far more on environment than on extreme light levels within that content.
Argument four: 3D and the history of audiovisual innovation
3D was another one of these ginned-up technology projects which claimed to be a game-changing improvement. 3D is now officially dead.
The most recent audiovisual improvement to really matter and enjoy lasting success is the move from SD to HD. There was a huge difference in human perception of art moving from 640 x 400 pixels to 1920 x 1080 pixels. The jump is from 300k pixels to 2 million. It's almost seven times more visual information.
And our eyes perceive all of it.
Even then, a properly mastered DVD of a great film well projected is still absolutely captivating. The issue is not in the technical limitations of the medium but in the mainly atrocious technical work done preparing films for release in DVD format.
The jump to 4K has been less successful. We still mostly consume HD content in our house, with a slight preference for 4K if we come across something well-made for the medium. Often 4K just means noticing the flaws in the heroine's makeup and the artificiality of the pyrotechnics. Wide angle renditions of landscapes do benefit.
While Lucia is not a sucker for new audiovisual technology, I am. six years ago, we went through a painful six month bout of upgrading our projector to handle 3D better, buying glasses to watch 3D with the new projector, buying an assortment of 3D films (mostly those originally created for the platform). This bout of enthusiasm most generated by FOM (fear of missing out) ended in eye aches. Where we didn't give up on the film completely, we watched the included 2D disc (notice a pattern yet?) from about forty minutes in 2D.
Perhaps what I'll hold most against 3D for the rest of my life are the two hours destroyed watching the aesthetic, cultural and artistic disaster which is Pacific Rim (2013). I still can't believe that this film was made, and, once made, someone had the effrontery to release it to theatres and a studio had the cynicism to hold parties to celebrate its release.
Conclusion
4K is definitely not in the category of 3D. There is a perceptual improvement, 4K does not make content worse. Nor is 4K the breakthrough that full HD was. Where does HDR fit in? HDR is not the same full faceplant that 3D is. Neither is it's importance or value firmly established. If the existence of HDR means producers will do a better job of mastering their digital prints, HDR will be a net win.
If HDR mostly results in a bunch of unnecessary and overspecced equipment sold to suckers/consumers, resulting in more eye surgery and partly blind adults3, HDR will be another net failure.
For web publishers
Your visitors will not be watching your content in HDR. Most of them will be like Lucia, with brightness lowered way down on their iPhones. Others will be watching on their desktop computers, also set mostly up for SDR and with monitor brightness set to not hurt their eyes. In the best case, your visitors will be watching dialled down projectors or iPads.
What your visitors need is well-produced and well-mastered video, whether mastered in an SDR or an HDR pipeline. Since it's so much harder and more expensive to maintain an HDR pipeline, the drive to create HDR will waste an enormous amount of your resources.
If you spend those resources on better lighting and better writing and better editing, the returns will be many times better. Almost nobody will even see your HDR.
By the time your show has been picked up by Netflix or Apple for syndication on their platform, there will be no shortage of tubby geeks with light meters and spec certifications to redo your SDR pipeline in HDR.
Almost nobody will even see your HDR then, but at least somebody else will be paying for them not to see it. Let someone else pay the bills for the Emperor's New Clothes. You have important content to create and share.
---
For the parents reading this article, only having a projector is a great way to generate enthusiasm for reading and play in the garden among small children. At the same time, watching a film or a documentary on the big screen means they remain visually literate and acquire a serious appreciation of the audiovisual arts. The device to watch out for in a no-TV household is the iPad. It's worth the trouble to become acquainted with Apple's ScreenTime program. Ten minute daily hard limit on YouTube, the internet and any other games or time-wasters will get your children safely to ten years old. If the children ever crack your password or your system, lock the iPad in a wall-safe for two weeks to discourage future hacks. ↩

Ironically, it's a heck of a lot easier to see what you're filming on an iPhone than on the screen of a €4000 A7S III or A1 Sony camera. Many Sony-brand content creators and cinematographers require an external monitor to be able to create their films, while with an iPhone just the phone is enough. ↩

I jest not. Electrification of sound has resulted in more deaf thirty and forty year olds after spending their twenties clubbing or at concerts. ↩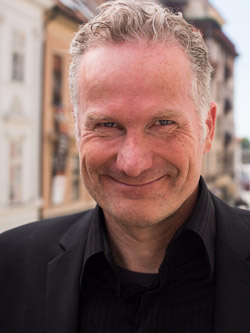 Alec has been helping businesses succeed online since 2000. Alec is an SEM expert with a background in advertising, as a former Head of Television for Grey Moscow and Senior Television Producer for Bates, Saatchi and Saatchi Russia.