This quite amusing video turned up in my inbox this week.
The notion of a menacing alien dancing to composer Aram Khachaturian's Sabre Dance is a lot of fun. Like me you may have guessed at the ending as soon as you saw saw the (American) farmer. The homestead layout of the farm kind of gives away the final result. It's a Western movie cliché.
As excellent as the animation is the clip is basically a one-liner joke.
What could have made Sabre Dance better would be a twist in the story to add some resonance. The dog should have been more tragic and desperate and less funny. The dog could have been wounded by the alien with his sabres. Then the farmer after killing the alien could pick up this dog and take him back to the house to treat him. The audience would be left with the feeling that the murder of the alien was justified and also left curious what happened to the dog. Generally though I'm not a fan of this glorification of firearms (basically the US/Hollywood formula for thirty years now).
Director and animator is Alexander Solokha, a prize-winning music video director from Moscow.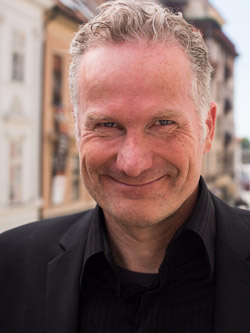 Alec has been helping businesses succeed online since 2000. Alec is an SEM expert with a background in advertising, as a former Head of Television for Grey Moscow and Senior Television Producer for Bates, Saatchi and Saatchi Russia.