Every music lover knows Bandcamp, an online music store and community platform where fans can discover and support (not only) independent musicians in fair and transparent conditions.
On March 2, 2022 Bandcamp announced on their blog that it was acquired by Epic Games. Epic Games is the home of popular franchise such as Fortnite, Gears of War or Infinity Blade series, and in particular Unreal engine, which was named the most successful videogame engine by Guinness World Records in 2014. Does it mean that Bandcamp is in good hands now? How will Epic Games ownership of Bandcamp improve the lives of the independent musicians who depend on the Bandcamp platform?

Why Bandcamp is important to indie musicians
Streaming was supposed to have music. While this is largely true for record labels and well-known artists with a large and popular back catalogue, it doesn't scale down well to new artists still building a following.
Outside of the highly commercial waters of big radios, popular charts, and "corporate" productions, musicians are most likely to claim position of starving artists; most of those in alternative scene are keeping day jobs for their art simply cannot sustain their needs. Outburst of popular music streaming platforms like Spotify, Tidal, Deezer etc. and diversion from physical carriers only made things worse. In short, no one buys CDs anymore, everyone loves Spotify.
While this arrangement benefits end users who have access to an unlimited catalogue and never have to pay more than a small monthly fee, it has had a rather harmful impact on artists. Spotify's monetisation model is based on pay-per-stream formula. Translated into numbers, they pay between $0.003 and $0.005 per stream on average. Is it enough? Well, artists have to achieve at least 256k songs played to earn US federal minimum wage ($7.25 per hour) by streaming on Spotify.
Now, go check how many monthly listeners your favourite independent band enjoys. To see how my favourite artists fare on Spotify, I checked Spotify statistics of monthly listeners of all the bands I have in my phone's music library right now. Stunningly, except for one, none of them was even close to 256k.
Here are some concrete examples:
Sandy Denny (lead singer of Fotheringay, dead): 97 088 monthly listeners
Melissa Horn (Swedish folk singer, extremely popular): 596 268 monthly listeners
Aneta Langerová (huge Czech star): 118 901 monthly listeners
Austra, Toronto, 211042: 211 042 monthly listeners
These are some of my favourite musicians, very popular in metal community:
Insomnium, Finnish melodic death metal: 149 419 monthly listeners
Swallow the Sun, legends of melodic doom metal: 109 942 monthly listeners
Wolfheart, Tuomas Sakkonen's brain child: 35 036 monthly listeners
Archspire, technical prog death metal from Canada: 101 316 monthly listeners
Persefone, outstanding prog/melodic death metal: 39 139 monthly listeners
Ne Obliviscaris, Australian progressive metal: 60 179 monthly listeners
The rest of streaming platforms appear to follow suit. Interestingly, I stumbled upon this Music Gateway's royalties calculator, which estimates how much you/your band could earn on the most popular streaming platforms such as Spotify, Apple Music, and Google Play, based on the stream count. So, in the meantime, you can see what are your chances at making living out of online streaming your music.
This is what you can hope to earn in € per 1000 streams on featured platforms: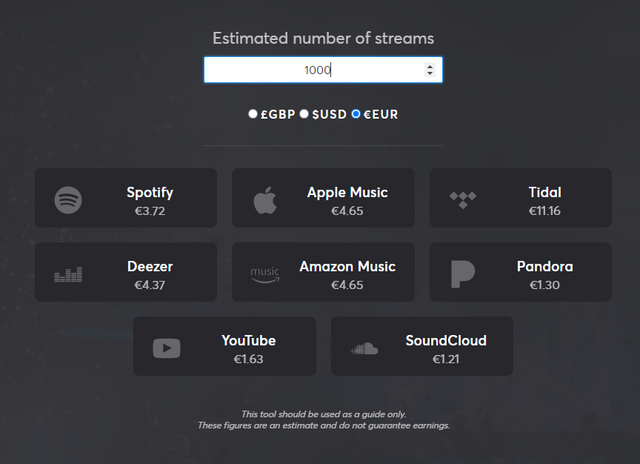 Here you can see the table showing music streaming platforms and the money they offer per stream. The traffic info was taken from Similarweb.com stats. So how much do the featured artists actually make?
| | | | |
| --- | --- | --- | --- |
| Platform | average revenue/stream | number of streams/$1 earned | monthly visits |
| Spotify | $0.004 | 229 | 416.1M |
| Tidal | $0.0125 | 80 | 6.9M |
| Deezer | $0.003 | 333 | 22.4M |
| Napster | $0.019 | 53 | 1.5M |
| Apple Music | $0.007 | 143 | 30.0M |
| Amazon Music | $0.004 | 250 | 8.0M |
| iHeartRadio | $0.017 | 53 | 23.6M |
| Soundcloud | $0.003 | 305 | 131.6M |
| Pandora | $0.00133 | 752 | 24.8M |
Not much, right?
On the other hand, Bandcamp was founded with a clear vision of direct fan-to-artist "name your price" model, pocketing only 15% fee, which drops to bare 10% as soon as the artist reaches $5.000 in sales and stays there at least for 12 months. On top of that, since March 2020, Bandcamp announced fees waiver day on first Friday of each month as a response to the internationally introduced lockdown measures – this is very welcome move, since earnings of active bands consist mainly of touring income and selling merch, while merchandise sales tend to soar up rapidly while on tour.
Unlike music streaming services that are either partners with or literally owned by major labels, Bandcamp strives to create a level playing field and ensure that new or niche artists are able to pocket a fair share of the revenue they create.
unclear terms, shaky future
Terms of Bandcamp acquisition were not disclosed yet. Data harvester Tencent's involvement in the major gaming studios also provides every good reason to stay alert. Tencent owns 40% stake in Epic Games and majority of Riot Games (which was extended to the full acquisition in 2015), most known for widely popular multiplayer RPG game League of Legends.
No discussion of the concerns of independent artists was heard in the Bandcamp press releases about the takeover. Instead, a bunch of empty hyperpositive statements by both, Epic Games and Bandcamp CEOs flooded the internet.
Some might argue that as a private business, Bandcamp only need to take into consideration the interests of its owners and shareholders. In this case, I don't think this is a fair position. The interests of the most important stakeholder in Bandcamp has been ignored. Bandcamp has always presented itself as community oriented platform. When dealing with Epic Games, though, the Bandcamp community wasn't offered a say or indeed any information. From the artists' standpoint this sort of secrecy raises suspicions that Bandcamp has gone corporate: just like Spotify, Apple music or Google Play, Bandcamp will no longer take into consideration artists' interests. As noted by columnist Amanda Silberling:
It happened when Google bought YouTube, and when Spotify bought Anchor. Artists recognize that when a platform changes ownership, even the smallest tweaks can impact their livelihoods.
In fact, Spotify successfully managed to capitalise on stripping the musicians of their fair share. The structure with the support and participation of major record labels allowed Spotify to reach unicorn status, with a peak valuation of USD 70 billion.
The rules are simple. No matter how unprofitable it is for an independent artist to be featured on Spotify, artists must be on Spotify due to its 32% share of the streaming market. Thanks to Spotify's near market monopoly you're either there, or you're out. This is how it reflects upon Spotify's staggering revenue growth according to Statista: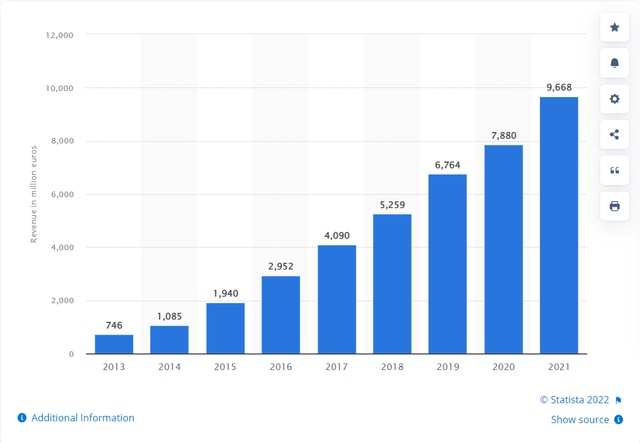 Will the vision of Bandcamp be devoured by Big Tech capitalism in the end?
From (not only) my point of view, this situation scarily resembles the demise of MySpace along with all the music uploaded – most of us remember until this day how tons and tons of music irreversibly disappeared from MySpace overnight due to the server migration. But not only about 50 million songs by 14 million artists fell victim to greed and capitalism. The whole social network failed due to the greedy management and capitalism at its worst, opening the gateway to the mammoth successors such Facebook (or nowadays Meta Platforms1). As summed up by The Economist's Tom Standage:
Its new owner treated it as a media outlet rather than a technology platform and seemed more interested in maximizing advertising revenue than in fixing or improving the site's underlying technology.
Reason for acquisition? Let me be sceptical
Unfortunately enough, it appears that the community-driven fair game with musicians isn't Epic Games CEO Tim Sweeney's priority. But scraping musicians off their Bandcamp money might not be the case either – things appear to be more twisted than one would expect to start with.
After Tim Sweeney's quite recent statements from 2020 I daresay his interests lay completely elsewhere:
The most plausible way the metaverse is going to rise isn't from one company, even Epic, building this thing and forcing everybody to use it. It's going to be from more and more companies and brands connecting their products and services.
Truth be told, at first I was baffled why would company like Epic Games be interested in acquiring Bandcamp. Now I believe I know. Everything points at Tim Sweeney's personal battle for capturing people in metaverse and Bandcamp, being one of the last spots for independent musicians, has to serve as yet another avenue (attack vector) of Mr. Sweeney's efforts. Just take a look at this tweet: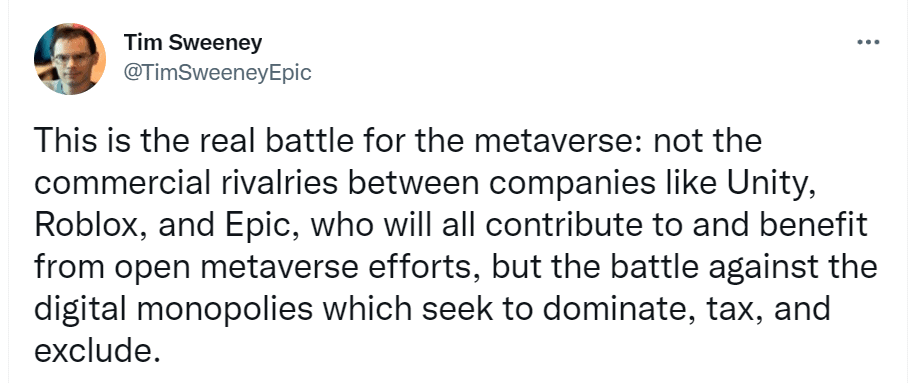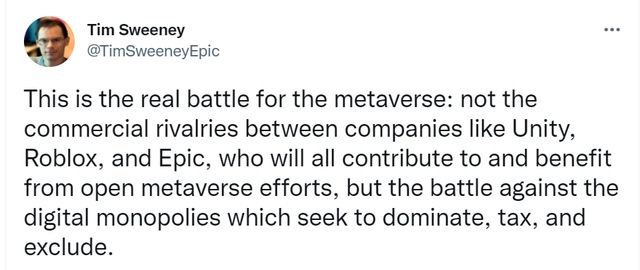 Yet another set of terrifying quotes of Tim Sweeney, a vocal advocate of metaverse dystopia, go like this:
The next three years are going to be critical for all of the metaverse-aspiring companies like Epic, Roblox, Microsoft, Facebook. It's kind of a race to get to a billion users, whoever brings on a billion users first, would be the presumed leader in setting the standards.
I do believe in this future of the world in which billions of people are wearing AR hardware, AR glasses are their everyday life and I believe that's the entertainment platform of the future," Sweeney told us in 2019. "And we're gonna be there
Furthermore, this isn't anything new, taken freshly out of the box. As Tim Sweeney admitted on Twitter quite recently (Jun 14, 2021), ideas of Epic metaverse-bound future have been here for a long time:
We've had metaverse aspirations for a very, very long time. It started with text chat in realtime 3D with 300-polygon strangers. But only in recent years have a critical mass of working pieces started coming together rapidly.
Put blatantly like this, it's a multi-trillion-dollar vision of metaverse-bound, digitally captured generations, Bandcamp is condemned to be part of now, rather than an ethical music-sharing hub it used to be. Even if the doubts regarding terms for musicians will be proved wrong and the fair conditions for monetisation of the music were to last, we are facing completely different problem here2. To extend the bleak premonition Epic Games has left us, this is the list of some other captives of the Tim Sweeney's metaverse vision.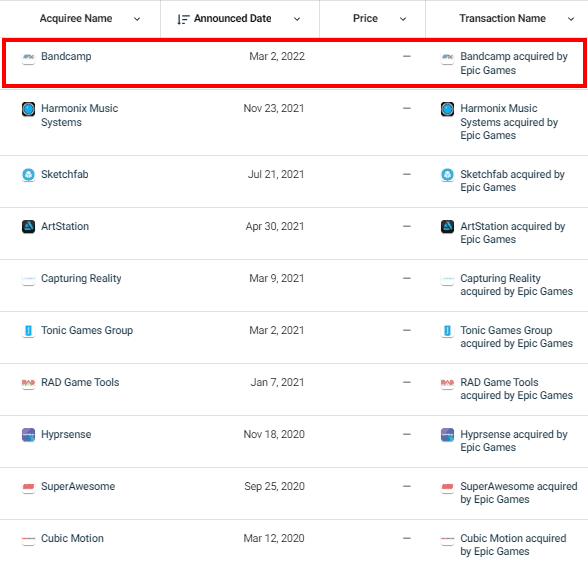 What's wrong with the Epic metaverse is the same thing which is wrong with Facebook's metaverse – it's a closed fishbowl where you will be tracked in real time every minute if not every second of your life.
Sure, Big Tech has always been tightening its corporate grip around us, the users, long before "Big Tech" has become widely used, and slightly annoying buzz-word sometime around 2010+. These particular efforts, though, scare me much more than usual privacy, data-(mis)handling, and usage restricting tendencies. The vision of a future where all generations to come are prisoners to the metaverse, as some kind of Matrix-like, digital alter reality makes me feel particularly anxious about what my 11 years old brother's young adult life is going to look like.
---
Even Facebook's rebranding and subsequent switch to Meta Platforms isn't coincidental. It's rather an implication of where did the company move ideologically ever since it completed its market domination in the social network field. After all, just like Tim Sweeney, Mark Zuckerberg is open about his vision of seeking artificial reality (i.e. metaverse). Just take a look at what he had to say in his official Facebook announcement related to the new Meta Platforms brand.  ↩

Is Epic Games extending their metaverse-building tactics by acquiring other companies across the business spectrum and what might be the role of Bandcamp in particular? Is Tim Sweeney's narrative dodgy or is there positive potential in the possibilities new digital world can give us? ↩