YouTube is yet another Alphabet's product (Google search, Google Chrome) that dominates its market. Over 2 billion active users per month, 30 million daily visits, 38 million channels, and 15 million content creators – these figures dwarf any competition. Here is the frequency of YouTube use in the United States as of 3rd quarter 2020 according to Statista.com: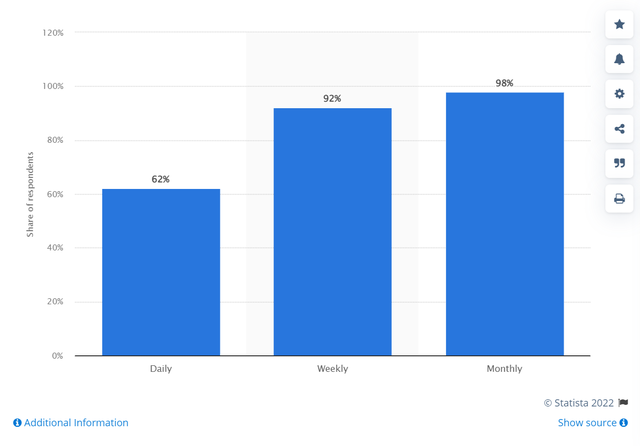 We've already covered how dominant YouTube is in video search.
Naturally, this dominance puts significant power over video content to YouTube hands. YouTube is the video hosting platform with strict Terms of Services and Community Guidelines. Statista.com has also published a quantitative statistic of flagged videos on YouTube, from 2017 to 2021.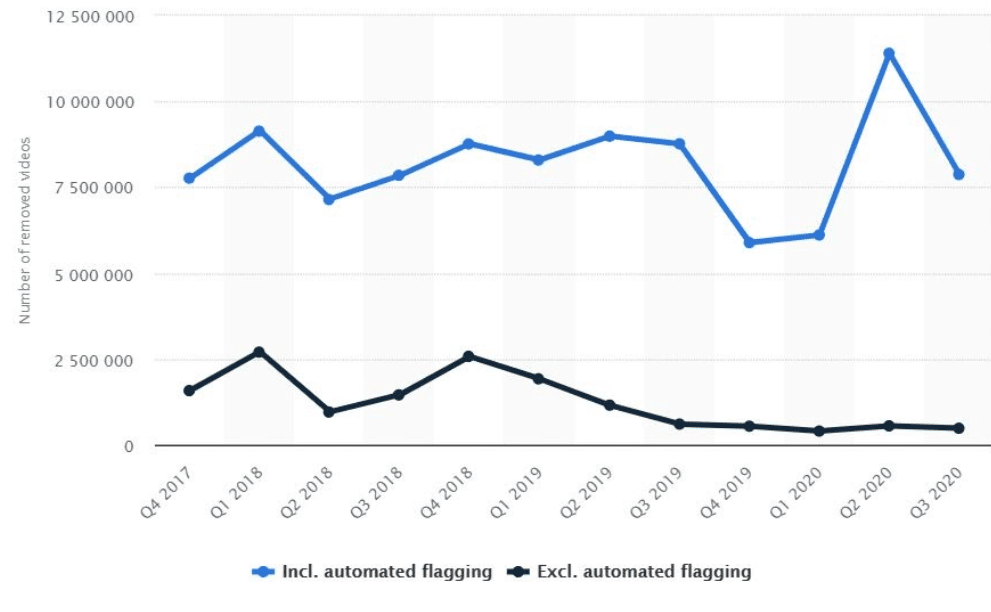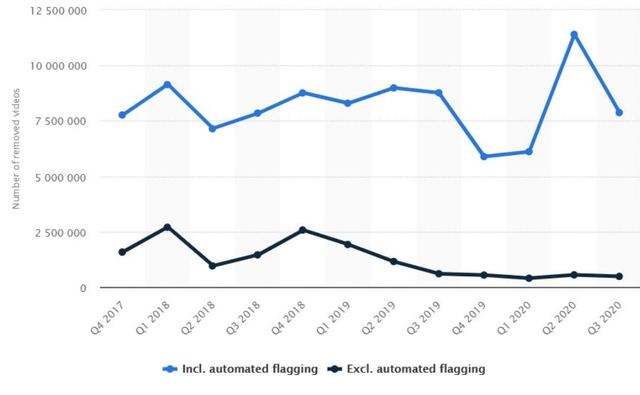 Followed up by Dailymotion with approximately 300 million active users and Vimeo with modest 9% of YouTube total audience size (200 million users), one can see that the gap between YouTube and any other alternative is huge. On the other hand, quantitatively there are more comparatively small competitors than ever, trying to attract their user base with content YouTube doesn't offer or even allow.
Google's data harvesting (direct owners of YouTube), strict content moderation or filter bubbles created by the personalised video recommendations are the reasons why many people seek alternatives. After all, Mr. Killock from Open Rights Group has a fair point regarding YouTube:
The problem is they're so large, any restriction affects a large number of people. Setting the boundaries is a very complex topic. They do become de facto public spaces – and whatever decision they come to will be controversial.
Here is the summary table of traffic to selected video platforms:
| | | | | | | |
| --- | --- | --- | --- | --- | --- | --- |
| video platforms | advertising | open source | total visits/month | centralised | location | release year |
| YouTube | yes | no | 35,000 million | yes | USA | 2005 |
| Dailymotion | yes | no | 149 million | yes | France | 2005 |
| Vimeo | no | no | 85 million | yes | USA | 2004 |
| Odysee | no | yes | 32 million | no | UK | 2020 |
| Rumble | yes | no | 32 million | yes | Canada | 2013 |
| DTube | no | yes | 530k | no | USA | 2016 |
| PeerTube | no | yes | 321k | no | Germany | 2017 |
| BitChute | yes | no | 43 million | no | UK | 2017 |
(de)centralisation
The video market is going through the considerable increase in the revenue generated by video streaming: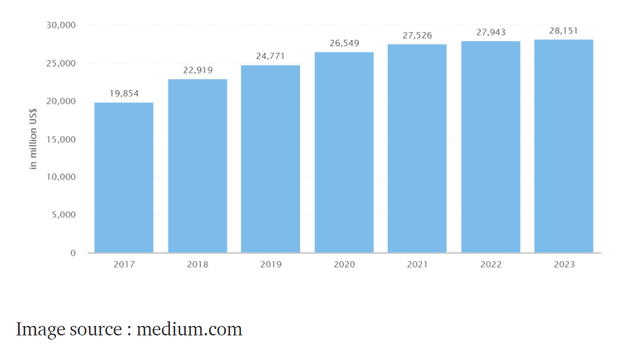 Seeing the numbers naturally suggests that this segment of economy attracts many companies and individuals, known as content creators alike. However, there are several problems arising from the dominance of the single company on the market. One of them (among many others) is arguably the control over the content. While videos advocating violence or financial malfeasance should be moderated, where is the line between the moderation and censorship? Pointing toward the nature of centralisation, Rahul Nambiampurath states quite straight-forward view in his article:
With centralized internet services, just a handful of massive organizations govern and decide what content can be uploaded, talked about, and by extension, even thought about. Go against the terms of the service, and you're off.
On the other hand, stepping out of the waters of carefully regulated content on mainstream platforms, one can easily stumble upon the videos with sensitive and occasionally dangerous content. But the opinion diversity is wider. To avoid any possibility of censorship, some video hosting platforms decided to go decentralised, using blockchain-based technologies with the support of cryptocurrencies in their monetisation models.
Odysee
Odysee is the video hosting platform which was created just in July 2020, replacing its predecessor platform LBRY.tv, and has been steadily gaining recognition since. Odysee is working with the videos on LBRY network, which is P2P CDN that stores content metadata on the blockchain. LBRY is MIT licensed open-source software. For transactions it utilises the LBC token.
According to Odysee's CEO Jeremy Kauffman, this platform is meant to bring back the freedom and independence of the internet he grew up with, after the internet became "very corporate". Going across their guidelines, one can learn that on paper the values Odysee stands for are quite similar to those of YouTube, except for Odysee's political agnosticism. For instance, no line about misinformation policies can be found there, unlike in case of YouTube.
As Odysee's CEO Kauffman said:
Consumer video is growing and is ripe for disruption. People need a viable successor to YouTube, one that is completely egalitarian, offering the same opportunities to everyone, no matter how many followers they have. We made sure we kept the elements that people love about YouTube while getting rid of the ones that do them a disservice.
From statistical perspective, Odysee enjoys over 32 million total visits monthly with growing tendency, while US users frequent Odysee the most, making it 22% overall.

source: https://www.similarweb.com/website/odysee.com/#overview[/caption]
Odysee's monetisation model is based on paying crypto per view and via referrals and can be applied in three ways:
First, is earnings per view, in which users with a validated account receive payments in the form of LBRY Credits (LBC) designated as a 'tip' in their 'wallet' based on viewers with validated accounts.
The second way to monetise content on Odysee are the direct payments – tips from viewers. Viewers can select the support function to choose the amount of LBC tokens donated. The full amount is then distributed among the users.
The final option is represented by the monetisation option that Odysee lists is site/app promotions. However, no further information is provided on this scheme yet.
Finally, Odysee's alternative to de-platforming is delisting the content which breaks the community rules. It basically means that the content won't be removed but can be no longer discovered by searching, browsing channels, or other tools. This, however, doesn't stop the blacklisted content from being shared. While Odysee retains the right to delist the extremist users, their content is not delisted from the LBRY network – just from Odysee.
Rumble
Rumble is a video hosting platfrom which was founded in 2013 by Canadian entrepreneur Chris Pavlovski. Starting as a niche video-sharing spot filled mostly with recordings of people's families, friends, and pets, it experienced significant popularity growth after 2020 US elections. From that point, Rumble is often perceived as a place where opinions can be shared freely and is frequented mainly by American users, who represent approximately 56% of Rumble's userbase.
In numbers, since July 2020, Rumble's monthly users skyrocketed from 1,6 million to 31,9 million users by the end of the first quarter of 2021. While in 3rd quarter of 2020 on average Rumble saw 188 million minutes watched per month, in 2021 average time spent on Rumble increased to 4.5 billion minutes monthly.
This might be caused by the fact that Rumble's Terms & Conditions are more laid-back than YouTube's. Rumble indeed prevents users from sharing any kind of harmful, dangerous, or illegal content, but for better or worse, Rumble's approach to unacceptable content appears to be more politically agnostic than on YouTube. For instance, Rumble's Terms & Conditions do not include a misinformation section like YouTube's Community Guidelines, according to which, videos spreading misinformation policies pertaining to election policies, COVID-19 or vaccination policies are not tolerated.
Thanks to more tolerant terms-of-service, Conservatives have flocked to Rumble. For example, Senator Rand Paul joined the platform in August 2021 because his video calling for the end of mask-wearing was banned by YouTube. Many popular news outlets are now on Rumble like The Daily Caller, One America News Network, and Newsmax. However, according to its founder Pavlovski, Rumble isn't meant to be political:
Rumble was built on the belief that small creators should be given equal opportunity to freely express themselves, reach their followers without restriction, and be given the same access to tools that large creators have.
It's pretty likely that the tendency of conservatives gathering on Rumble is just a natural reaction to YouTube's strict content moderation/regulation.
Unlike on YouTube, Rumble displays videos in chronological order and performs recommendations based on keywords, instead of utilising popularity algorithms which give larger established publishers a big advantage. Potentially risky content is still subject to human review, trying to execute these policies in more fair manner.
Beyond Rumble's benevolent attitude toward content moderation, revenue share partially explains their growing user base. YouTube, for instance, offers only 10-15% of their ad revenue. Rumble creators enjoy 60%. Sure, the cake is smaller, but considerably bigger part goes to those who are making it work – the creators.
Here you can see the traffic on Rumble:

source: https://www.similarweb.com/website/rumble.com/#overview[/caption]
dtube
DTube (which stands for decentralised tube) is community driven video platform launched on July 2016. It was built on the STEEM blockchain and IPFS peer-to-peer network where users vote on videos to reward creators and viewers in cryptocurrency, so-called DTube coin. It's decentralised and works on blockchain-based model, which replaces targeting advertising and data harvesting.
Thanks to its tokenised business model, DTube is completely ad-free and doesn't collect personal data from the users. In a fact, DTube doesn't contain any hidden algorithms which would control visibility or monetisation of the videos – it's all up to users to decide. DTube's mission is to bring control over the content to people and is introduced like this on their website:
Social media platforms can't be trusted anymore. Their inability to moderate content efficiently, protect user privacy and operate with transparency broke the trust with users. The targeted advertising model requires to ever increase personal data collection, ad pressure and promote content virality over quality through suggestion algorithms.
Users get rewarded by their engagement, either for creating original content or sharing a video from the web but also for curating, voting, tagging, and commenting a video, while 90% of the value created goes to the users.
This is the graph of monthly visits and engagement on DTube:

source: https://www.similarweb.com/website/d.tube/#overview[/caption]
While DTube, like its decentralised peers, criticises the censorship and corporate grip on content moderation, it apparently does not attract so many politically opinionated individuals. According to the Similarweb.com statistic, the most viewed categories on DTube are computers, electronics, and technologies.
The drawback of DTube's dedication to absolute freedom is the absence of moderation. In other words, once the video is uploaded, it's there and cannot be edited or taken back, which, besides risks of spreading inappropriate material means creators who changed their mind about the content they published cannot make it disappear.
Regarding monetisation, although DTube's efforts to play a fair game with the users, there are also downsides to it. First, users earn cryptocurrency, not a "real" money like on YouTube and the monetisation of the video ends after one week after publication.
Here's what a DTube publisher can hope to earn in dollars and cents:
peertube
Peertube introduces itself as:
Free software to take back control of your videos
Here's what Peertube claims in terms of traffic:
PeerTube, developed by Framasoft, is the free and decentralized alternative to video platforms, providing you over 400 000 videos published by 60 000 users and viewed over 15 million times
PeerTube was founded by a programmer known as Chocobozzz in 2017 and is now supported by the French non-profit organisation Framasoft. Except for being decentralised and blockchain-based, PeerTube is open source and completely free software under copyleft license – AGPL (GNU Affero General Public License).
PeerTube is contradictory to huge video platforms, it's rather a network of inter-connected small video hosts. It consists of several instances, while every instance is created, moderated, and maintained independently by various administrators. In fact, every PeerTube instance provides its own website and is by default independent, from appearance and features to rules – here you can see the official list of PeerTube instances.
PeerTube runs on federating protocal ActivityPub which allows users to interact with other software which uses this protocol. Like DTube, PeerTube doesn't use any recommendation algorithms nor advertising model.
From monetisation point of view, there isn't any scheme now – PeerTube aims at being neutral in monetisation policy, so they put freedom to choose the way of monetising videos to the hands of the users. Creators who want to make money can add the support button under their videos and this button displays a frame in which people who upload videos can display text, images, and links freely (like Patreon, Tipeee, Paypal, Liberapay etc.).
Statistically, monthly visits are displayed on this graph:

BitChute
BitChute is an alternative online video platform founded by Ray Vahey in January 2017 and uses peer-to-peer WebTorrent technology for video distribution. While its founder is a vocal free speech advocate, he denies any ties to far-right or extremism groups. Censorship mavens claim BitChute attracts many such individuals for its more lax attitude toward content moderation. While the news and media section may the most frequented, the second most viewed category on BitChute is gaming and "other".
BitChute's moderation is based mainly on the categorising video content into 3 groups based on the level of sensitivity: Normal, Not Safe for Work, Not Safe for Life. However, it's up to the uploader to label the video with respective category, though, BitChute promised to enforce proper sensitivity ratings:
Content Moderation processes will be employed to ensure the appropriate sensitivity level is applied to content, and inappropriately marked content should be flagged via those processes when encountered.
Thus, once the content is moderated and the level of sensitivity is set by the content moderator, the creators can't set the sensitivity level by themselves anymore.
BitChute's monetisation model is based on advertising. Creators are able to source and create their own ads, which will appear alongside their content on the BitChute platform. Available advertising space is however limited, thus ads sourced by creators will be mixed with those sourced by the BitChute team. BitChute advertising can be divided into three following groups:
I Want It All – Only adverts sourced by the creator will be displayed alongside the content.

Fair Share – A 50/50 split between creator and BitChute sourced adverts will be displayed alongside the content.

Supporter – Only adverts sourced by the BitChute team will be displayed alongside the content.
Aside from advertising, creators can earn money by tips and pledges using services like Patreon, PayPal, SubscribeStar, and CoinPayments.
This graph shows the traffic BitChute enjoys:

source: https://www.similarweb.com/website/bitchute.com/#overview[/caption]
Conclusion
Popular video hosting platforms like YouTube and Dailymotion represent a great opportunity for creators to reach a large audience. YouTube and Dailymotion offer monetisation but for the last few years YouTube cancels monetisation on both a per video and a per account basis with astonishing regularity. Counting on YouTube revenue would be a beginner's (or a stupid) mistake.
On the other hand, decentralised community-first alternatives with barely any regulations, while more prone on freedom of speech, don't seem to offer much reach to publishers or any real monetisation opportunities. In turn, this (un)virtuous cycle drives more content creators to YouTube and means that mostly niche or banned content creators post to alternatives like Rumble, Odyssee, Bitchute or even Dailymotion.
Somehow the alternative sites will have to come up with a more enticing monetisation system which results in real income for their content creators (providers). Whoever cracks revenue has the best shot at de-throning YouTube.