GDPR and other privacy regulations are an omniscient stressor looming over all publishers, but it is ever so terrifying to the small and medium publishers that cannot afford to have a whole legal department at hand.
FV Player has always been focused on only using a small number of necessary and unharmful data in order to ensure standard comfort. By default, data set by FV Player does not need to be included in the notice.
Also, all of them get set in Local Storage, meaning that they are set in user's browser and do not need to come into contact with our servers, nor do we save or use them in any way to create a user's profile.
So, FV Player really does bare minimum in terms of saving data, and all in the name of comfort. But what if you could opt out of these too?
FV Player now lets you disable all cookies and Local Storage data!
Remember that FV Player does not stop and is not liable for cookies set by other services you use with video, such as analytics or payment solutions.
Among having to grapple with various other plugins and services, you can rest assured that the already harmless FV Player lets you opt out of absolutely everything. However, this comes at the price of decreased comfort for your users.
These are the preference cookies FV Player uses for comfort:
Remembering preferred sound level – a cookie is set for manually chosen volume level
Remembering the preferred video quality – if a user manually chooses SD quality instead of HD, a cookie is set to ensure videos viewed in future will also start playing in SD quality by default
Remembering the video position – if this feature is enabled, the position in which playback has been stopped will be remembered (This one will still work for logged-in users)
Remembering video playback speed – if the speed buttons feature is enabled, preferred speed will be remembered
Note that FV Player's built in stats are completely anonymous and do not use any cookies.
FV Player also uses one technical cookie called flowplayerTestStorge which is used to test, if localStorage in browser is available. This cookie disappears immediately after the test.
If you choose to enable the privacy setting, none of this data will be set.
How to disable local storage
Go to Settings -> FV Player -> Privacy Settings and enable Disable local storage.
Example
You can see for yourself by opening the developer tools in your browser and taking a look at the Local Storage. For Chromium, you will find it in the Application tab. In Firefox and Safari, it is located in the Storage tab.
First, let's look at the contents of Local Storage when the privacy setting is disabled.
As FV Player does not set any cookies by default either, go straight to Local Storage.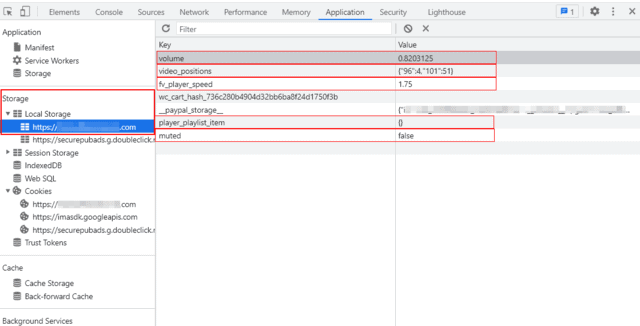 Here you can see all the data connected to volume control, position, and playback speed.
Now, with the setting enabled, Local Storage is free from any FV Player-related entries. The only two that got set in our example are from PayPal and WooCommerce:

---
Stay tuned for more
We are trying to make our plugins better ever single day, by bringing more and more upgrades and updates. You can help us a lot, by giving us feedback, or letting us know your thoughts by giving us a review. If you have any tips or questions, do not hesitate and contact us via our Forum!