Universal CDN, calling itself the most cost-effective CDN in the world is a great choice for smaller publishers looking for a bargain price, but don't want to bargain on features or reliability too.
FV Player now supports Universal CDN!

Universal CDN is only supported in FV Player Pro Beta for now. Here's how to switch to beta.
Universal CDN is a good choice if you fit into a certain category, but is not quite as universal as the name states. UCDN is for users who:
are looking for low-cost options
are looking for something easy to set up and use
are preferably located in and plan on creating content for Europe and/or North America
preferably are smaller publishers
With its 26 locations, it is well equipped for Europe or North America, but seems to come in short in other regions. UCDN claims that this is of no concern, as delivery is accelerated by Anycast routing and 100% SSD servers. The POPs are said to be "strategically placed in areas of high demand", but the pricing is only defined for Europe and North America. For information on other regions, you will have to contact UCDN.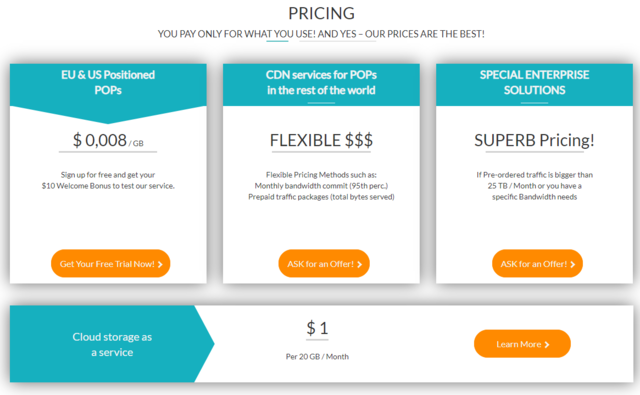 The account is charged from a pre-paid credit. Apart from the woefully low prices, you will get $10 free credit as a trial. With the prices for Europe and North America, it translates to about 1.25TB of free usage.
Features
UCDN is fast to implement innovations from the field, some of which you wouldn't except in a service priced this low.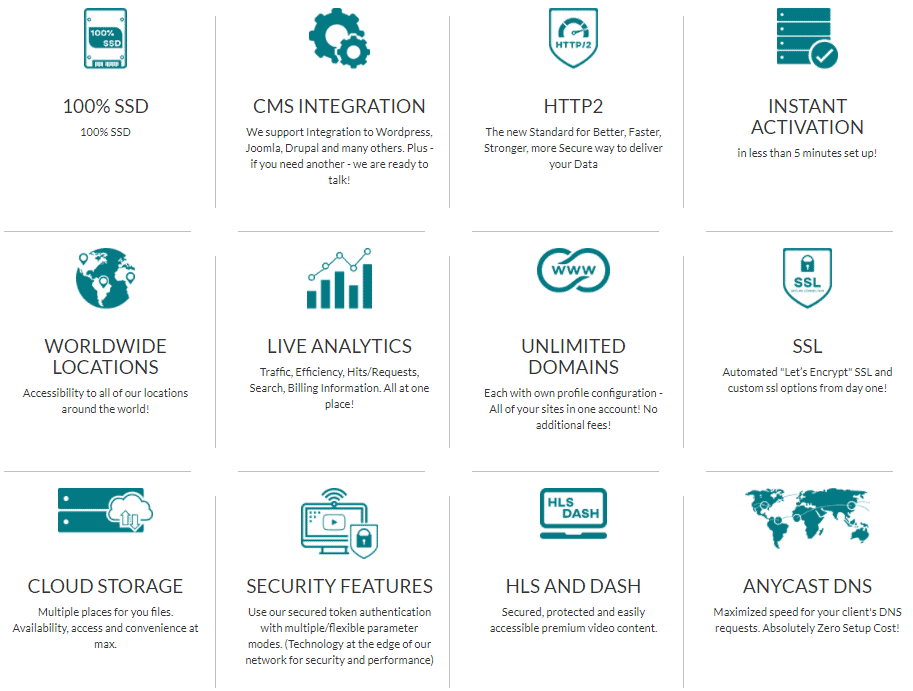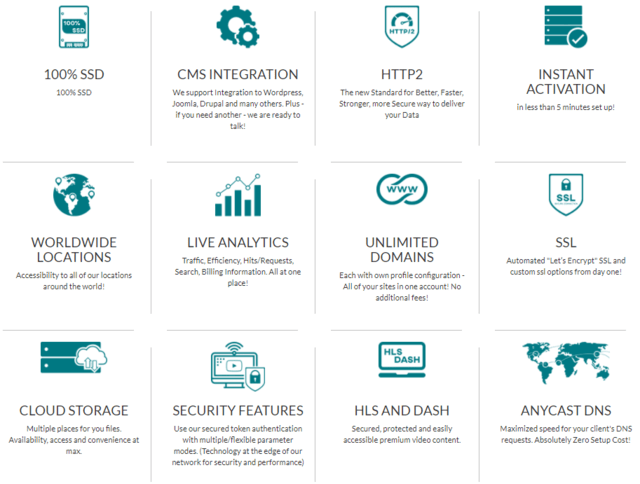 It proves to be very well suited for video hosting with possibility to speed up HLS streaming thanks to the Anycast routing. Your videos will also be protected against hotlinking by URL tokens. Further, access can be blocked by countries or IP addresses. With the incredibly low prices, you also get advanced analytics features that will help you analyze your content and CDN usage.
A free Let's encrypt SSL is something that's always nice to see in a CDN. The support for HTTP/2 is also beneficial for security and speed.
On top of it all, with it's usage of regular language and friendly tips, it is very easy to use. For example, it does not ask you for your origin, but simply where your files are located. That being said, UCDN still does not have quite as many options and tweaks as it's bigger competitors.
Hosting
With UCDN, you get three choices of hosting:
Your own servers
Amazon S3 or S3 compatible hosting (such as DigitalOcean Spaces or Linode Object Storage)
UCDN's own hosting service
While the storage prices are not the best ones out there, it is still a very decent price coming in at $1 per 20GB/Month.
---
Stay tuned for more
We are trying to make our plugins better ever single day, by bringing more and more upgrades and updates. You can help us a lot, by giving us feedback, or letting us know your thoughts by giving us a review.
If you have any tips or questions, do not hesitate and contact us via our Forum!