If there's anything that grew to an enormously sized industry in the past few years on the web, it is definitely online video. Just take a look at the YouTube for example. According to Brandwatch more than one billion hours of video are watched on YouTube every single day and more than 400 hours of video content is uploaded to YouTube every single minute. But, it's not only about YouTube. Almost every website has at least some video content. The online world is filled with video tutorials, reviews, game playthroughs or documentary videos on every topic you can imagine.
Most of the bigger video-oriented websites come with some type of "bookmarking" solution for you to save videos that you might want to watch later. But most of them don't really allow you to download their videos to watch it later offline at all. And the problem is, some of us don't have 24/7 online access, or many people just simply don't want to be online all the time.
So the only solution is to download videos right from the web using third-party software. Only a few sites allow you to do it natively and most of them will actually try to put as many barriers in your way as possible. Sometimes they offer video-downloading as a part of their "premium subscription system", which in my opinion, is a pure scam and just another way to milk even more money from their users.
I've done some extensive testing of video-downloading and screen-capturing software and covered some of them in a "the best of" list based on my own preferences and I've included video tutorials for every category. This is the list.
But before we get to it…

To pay or not to pay?
There is plenty of software presented as "completely free" but when you install it, you will find out that it's just another lite version without features you were looking for. It always offers you some kind of "pro" version with all of the features, but it's usually for an unreasonable price. That's far from a fair business model in my opinion. I know that freemium can work and can be actually beneficial for both customers and providers. But it's supposed to show you the key elements of the product and let you experience how it feels to use it, and not force you to buy it.
So, instead of paying for software you most likely don't need, save your time and money and use some of the free software from the list below. I'm pretty sure it will do the job for you just fine. If it doesn't, let me know in the comments!
(Disclaimer: Keep in mind that I'm not trying to make you steal someone's video content. Downloading the video doesn't change anything in terms of copyright.)
1. Free web video downloading services
+ no installation required
+ easy to use
+ free
– often support downloading only from very small range of websites
Free web based services are often a double-edged sword. They are really simple to use, you just need to copy-paste the video URL and you're almost done. But most of them are filled with annoying ads and pop-ups, the download speed is low and they are capable to download videos only from few websites. So, if you are looking for a way to download videos from YouTube, these will be enough But don't expect more than that.
These are the ones that I recommend:
Very simple online tool capable of downloading videos from most of the popular video hosting sites like YouTube or Vimeo.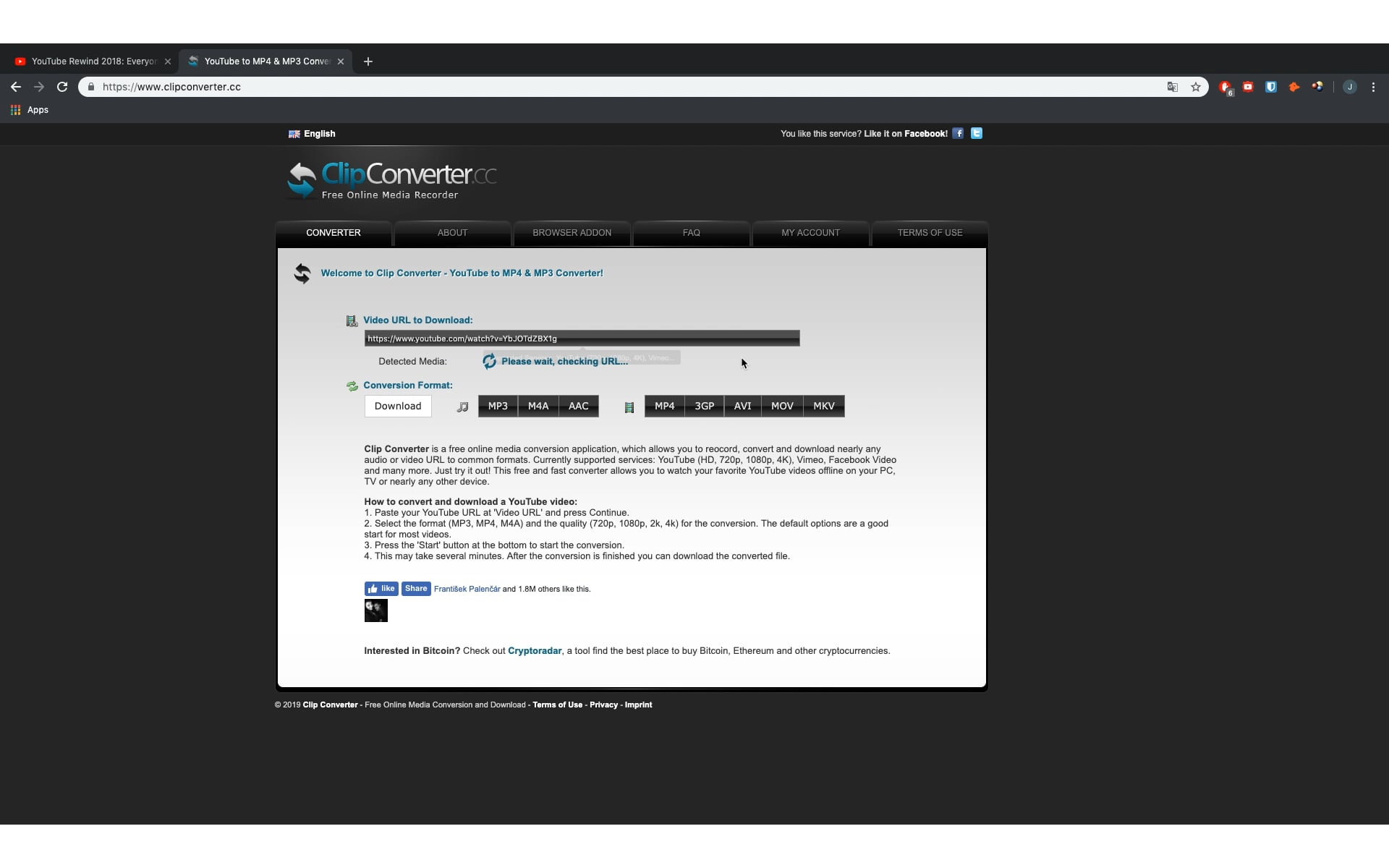 00:46
How to download videos with ClipConverter
Clipconverter won't work on social media. So I decided to add two more specifically for:
Facebook:

It gives you access to a video in this format and you just need to right-click and press "Save video as".
For Twitter:

A simple way to download videos from Twitter.
2. Browser extensions
+ fast and easy installation
+ easy to use
– usually don't offer more complex features
Using video downloading browser extensions is probably the easiest way to download videos. They are easy to install and even easier to use. The main problem with browser extensions is their lack of more complex features.
Also, every extension downloaded from Chrome Web store automatically blocks downloading from YouTube due to Google Chrome Web store policy.
Here are my choices for Chrome and Firefox :
Video download helper
Video download helper is the best solution for you if you are searching for web extension for Chrome or Firefox. Nice and simple UI, well functioning site video-mapping on most of the websites, fast convert and download speed. For some websites Video download helper extension need its own companion desktop app, but that's not a real problem at all.
If you want to download videos from YouTube use this extension on Firefox.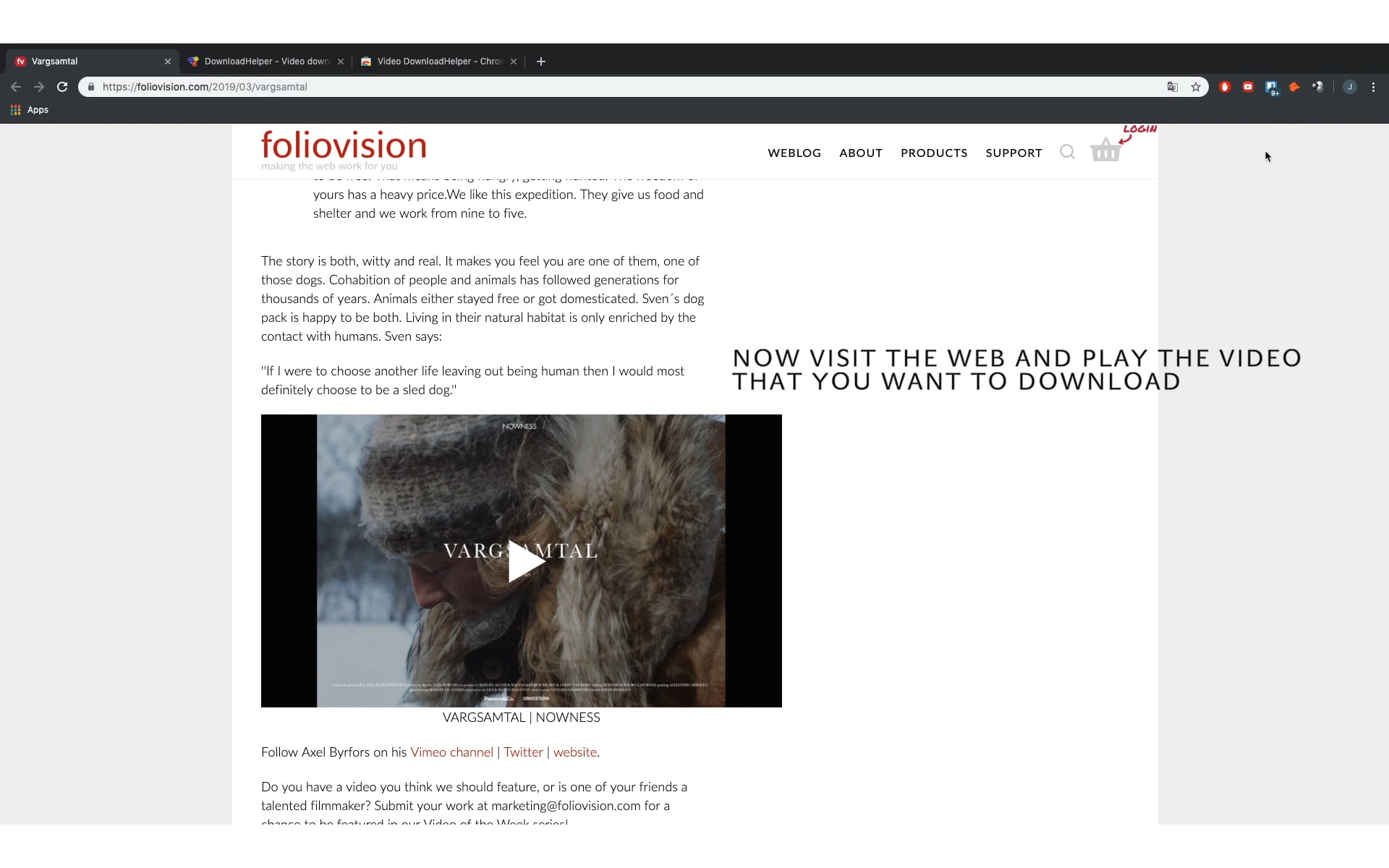 01:09
How to download videos with VideoDownloadHelper
Safari:
Sadly Apple doesn't support 3rd-party safari extensions anymore. So the offer sticks only to the "verified" ones on the Apple's own App Store, where no supported video-downloader extension has not been released yet.
3. Desktop Apps
– require installation
+ offer lot of useful features
+ best user experience
+ wider range of supported websites
4K Video Downloader
4K Video Downloader is so far the best video downloading software I had my hands on. Quick and simple installation, nice and intuitive UI, capable to download videos from most of the sites, many useful functionalities such as subtitles or ability to download whole YouTube video playlist at one time. And it's totally free.
Note: I've included it, although they offer "Premium" version, but it's €20 one-time fee for their whole bundle of software (Video downloader, Instagram downloader and YouTube to MP3) and that is actually a fair offer. But honestly, I think that the free version will do the trick for most of you.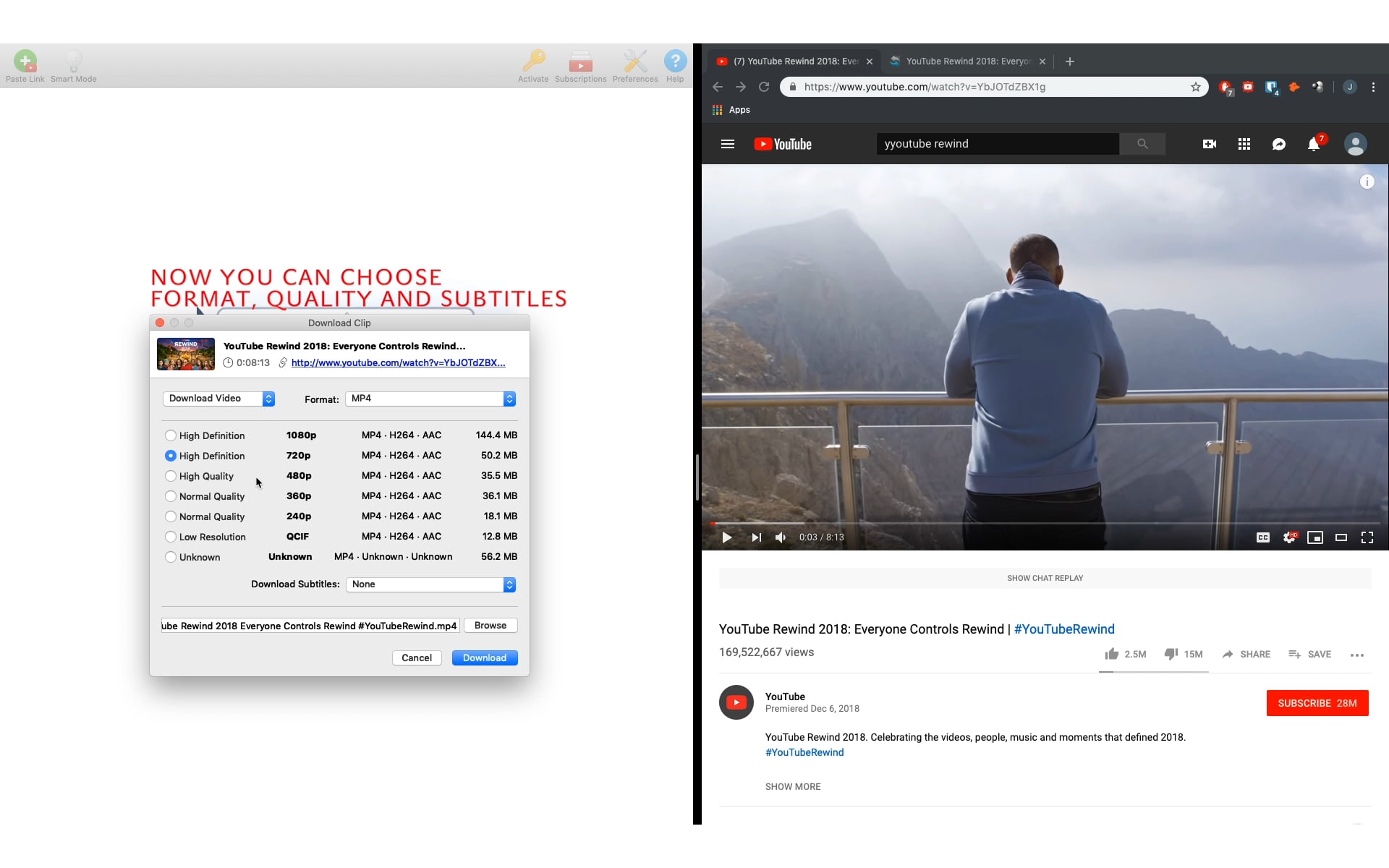 01:00
How to download videos with 4KVideoDownloader
aTube Catcher
aTube Catcher is another nice video downloader for Windows users. It's 100% free, works very well, it's easy to use and still updated and supported by publishers. It allows you to burn the downloaded videos to DVD/VCD without using any other third-party software.
Just a little thought
Before we dive right into screen-capture software I would like to talk a little about Netflix. I am sure that none of the software I've shown before would work on Netflix.

Honestly, Netflix does a really good job on encrypting their video content, especially against all these video downloading and converting software. But I would expect that if they want to protect their content at any cost, they should provide a way for you, as a paying user, to be able to download their video content to watch it later. And yes, I know that they offer it as part of their mobile application, but that's the thing. Mobile phones. Who even cares about watching movies and TV shows on mobile phone?
I am a huge fan of movies, TV shows, animation or I should rather say videography at all. And honestly, my 13″ MacBook screen is bare minimum for me to enjoy a good-looking movie. I do pay for the most expensive Netflix plan because I want to be able to enjoy high-resolution content which mobile phones aren't even capable to display at all. So, why am I not able to comfortably download my favourite TV show or movie to my MacBook? That's stupid.
And that's the reason why I find screen-capture software useful. Most of the time when Netflix releases a new season of my favourite TV show I just simply turn on my screen-capture software and record the whole season while I do something else. Do you ask why would I want to do that? It's simple… I don't want to actually, but it's the only way, how I can watch content that I've paid for offline (on a big screen).
So let's go back to screen capture software again.
4. Screen capture software
+ can capture any type of video no matter what the source is
+ best video quality(depends on your settings)
– requires installation and a bit work with setting up
– could be too complex or time consuming for someone
OBS Studio
Open Broadcaster Software shortly OBS is free and open-source and probably the best screen-capture software for more advanced users. It allows you to capture the whole screen, windows or images. It also allows you to capture image from video capturing devices and build your own "scene" to capture more sources at the same time, so you can record your screen and webcam at the same time for example. It's also very popular among streamers thanks to its streaming functionalities. The only problem is, it is just not "ready out of the box" and requires a little more configuration than other similar software, as you can see in the video tutorial below.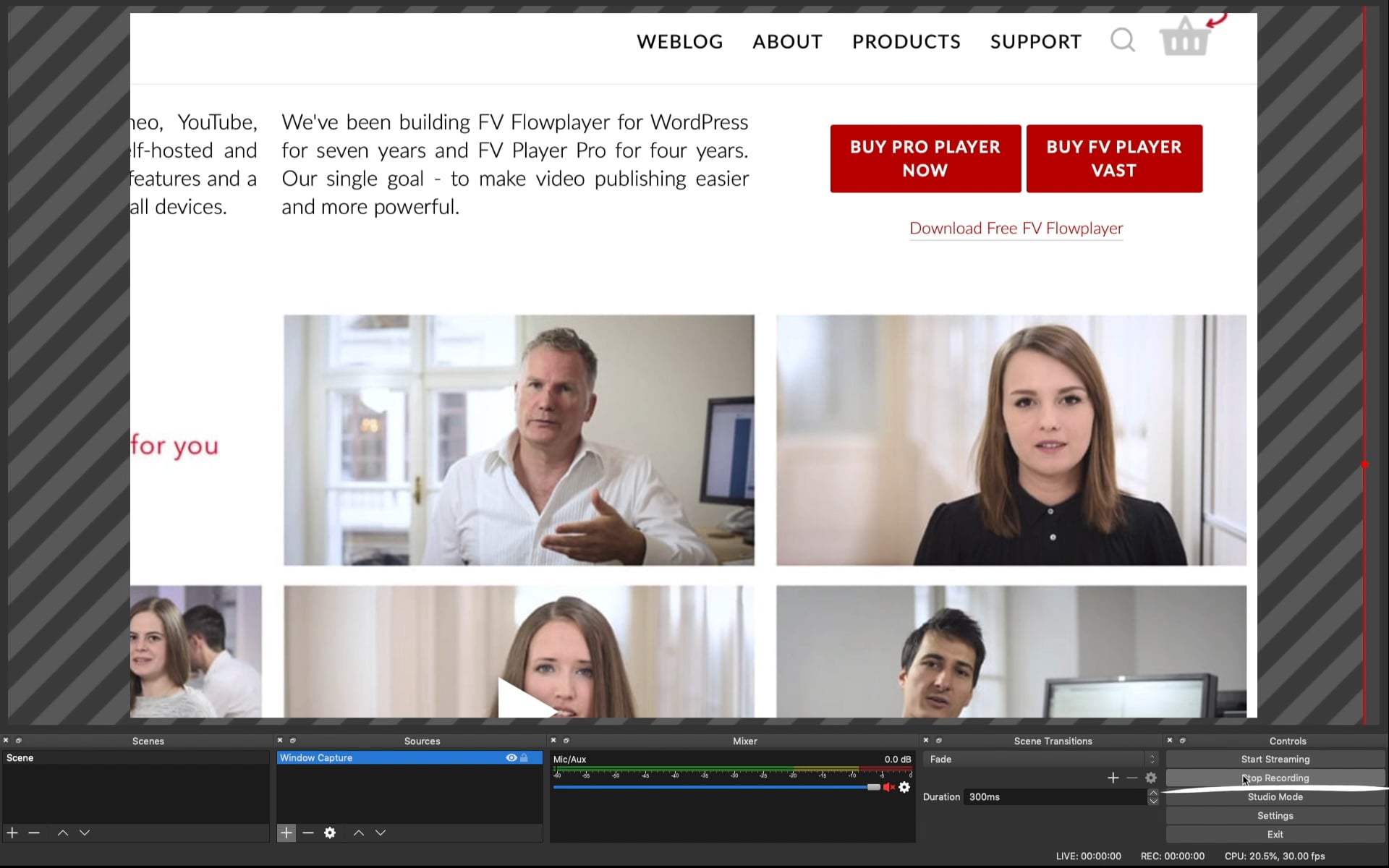 01:22
How to record screen with OBS
ShareX
ShareX is free and open-source screen-capture software for Windows. In the core it is very similar to OBS but it is a bit simpler with its minimalistic menu-like UI. It also allows you to record your screen with a single key, no complicated set up process required. Also with ShareX you can automatically upload the captured video to online hosting service like YouTube, Vimeo or Imgur for screenshots. ShareX was previously added to Steam due to its big popularity among gamers.
A tip for Mac users
Did you know that you can easily record screen on your Mac using only QuickTime Player?
+ super easy to use
+ no installation required
– doesn't offer complex features
Here is a quick video tutorial on how to use it if you never tried it before.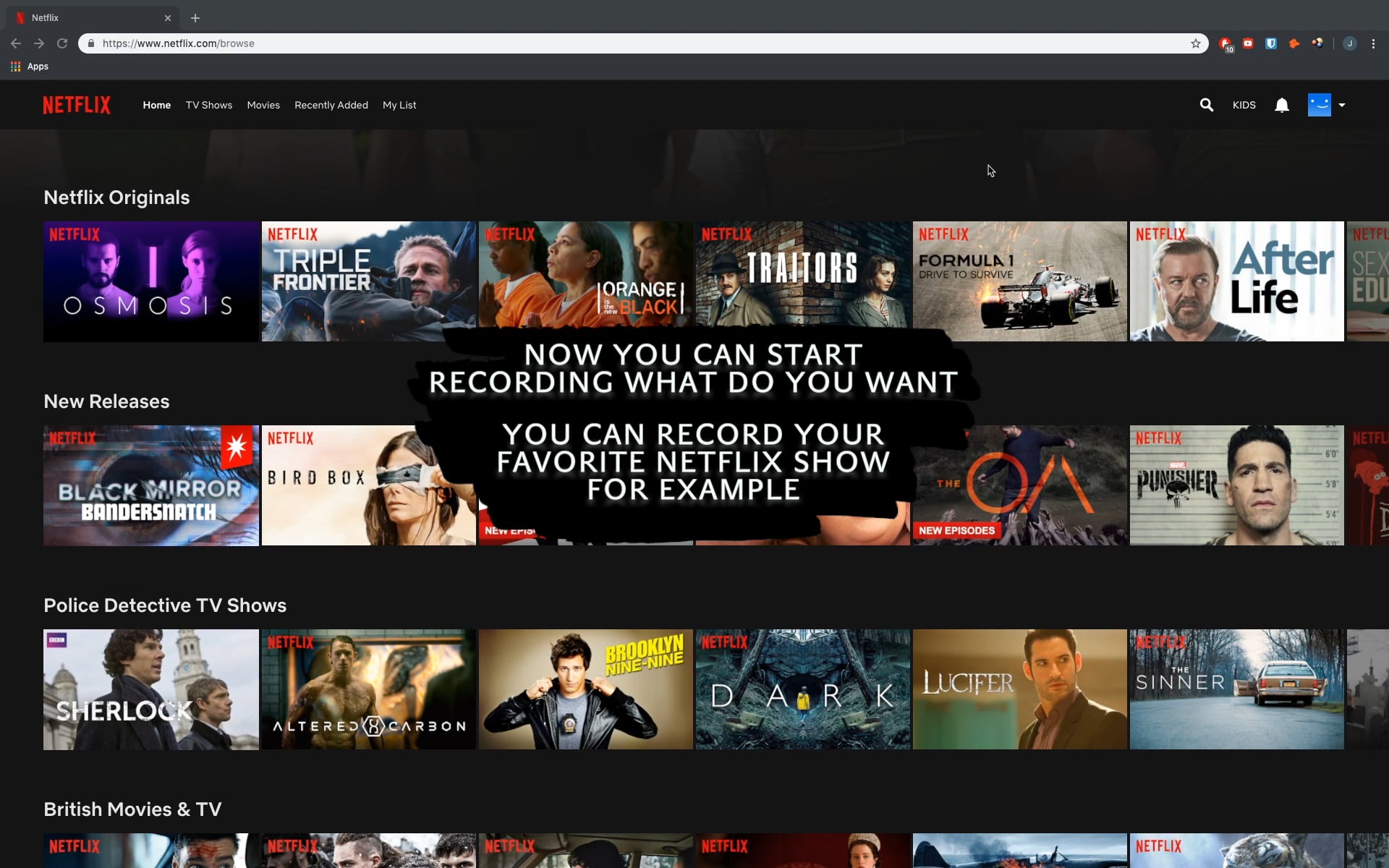 01:01
How to record screen with QuickTimePlayer
5. Downloading videos without using any software (not always available)
Sometimes you can find the direct link to the .mp4 video through View Page Source. For example videos from Instagram.
If you check this page's source, you will find a link like this which will allow you to simple Save the video file to your computer.
How to download videos from Instagram
This is a pretty common question when it comes to downloading videos from web. The answer is yes.
It is totally alright to download videos from web as long as you use them only for personal use. You might probably upset most of the video providers because they can't make money of you watching ads on their website, but there's not much that they can do against it honestly. Despite all the marketing talk about video security and encryption, there will always be pretty simple ways to download videos. If you want to get more information on this topic, I would recommend you this article published by Techadvisor.
Remember, if you don't want people to use, share or save content you've made, there's only one thing you should do – just don't post it on the internet.
Music used in videos: www.bensound.com