In case you have not heard of it before, let me introduce Fruux. Fruux is an address book and calendar sync service. It competes with the free Google Calendar principally, though iCloud and Microsoft Outlook offer paid competition. Google's CalDAV works brilliantly and is free but there are serious privacy concerns which we cover below. Sadly most people care not a whit about privacy. Due to Google's free offering, paid sync has become a very niche market. Fruux is almost unique in its marketplace.
Why do we hate Fruux and not promote it?
Two main reasons:
Fruux will not allow import of tabular data (i.e. list of contacts in a spreadsheet)
Fruux fails to sync reliably with Apple's DAV servers
Why Fruux does not allow CSV Data Import
Not allowing the import of tabular data is the silliest thing I've ever heard of from what are probably smart people. Contact data in CSV format is the single most popular format in the world for contact data. Spreadsheets with names and telephone numbers have been ubiquitous since Lotus 123 hit the market.
Fruux founder Dominik Tobschall tweeted me that Fruux will only ever work with VCF as spreadsheets are obsolete:
vCard is a standard for contacts. CSV is a standard for spreadsheets.

That's about as inflexible approach to compatibility as I've ever seen. When I reminded Dominik that regardless of theory many, many popular applications still export contact data in CSV format and only CSV format, his co-founder Evert Pot wrote to me to confirm that my request for CSV import of contact data is just a nuisance:
From our perspective I hope you also understand we actually occasionally get an email such as yours, requesting the 'one missing feature' often along with how ridiculous it is we don't yet support it. For some of those types of requests, we end up prioritizing and implementing the feature, but for some others they are extremely rare requests and not necessarily something that many people need. Your request unfortunately falls in that latter category.
It turns out that import contacts out of csv files is a very popular feature request at Fruux.
Our company project management system (far more important to us than shared calendars – works great – and a shared address system – barely works) Teamwork exports contacts as Excel files. I disagree with many of Teamwork's IT decisions – Cold Fusion, AWS, non-specific URLs, broken back buttons – they'll paste any kind of incompatible coding languages into their system. The two things which Teamwork does understand and has understood from the beginning though is supporting multiple systems and legacy compatibility.
Due to the intractibility of Dominik Tobschall and Evert Pot, we have to keep our company address book within Teamwork and not somewhere useful like in our phone address books. It's clunky but it works. Due to this single missing feature, we never recommended Fruux to our clients, never recommended Fruux to our friends and did not write a post recommending Fruux three and a half years ago in spring 2015.
Insisting on changing web standards instead of supporting customers is perhaps the best example of Millennial Moronity I've seen in my long career in IT.
Fruux Problems syncing with Apple Contacts
In El Capitan, I can't get Apple's Contacts to play well with Fruux. We're paying Fruux for the privilege of working CardDav. I don't care about Apple's excuses. I don't care what standards you have to break to make sync work. Make it work, one way or another, Dominic. Instead of using Contacts, I've had to move to buy BusyContacts as it does work with Fruux and any other OS X services (there's usually a sale available on BusyContacts).
Why we still use Fruux any way
Convenience
Managing one's own CardDav and CalDav servers is a pain (we did something similar for awhile with our chat services and quickly tired of it). You need over a hundred users for this kind of roll-your-own solution to work.
Privacy
Putting your corporate data on Google's servers is simply foolish at this point. Google's servers are the IRS, FBI, CIA, NSA, DEA, US Customs, regional police department and related contractors personal database now. You are probably no more involved in illegal activity than I or my company are. Still I don't want all of our business data available to every two bit (or $2 trillion) organisation who would like to disrupt either us as organisation or any of our employees lives.
Keeping one's data on Google's servers is effectively agreeing to work as an informer for the KGB. It was bad manners in the Soviet Union to do so and it's bad manners to do it now in the Era of Internet Surveillance.
Fruux does use AWS to manage most of its data (as does RocketChat) so your data is not really private or safe. Still, it's some trouble for law enforcement to go out and get it. They have to use a half hour of middling expensive tech expert like Ed Snowden to go and get and decipher part of it and even then they can't just look it up and parse it coherently at will.
Make the snoops work for their data.
Design
Not only is Fruux fairly unique, the design of the web application is pretty good.
Cost
Managed properly, Fruux costs can be very low for small business use – about €40/year. See below.
Gaming Fruux
You need two pro users to run a company. An owner and then a delegated administrative assistant to create the shared calendar. You could use a single pro user but then you'd have to share all your calendar data with your assistant. Given that I like to run my home calendar on the same service (no way I'm giving Google all that information) that doesn't work.
As we hate Fruux, we take delight in gaming their broken system. Were there company accounts with fair pricing and some convenient way to import users, we'd have been likely to have upgraded to a company (please don't say "enterprise" and try to hammer us for three times the price for "permissions based management" like the twerps running every password sharing and most SAAS applications) account with up to forty users at one point.
Recommendation
Avoid Fruux if you can. Try and get OwnCloud up and running. We're too small now to be bothered and we can limp around on Fruux. We've already moved our data here. If you have real reasons for wanting privacy (private banking, brokerage business, lawyers), do not consider Fruux as it's on AWS.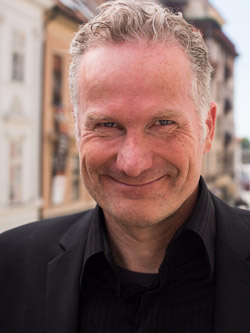 Alec has been helping businesses succeed online since 2000. Alec is an SEM expert with a background in advertising, as a former Head of Television for Grey Moscow and Senior Television Producer for Bates, Saatchi and Saatchi Russia.