FV Player 7 Beta has been out for licensed users who opt for it for 5 weeks – you can read about all the changes in the FV Player 7 Beta blog post . During that time we were able to resolve all the reported issues as well as the issues which we found in testing ourselves.
It was mostly about Vimeo playback issues, as we are improving the security of the video streaming – making it harder to download these videos.
Starting today FV Player 7 Beta is out also for the free users, and it's on by default. They can still switch back to FV Player 6 using the release switch just as the licensed users:

All the existing users don't have to worry about FV Player 7 for now. Unless they use the above switch they stay on FV Player 6 for at least another 2 months before version 7 has proved to just as reliable and better.
Other FV Player 7 Beta improvements include:
New video lightbox
Until now FV Player used the excellent Colorbox library, however it started to look really old. We decided to switch to using fancybox which is far more powerful and modern looking. It also features a fullscreen button along with a button to show all the items as thumbnails – useful for photo galleries.

FV Player Lightbox – using new fancybox library

FV Player Lightbox – using old Colorbox library
You can test it right in this article – just click any of the images in it. Another good place to check it is our Shooting for Likes: Instagram's Influence on Photography blog article.
Improving the quality menu for HLS and MPEG-DASH streams
The qualities are now properly sorted and the unnecessary bitrate information doesn't show up.

New video quality menu on the left and the old one in background
Also the control bar button changes from "HD" to what quality it's playing:
Video height higher than 1400 pixels – 4K
Video height higher than 720 pixels – HD
Video height higher than 400 pixels – SD
Anything below that – M
What's more important is that the quality which you pick by hand is now also remembered and used automatically for any future video plays.
What's coming Next
Apart from getting FV Player 7 out of the Beta stage we are also finishing up the new player storage in database which will unlock many new amazing features, such as video transcripts in playlist, FV Player manager interface and timeline actions – any popup at any time in any video.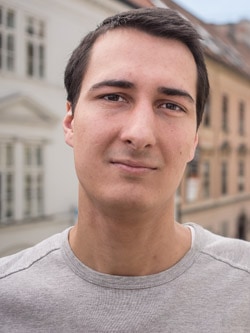 Martin graduated as an engineer in Computer Science from Slovak Technical University in Bratislava. He grew up in Liptovský Mikuláš in northern Slovakia next to the beautiful Tatra mountains. He is the developer behind our FV Player.